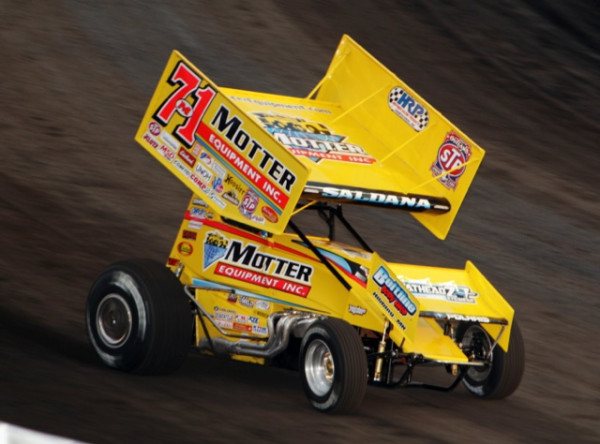 By Susan Arnold
ROSSBURG, Ohio (Sept. 16, 2013) – Joey Saldana's experience at the famed Eldora Speedway reads a bit like a Charles Dickens novel:  "It was the best of times, it was the worst of times."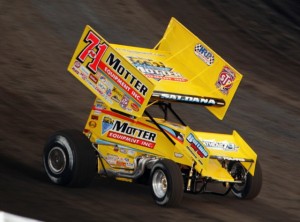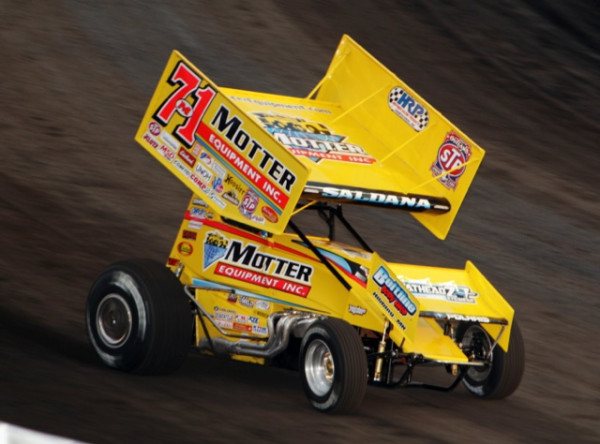 It was Saldana's King's Royal victory here in 2002 that was one the most significant victories of his career because it was the win that made him feel like he would be a legitimate contender in World of Outlaws racing.  Saldana scored a second King's Royal victory in 2006.
On the other hand, he sustained injuries at the 'Big E' that caused him to be air lifted out of the facility twice.  Once in September 2010 when he sustained a concussion and again when a crash in the 2012 King's Royal resulted in a broken arm and injured ribs that contributed to a partially collapsed lung.
This Friday, Sept. 20, when the Brownsburg Bullet hits the half-mile oval, he will be looking to make his 155th start at Eldora and add to the 22 victories he has at this track.
The World of Outlaws series is "playing the back nine", with eight races left to season's end.
The Motter Equipment Beltline Body Shop Fatheadz Eyewear 71M team has been making great strides since their switch to a GF1 chassis and Pro Shocks prior to the Ironman at Pevely, Mo., August 3. The chassis, powered by quick, fast, reliable engines from Speedway Engine Development has contributed to a surge in the team's performance.  They scored a victory at Chico, Calif., and have notched10 top-5 finishes and 16 top-10 finishes in the past 18 events.
They have also advanced two spots, from sixth to fourth, in Outlaws point standings.
The teams will load up after the Friday show in Eldora and head to Lernerville Speedway in Sarver, Pa. for a Saturday event.  Saldana has had success at Lernerville, having won here in 2010.
Lernerville has set the scene for many epic battles between the Outlaws and the Pennsylvania Posse.  Saturday the fight will continue to decide Lernerville's 'Top Gun.'
Saldana finished fifth here in July.
"Racing the Outlaws is difficult enough," said Saldana.  "And then you throw the Posse in with them and from the driver's seat it's one of the toughest nights of racing you'll find."
"We're up to the challenge, though.  One thing is for sure, it will be a great show for the fans."