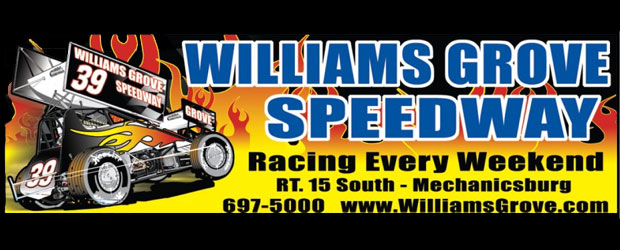 From Williams Grove Speedway
Mechanicsburg, PA — (September 20, 2013) — Steve Buckwalter held off Brian Montieth in a thrilling 25-lap 410 sprint car feature at Williams Grove Speedway on Friday night.
Lap after lap, the pair traded the top spot at both ends of the speedway, but Buckwalter drove back into the lead every time and would score his first win of the season in a car owned by Clair and Jan Ritter.
The "Royersford Rocket" earned $3,600, plus $250 in lap money.
In the 20-lap 358 sprint main it was Brock Zearfoss of Jonestown taking his first ever division win at the oval.
"We've been having motor issues all year," said Buckwalter.
"We changed the set-up a little bit. We have a two-hour ride to the shop, so we have a lot of time to talk and make things happen. I think Brian was just as hungry for it as I was. He's been struggling this year, too. A couple of years ago, he got the win from me on the last lap. I wasn't going to let that happen again."
Buckwalter, who became a father to a tiny baby boy earlier in the week, started second and grabbed the race lead at the start from polesitter Ryan Smith. Montieth started sixth and wasted no time getting into third spot.
After a few tries, Montieth would finally make a pass of Smith for second and then the battle for the win would rage for the remaining 15 laps.
Montieth blasted under the leader in turns three and four, but Buckwalter came right back and would lead with 10 laps completed.
They began to work through lapped traffic and Montieth had a little trouble off turn two with a lapped car. Meanwhile, defending track champion Greg Hodnett was up to third and was closing on the lead duo.
Montieth, of Phoenixville, got under Buckwalter for the lead once again, but Buckwalter was determined and took the lead back with 10 laps left.
Buckwalter took Montieth's line away in turn one and again in turn three the next lap to keep the lead and prevent the slider. He lost some speed, however, and Montieth was right on him at the flagstand with Hodnett looking for a way around both of them.
Montieth took another shot in turn one, but Buckwalter drove back by off the turn two cushion to keep the lead on lap 18.
Montieth didn't give up and would try a few more times over the final seven laps, but settled for second as Buckwalter scored his first Grove win of the season.
"Right now, whoever has the clean air has the advantage," said Montieth. "It showed tonight. You've got to make a radical pass. It's all about momentum. Unless you use somebody up, but I'm not that way."
Hodnett finished third and gained a lot of points in the track championship chase. Adam Wilt and Danny Dietrich completed the top five.
Smith, Chad Layton, Pat Cannon, Brent Marks and point leader Fred Rahmer rounded out the top 10.
Layton, Rahmer, Hodnett and Dietrich won the heat races for the 35 car field. Lance Dewease won the consolation.
Brock Zearfoss drove by Matt Mountz early in the 20-lap main event for the 358 sprints and would go onto the win in a car owned by John Westbrook.
Mountz settled for second. Jay Galloway, Adrian Shaffer and Mark Smith rounded out the top five.
Jordan Givler, Rich Eichelberger, point leader Kevin Nouse, Dale Hammaker and Austin Hogue were in the top 10.
Galloway, Zearfoss and Smith won the 358 sprint car heats.
September 20, 2013 Feature Finishes:
410 sprint cars, 25 laps: 1. Steve Buckwalter. 2. Brian Montieth. 3. Greg Hodnett. 4. Adam Wilt. 5. Danny Dietrich. 6. Ryan Smith. 7. Chad Layton. 8. Pat Cannon. 9. Brent Marks. 10. Fred Rahmer. 11. Cory Haas. 12. Gerard McIntyre Jr. 13. Alan Krimes. 14. Donnie Kreitz. 15. Dave Ely. 16. Logan Schuchart. 17. Lance Dewease. 18. Dylan Cisney. 19. Jacob Allen. 20. Robbie Stillwaggon. 21. Brock Zearfoss. 22. Rick Lafferty. 23. Ryan Taylor. 24. Ryan Bohlke.
358 sprints, 20 laps: 1. Brock Zearfoss. 2. Matt Mountz. 3. Jay Galloway. 4. Adrian Shaffer. 5. Mark Smith. 6. Jordan Givler. 7. Rich Eichelberger. 8. Kevin Nouse. 9. Dale Hammaker. 10. Austin Hogue. 11. Ryan Wilson. 12. Ted Thomas Jr. 13. Chandler Leiby. 14. Brie Hershey. 15. Nathan Berwager. 16. Scott Fisher. 17. Brian Allman. 18. Leah Starner. 19. Ryan Kissinger. 20. Alan Spriggle. 21. Michael Markey. 22. D.J. Montgomery.