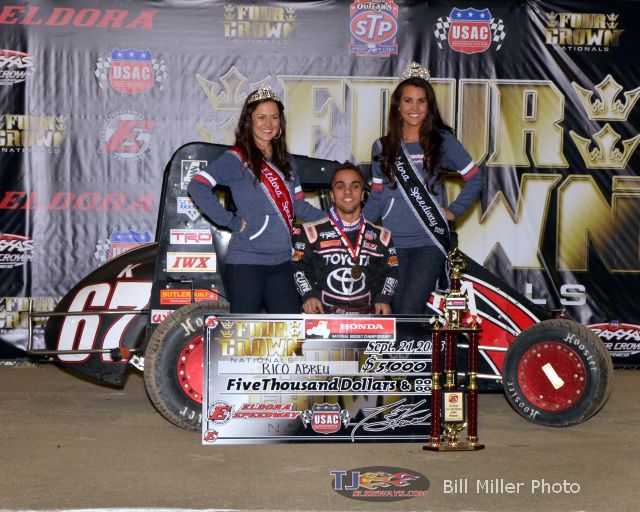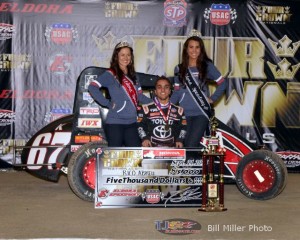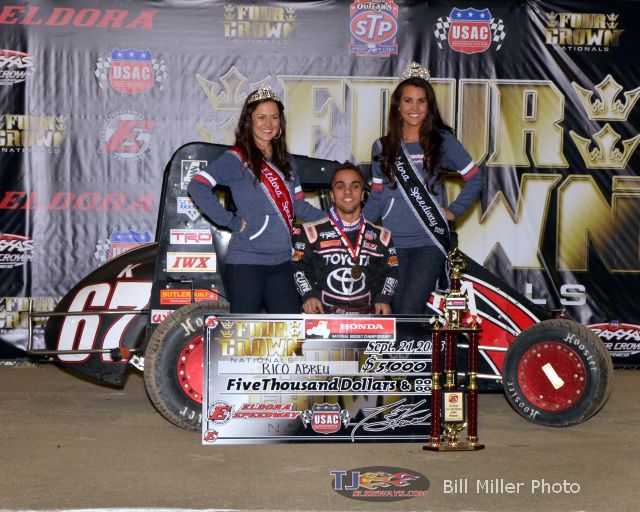 By T.J. Buffenbarger
Rossburg, OH – (September 21, 2013) –  Rico Abreu made history Saturday night at Eldora Speedway by becoming the 100th different driver to win a United States Auto Club feature at the famous high banked half-mile oval during the 32nd edition of the 4-Crown Nationals.   Abreu and his teammate Christopher Bell exchanged countless slide jobs on each end of the race track until Bell lost momentum in the exchange with three laps to go, allowing Abreu to drive to victory.
"This is awesome!  Hats off to Keith Kunz (Abreu's car owner), that was hell of a race!" said Abreu after the finish.  "I was holding my breath the last 10 laps. Sometimes you try to drive around them and ge tin trouble, I was trying to be patent and racing the race track.  Christopher (Bell) was driving as hard as he could, and I was able to put it all together."
East and Clauson started on the front row for the 25-lap feature.   Clauson jumped out into the lead while East worked on holding off Abreu for the second spot.  Abreu and East exchanged multiple slide jobs for the position and allowed Abreu's teammate Bell to make it a three car battle.  Just as Abreu claimed the second position on lap seven Clauson's car broke going down the backstretch, handing Abreu the lead.
Abreu then had his hands full with Bell.  Abreu and Bell promptly thrilled the Eldora crowd exchanging slide jobs in virtually every corner until the caution flag appeared on with 10 laps to go for fifth place Darren Hagen slowing with a flat right rear tire.
After the restart Bell setup Abreu again on lap 18 and tried a slide job, but Abreu was able to counter Bell's slide job again to maintain the lead.  Bell then fell behind Abreu until three laps to go when he threw the big slide job to try and take the lead through turns one and two, but lost too much momentum.  Abreu used that advantage to open up enough of a lead to hold him up front until the finish.   Bell finished second while Hines was able to pass East for third on the final lap.  Dave Darland rounded out the top five.
Rico Abreu was the fastest qualifier over the 20 car field with a lap of 16.441 seconds.   Tanner Thorson, Christopher Bell, Chris Windom won heat race events.
After the restart Abreu and Bell pulled away from the rest of the field.
During qualifications Brad Kuhn jumped the cushion in turn two and flipped hard down the back straightaway.  Kuhn emerged from the car under his own power.
Honda USAC National Midget Car Series
32nd 4-Crown Nationals
Eldora Speedway – New Weston, OH
Saturday September 21, 2013
HONDA USAC NATIONAL DIRT MIDGET RACE RESULTS: September 21, 2013 – Rossburg, Ohio – Eldora Speedway – 32nd "4-Crown Nationals"
QUALIFICATIONS: 1. Rico Abreu, 67k, Kunz/Curb-Agajanian-16.441; 2. Tracy Hines, 24, Parker-16.476; 3. Darren Hagen, 3, RFMS-16.523; 4. Dave Darland, 17, RW/Curb-Agajanian-16.534; 5. Bryan Clauson, 39, Tucker/BCI/Curb-Agajanian-16.570; 6. Bobby East, 4, Klatt-16.587; 7. Jerry Coons Jr., 63, Dooling-16.607; 8. Christopher Bell, 71, Kunz/Curb-Agajanian-16.665; 9. Brad Kuhn, 10, Cook-16.667; 10. Brady Bacon, 5, Wilke-Pak-16.709; 11. Dalton Armstrong, 7a, C & A-16.775; 12. Caleb Armstrong, 7c, C & A-16.831; 13. Chris Windom, 3F, RFMS-16.843; 14. Tanner Thorson, 67, Kunz/Curb-Agajanian-16.873; 15. Alex Bright, 77, Hemler-16.973; 16. Taylor Ferns, 55, Ferns-17.128; 17. Shane Cockrum, 14c, Cockrum-17.135; 18. Justin Grosz, 99, Grosz-17.620; 19. Stratton Briggs, 10B, SBM-17.707; 20. Kellen Conover, 76, Conover-19.073.
FIRST HEAT : (8 laps) 1. Thorson, 2. Abreu, 3. Coons, 4. Darland, 5. Cockrum, 6. D.Armstrong, 7. Conover. 2:21.11
SECOND HEAT : (8 laps) 1. Bell, 2. Clauson, 3. Hines, 4. C.Armstrong, 5. Bright, 6. Grosz. NT
THIRD HEAT : (8 laps) 1. Windom, 2. Bacon, 3. Hagen, 4. East, 5. Ferns, 6. Briggs. 2:17.32
FEATURE: (25 laps) 1. Rico Abreu, 2. Christopher Bell, 3. Tracy Hines, 4. Bobby East, 5. Dave Darland, 6. Tanner Thorson, 7. Jerry Coons Jr., 8. Alex Bright, 9. Darren Hagen, 10. Caleb Armstrong, 11. Taylor Ferns, 12. Shane Cockrum, 13. Stratton Briggs, 14. Dalton Armstrong, 15. Chris Windom, 16. Brady Bacon, 17. Bryan Clauson, 18. Kellen Conover. NT
———————————
**Kuhn flipped during qualifying.
FEATURE LAP LEADERS: Laps 1-6 Clauson, Laps 7-25 Abreu.
NEW HONDA NATIONAL DIRT MIDGET POINTS: 1-Bell-737, 2-Clauson-663, 3-Hines-661, 4-Coons-612, 5-Hagen-589, 6-Abreu-536, 7-Andrew Felker-531, 8-Zach Daum-491, 9-Thorson-469, 10-Kuhn-416.
NEXT HONDA NATIONAL DIRT MIDGET RACE: October 3-5 – Pontoon Beach, IL – Tri-City Speedway – "Gold Crown Midget Nationals"