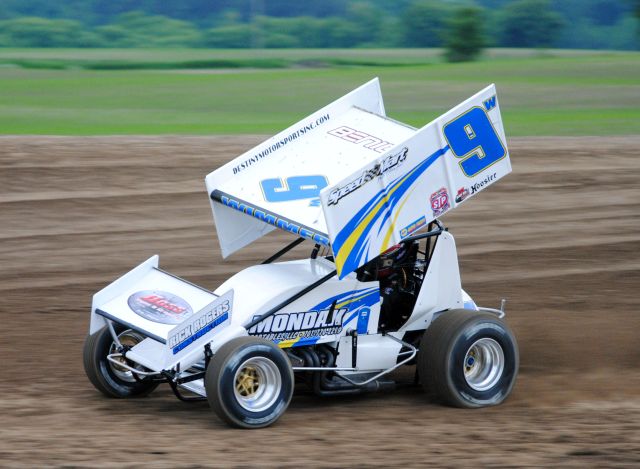 PETERSEN MEDIA
With last weekends World of Outlaw double header getting rained out, Lucas Wolfe and the Destiny Motorsports team opted to head to Wisconsin and take on the IRA on Saturday night, before taking on the SoD 360 Series on Tuesday night.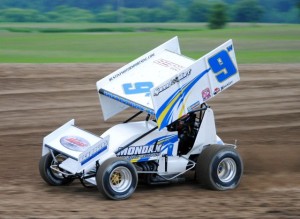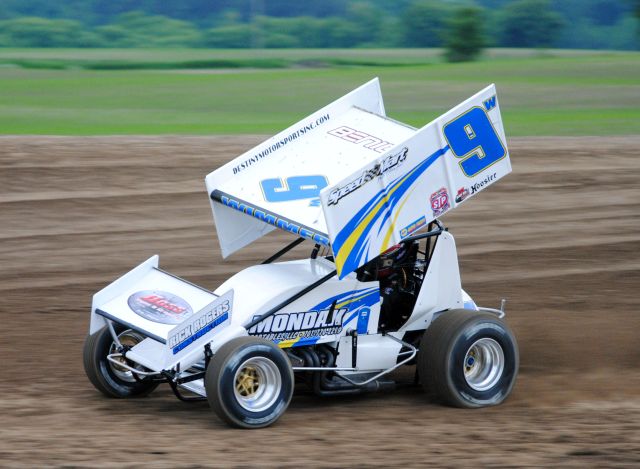 Hitting the Bern Speedway in Marne, MI on Tuesday night, Wolfe timed the Mondak Portables/Rick Rogers Construction/Triple –X No. 9 in seventh fastest with 28 cars on hand.
Lining up ninth in his heat, Wolfe was very strong as he charged his way forward up to the fourth spot, putting himself in the feature event where he lined up in the seventh spot.
When the green dropped for the feature event, Wolfe continued to show sped aboard his Speedmart/Wesmar Racing Engines/Keizer Wheels entry, as he worked his way up inside the top five, as the leaders all negotiated thick traffic.
Getting around Shawn Dancer late in the feature event, Wolfe locked down the fourth spot, where he went on to finish.
Saturday night, the team took on the IRA Series at the Beaver Dam Raceway in Beaver Dam, WI.
On a very tacky and wet track, Wolfe timed the Destiny Motorsports entry in fifth fastest, putting him in the fifth spot in his heat race.
On a very narrow track, Wolfe was unable to make much happen, as he held strong in the fifth spot, and transferred into the evening's feature event.
Starting sixth in the A, the heavy track did not blow off as much as the crew had anticipated, and the car was on the tighter side, and tough to maneuver.
Slipping back, and wrestling the No. 9w machine, Wolfe ultimately scored a 12th place finish.
Destiny Motorsports would like to thank Mondak Portables, Rick Rogers Construction, Speedmart, Wesmar Racing Engines, Keizer Wheels, Triple X Chassis, Driver Websites, and Benic Enterprises for their support through the 2013 season.
2013 DESTINY MOTORSORTS BY THE NUMBERS: Starts-55, Wins-1, Top 5's-8, Top 10's-13
ON TAP: Destiny Motorsports will return to action this Saturday night at the Fremont Speedway in Fremont, OH, and could possibly make an appearance in Waynesfield, OH on Sunday night, with Lucas Wolfe behind the wheel.
STAY CONNECTED: Stay updated with Destiny Motorsports by connecting via social media, www.facebook.com/destinymotorsports, and on Twitter, @DestinyMS9. You can also check us out on the web at www.destinymotorsportsinc.com.