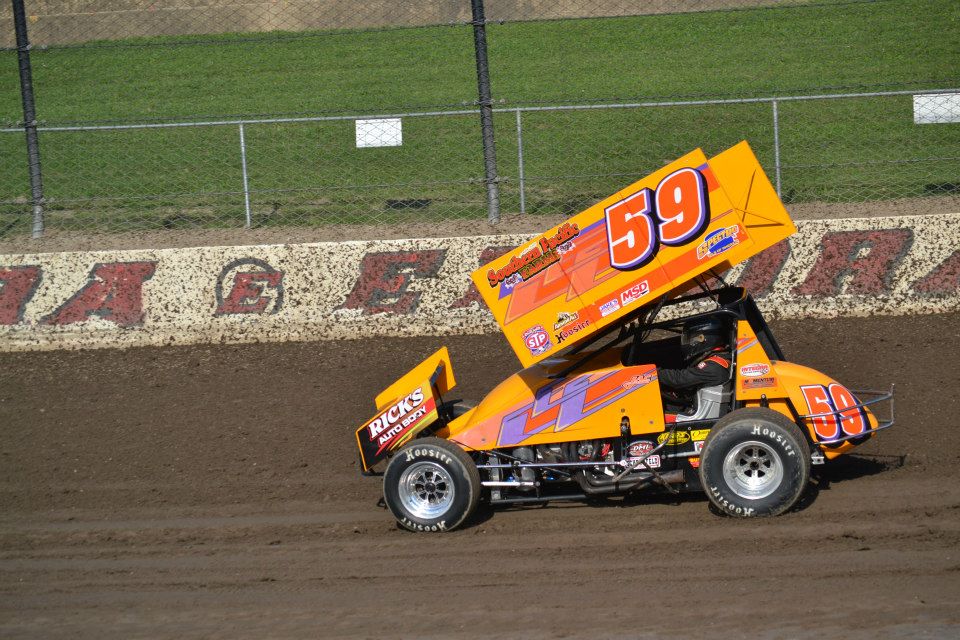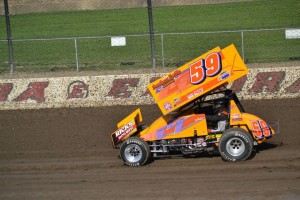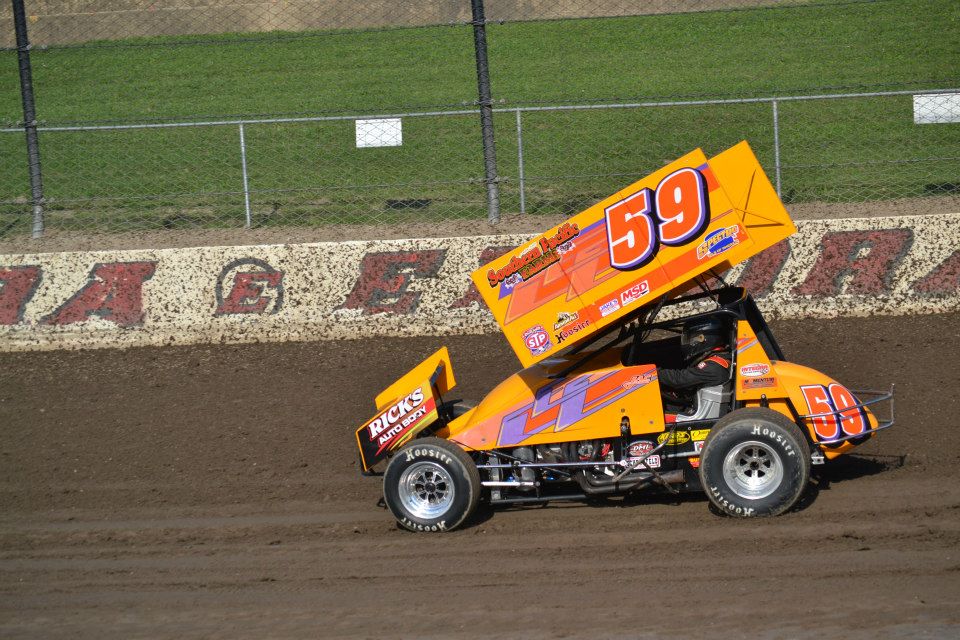 By T.J. Buffenbarger
Rossburg, OH – (October 12, 2013) –  Jac Haudenschild won a thrilling UNOH All Star Circuit of Champions feature to close out the 2013 season on Saturday night at Eldora Speedway.  Haudenschild held off a last lap charge by Randy Hannagan to win by a nose.  The win allowed Haudenschild to complete a clean sweep of the UNOH All Star Circuit of Champions program by setting fast time, winning his heat race, winning the dash, and the 30-lap main event.
"That was really close.  I knew someone would be close, but not close," said Haudenschild in victory lane.  "(Dean Burns) had the car good all night.  The track got really cleaned off where ti was fast down low and the top stopped working."
Hannagan got a run on Haudenschild on the top of the race track on the final lap, but didn't have quite enough momentum to pass Haudenschild at the end.   In the end Hannagan was surprised by Haudenschild going low to block in turn three on the final lap.
"If anybody has watched (Haudenschild) he was going to be on top," said Hannagan.  When he went to the bottom I gave everything I had to get a run at him but just came up short."
Haudenschild and Kevin Swindell started on the front row with Swindell leading at the start through turns one and two.  Haudenschild pulled the slide job through turns three and four to take the lead.  Haudenschild then opened up some distance until he approached lapped traffic on lap five.  This allowed Swindell and Chaney to close in through lapped traffic.
As the leaders started to overtake slower cars Caleb Helms hit the wall in turn one and flipped in front of the leaders.  Haudenschild spun to avoid, but kept going.  Kevin Swindell also did a 360 spin to keep going with Sam Hafertepe, Jr. getting upside down in the process.  All drivers were okay, but Hafertepe and Helms' cars suffered too much damage to continue.
Haudenschild moved into the lead with Chaney passing Swindell for second.  Chaney took one look under Haudenschild for the lead, but could not make the pass.  While Haudenschild pulled away Hannagan and Shane Stewart were running down Chaney.  Hannagen moved into second around Chaney with a slide job in turn four.  Stewart then exchanged third back and forth with Chaney for two laps.
Stewart then passed Hannagan and a lapped car with nine laps to go and started to run down Haudenschild.  Stewart and Hannagan then exchanged slide jobs until a lapped car boxed Stewart in and allowed Hanngan to take over second.  Hannagan then put pressure on Haudenschild while Stewart raced Blaney for third.
Haudenschild took the white flag with Hannagan right on his bumper.  Haudenschild went low in turn three.  Hannagan motored to the outside as Haudenschild slid up.  Hannagan dove to the bottom with a run down the hill at Haudenschild but did not have enough momentum to pass the "Wild Child".  The win made Haudenschild two for two in All Star competition at Eldora.  Hannagan, Blaney, Stewart, and Tim Shaffer rounded out the top five.
Eldora Speedway – 10/12/2013
UNOH Night
All Star Circuit of Champions (37 Cars)
[#]-Starting Position
Qualifying – Kistler Engines
1. 59-Jac Haudenschild, 13.032
2. 45-Danny Holtgraver, 13.153
3. 22-Cole Duncan, 13.172
4. 15H-Sam Hafertepe Jr., 13.186
5. 18-Ian Madsen, 13.197
6. 9X-Rob Chaney, 13.218
7. 2-Dale Blaney, 13.237
8. 71-Kevin Swindell, 13.246
9. 11N-Randy Hannagan, 13.281
10. 3G-Shane Stewart, 13.305
11. 9W-Lucas Wolfe, 13.319
12. 13-Mark Dobmeier, 13.334
13. 81-Lee Jacobs, 13.369
14. 83-Tim Shaffer, 13.382
15. 24H-Brandon Wimmer, 13.390
16. 7K-Justin Henderson, 13.391
17. 55-Trey Starks, 13.443
18. OO-Jim Nier, 13.470
19. 99-Brady Bacon, 13.480
20. 15M-Mitch Harble, 13.518
21. M1-Mark Smith, 13.530
22. 33M-Sheldon Haudenschild, 13.565
23. 40-Caleb Helms, 13.569
24. 57X-Andrew Palker, 13.583
25. 71M-Paul May, 13.622
26. 2S-Nathan Skaggs, 13.648
27. 5T-Travis Philo, 13.764
28. 35-Ronnie Blair, 13.806
29. 15-Brandon Ferguson, 13.884
30. 13M-Brandon Matus, 14.092
31. 54-Cap Henry, 14.135
32. 51-Roger Campbell, 14.230
33. 33-Brent Matus, 14.420
34. 59J-Kirk Jefferies, 14.497
35. 6N-Cody Gardner, 14.706
36. 80-Trey Gustin, 14.935
37. 22S-Brandon Spithaler, 99.999
Heat 1 – Kears Speed Shop (8 Laps – Top 5 finishers transfer to the A-feature)
1. 59-Jac Haudenschild[6]
2. 81-Lee Jacobs[3]
3. 18-Ian Madsen[5]
4. 11N-Randy Hannagan[4]
5. 55-Trey Starks[2]
6. 71M-Paul May[7]
7. 22S-Brandon Spithaler[10]
8. 33-Brent Matus[9]
9. M1-Mark Smith[1]
Heat 2 – All Pro Aluminum Heads (8 Laps – Top 5 finishers transfer to the A-feature)
1. 83-Tim Shaffer[3]
2. 3G-Shane Stewart[4]
3. OO-Jim Nier[2]
4. 9X-Rob Chaney[5]
5. 33M-Sheldon Haudenschild[1]
6. 45-Danny Holtgraver[6]
7. 2S-Nathan Skaggs[7]
8. 13M-Brandon Matus[8]
9. 59J-Kirk Jefferies[9]
Heat 3 – Dragon Race Fuel (8 Laps – Top 5 finishers transfer to the A-feature)
1. 40-Caleb Helms[1]
2. 99-Brady Bacon[2]
3. 9W-Lucas Wolfe[4]
4. 24H-Brandon Wimmer[3]
5. 2-Dale Blaney[5]
6. 22-Cole Duncan[6]
7. 5T-Travis Philo[7]
8. 6N-Cody Gardner[9]
Heat 4 – Kinsler Fuel Injection (8 Laps – Top 5 finishers transfer to the A-feature)
1. 15M-Mitch Harble[2]
2. 57X-Andrew Palker[1]
3. 13-Mark Dobmeier[4]
4. 71-Kevin Swindell[5]
5. 7K-Justin Henderson[3]
6. 15H-Sam Hafertepe Jr.[6]
7. 80-Trey Gustin[9]
8. 51-Roger Campbell[8]
9. 35-Ronnie Blair[7]
Dash – Outerwears Performance Products (6 Laps, finishing order determined first 6 starting positions of A-feature
1. 59-Jac Haudenschild[4]
2. 71-Kevin Swindell[2]
3. 11N-Randy Hannagan[1]
4. 9X-Rob Chaney[6]
5. 18-Ian Madsen[5]
6. 2-Dale Blaney[3]
B-Main – MSD Ignition (12 Laps – Top 4 finishers transfer to the A-feature)
1. 22-Cole Duncan[2]
2. 15H-Sam Hafertepe Jr.[3]
3. 45-Danny Holtgraver[1]
4. M1-Mark Smith[4]
5. 71M-Paul May[5]
6. 80-Trey Gustin[16]
7. 5T-Travis Philo[7]
8. 51-Roger Campbell[12]
9. 33-Brent Matus[13]
10. 6N-Cody Gardner[15]
11. 13M-Brandon Matus[10]
12. 2S-Nathan Skaggs[6]
A-Main – University of Northwestern Ohio (30 Laps)
1. 59-Jac Haudenschild[1]
2. 11N-Randy Hannagan[3]
3. 2-Dale Blaney[6]
4. 3G-Shane Stewart[7]
5. 83-Tim Shaffer[14]
6. 9X-Rob Chaney[4]
7. 45-Danny Holtgraver[11]
8. 9W-Lucas Wolfe[8]
9. 18-Ian Madsen[5]
10. 71-Kevin Swindell[2]
11. 33M-Sheldon Haudenschild[22]
12. 81-Lee Jacobs[10]
13. 22-Cole Duncan[12]
14. 24H-Brandon Wimmer[15]
15. 55-Trey Starks[17]
16. 99-Brady Bacon[19]
17. 13-Mark Dobmeier[9]
18. M1-Mark Smith[21]
19. 57X-Andrew Palker[24]
20. 7K-Justin Henderson[16]
21. OO-Jim Nier[18]
22. 15M-Mitch Harble[20]
23. 15H-Sam Hafertepe Jr.[13]
24. 40-Caleb Helms[23]
Hard Charger: 33M-Sheldon Haudenschild[+11]