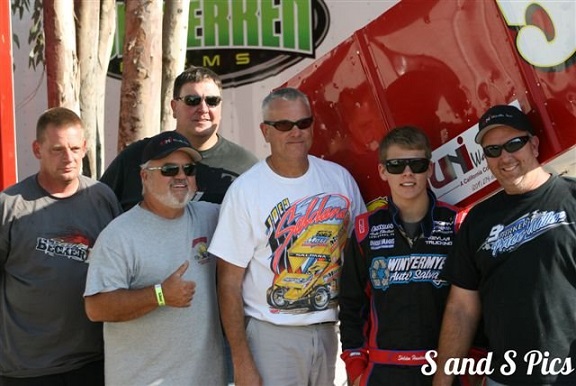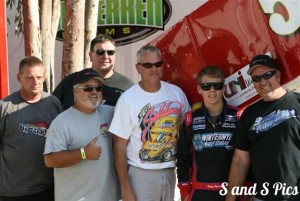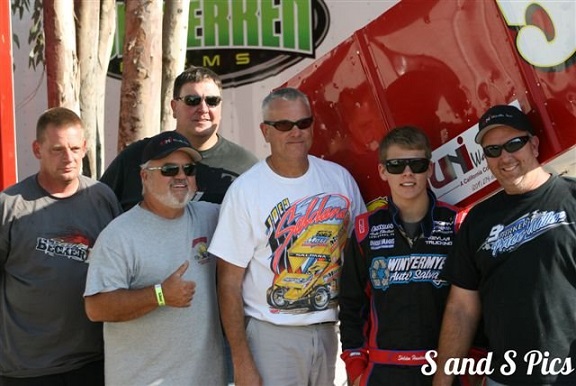 From Gary Thomas
Stockton, CA – (October 26, 2013) – (After running the recent "Trophy Cup" in Tulare the team of Brian Sperry Racing, Rick Fowzer Racing and Scott Miller have made the decision to bring Wooster, Ohio's Sheldon Haudenschild back to California to compete with the King of the West 410 Sprint Car Series at the Stockton Dirt Track on November 2.
The 20-year-old son of veteran driver & Hall of Famer Jac Haudenschild will climb back aboard the familiar No. 51 Sprint Car with help from C&H Veteran Enterprise, Uni Waste Inc., ART Enterprise, IPC, Benic Enterprise, S and S Pics and Circle of Girls, which can be seen on Facebook under Circle of Girls and a soon to be launched website. The Sperry 51 has most recently won in KWS competition with Sean Becker at the helm in 2010.
It will mark Haudenschild's first career start with the King of the West 410 Sprint Car Series, during what is the season finale for the tour. So far this year there have been seven different winners in the 17 rounds held and when the series last visited Stockton, it happened to be a first time winner in the form of 16-year-old Dominic Scelzi. Haudenschild will be searching for a solid run at the 3/8 mile clay oval, as he races in front of the Golden State fans once again.
A car show from noon to 4pm on November 2 will also take place behind the grandstands featuring Classic Hot Rods, Restored Classics, Race Cars, Motorcycles, Custom Hot Rod Trucks and more. Registration is free at the event and will be located through the front gate of the fairgrounds off Airport Way. Two GA tickets will be given per car owner who participates. The Central Valley Cruisers are the host car club for the event and live music will be performed by the Robert Flores Band.
The evening will also be capped with a huge 4th of July style fireworks show to finish off the season in grand fashion.
To purchase your tickets for November 2 contact (916) 370-9417 and to view a seating chart log onto http://stocktondirttrack.com/grandstands.pdf to find the seats you want. Ticket office hours are 8am to 5pm Monday through Friday.
Premium reserved grandstand seats cost $30, with general admission bleachers being $20. Kids 6-12 in the bleachers cost $10 with children five and under free. Box seats in sets of six will be sold for $180 and sets of eight for $240. There will also be a $5 convenience fee for each ticket purchased. Tickets will be left at will call on November 2 and can be picked up at 2pm that day.
With two classes of Winged Sprint Cars and a large field expected there will also be a slightly earlier than usual start time with things beginning just about an hour earlier than normal. The pit meeting will be held at 3:30pm with plans for wheel packing at 4pm, qualifying at 5pm and the first heat will be scheduled to push off at 6pm. The front gate will open at 3:30pm with the ticket booth opening at 2pm.
Known as the "Dancing Phantom from Stockton," the "Preacher," the "Hostile Hippie" or just simply "GP," Gary Patterson was one of the most colorful characters of his time and captured a number of lucrative wins in his career, including the Gold Cup Race of Champions when it was held at West Capital Raceway in Sacramento, the Super Dirt Cup in Washington at Skagit Speedway and the Turkey Night Grand Prix at Ascot Park in Gardena among others.
Patterson unfortunately lost his life in a Sprint Car crash at Calistoga Speedway on Memorial Day weekend 1983 and an event in his memory has been held every year since. The event began at Calistoga Speedway, before moving to Silver Dollar Speedway in 2008-2011, prior to going back to Calistoga last year. "GP" moved to Stockton, California in 1957 and actually began his career at the Stockton 99 Speedway, which makes for a perfect tie-in to pay tribute on the 30th anniversary of the event. More info on the late great "GP" can be found at http://garypattersonracing.com/
The Stockton Dirt Track is located on the San Joaquin County Fairgrounds in Stockton, California and is built inside a one-mile horse track. The physical address is 1658 S Airport Way, Stockton, CA 95206. For information on the speedway visit www.stocktondirttrack.com and you can also like the track on Facebook at https://www.facebook.com/stocktondirt?fref=ts as well as follow on Twitter at https://twitter.com/stocktondirt and also visit www.stockton99.com for information on the paved oval located just minutes from the dirt track.
Info on the King of the West 410 Sprint Car Series can be found at www.kwssprints.com Be sure to like the KWS Facebook Page at http://www.facebook.com/kingofthewestsprints and become a member of our Twitter community at https://twitter.com/KwsSprintRacing