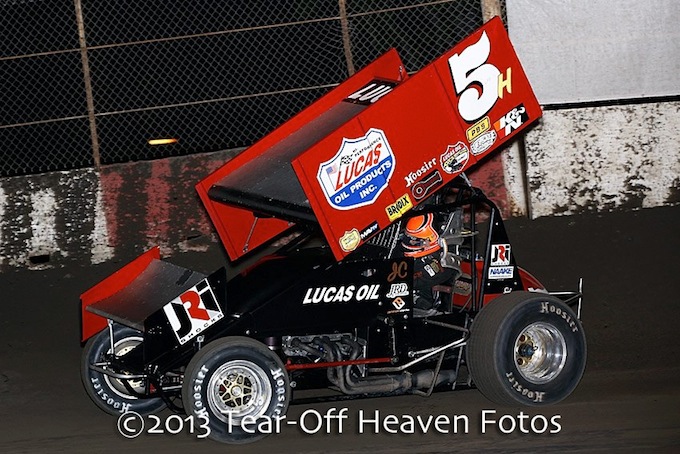 PETERSEN MEDIA
Climbing aboard Harley Van Dyke's No. 5H for one last time, Justyn Cox had a strong night going at the Stockton Dirt Track on Saturday night, but an early issue in the feature event, ultimately left him with a poor finish.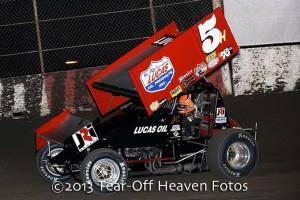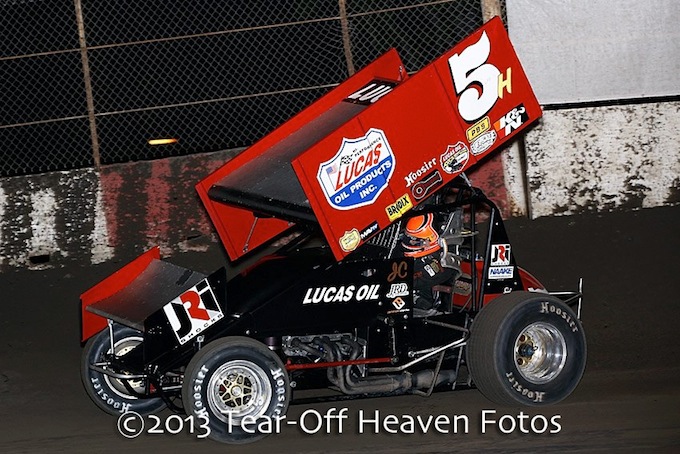 "We had a great car all night, but it was a pretty messy start to the feature that left us with a flat tire, and forced us to the back," Cox said.
With 39 cars on hand for the 360 portion of the 'Tribute to GP', Cox timed his Lucas Oil Products/K&N/JRI Shocks No. 5h in fourth fastest, putting him in the second row of the fourth heat.
Working his way to the lead in his heat, Cox would go on to win, which transferred him into the feature event, and gave him a Dash berth, where he found himself with the seven pill after the draw, putting him in the fourth row.
Finishing seventh, Cox started seventh in the feature event, and as the race went green, Cox got hit, putting him into the back of Mitchell Faccinto, causing a left front flat on his machine.
Fixing the tire, Cox would restart, but would be marred deep in the field on the rough and tumble track.
Though he had a very strong car, Cox slowly was able to work through traffic, and found himself in the eleventh spot, but on the fast track, the leaders were on his tail.
Trying to stay out of the way, and not race with them, Cox made a mistake and got into the third running Shane Golobic with just seven to go, and pulled into the infield, and was credited with a 16th place finish.
"I felt terrible about the whole incident with Shane Golobic," Cox said. "The track was a little rough, and I made a mistake and got into one of the leaders. It definitely wasn't on purpose, it was simply driver error, and 100% my fault.  Aside from that, I have to thank Harley Van Dyke, again, for everything he has done for me in my career. I wish his team the best next year."
The Van Dyke Motorsports team would like to thank Lucas Oil,  K&N Products, JRI Shocks, Rodgers Racing Engines, K1 Safety Gear, JRD Endeavors, Sacramento Theatrical Lighting, Worton Designs, and College Cyclery for their support during the 2013 season.
2013 BY THE NUMBERS: Races-51, Wins-3, Top 5's-16, Top 10's-24