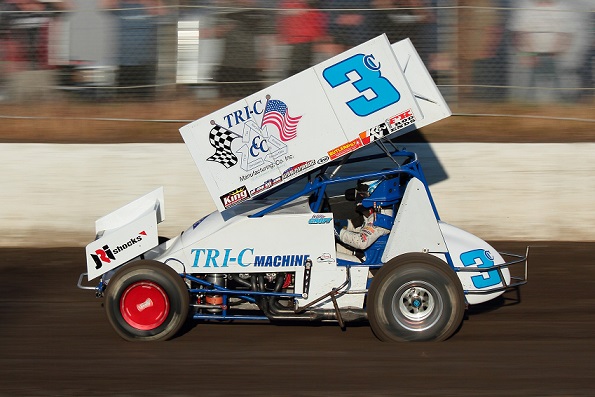 PETERSEN MEDIA
Climbing aboard his own Willie Croft Racing No. 29 entry to close out the King of the West season on Saturday night, Willie Croft' 10th place finish earned him third place overall in the 2013 King of the West point standings.
"I have to thank the Lamar family for putting me in their car for the season, and then really have to thank Rod Tiner, Rick Hirst and Derrick Hirst for their help at Stockton back in my own stuff," Croft said. "Overall it was a really good year running with the King of the West guys, and I'm excited to see what happens next year."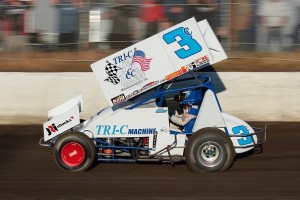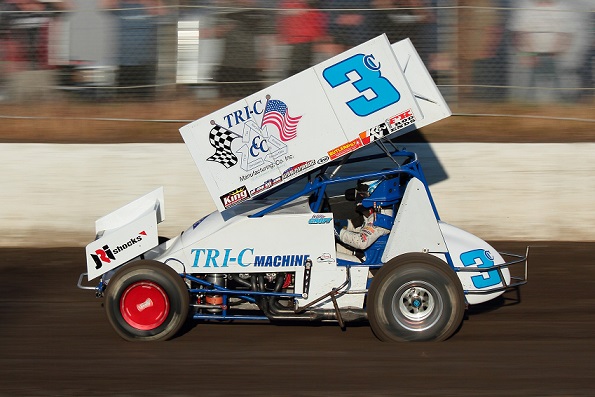 With 35 cars on hand to close out the King of the West season, Croft timed his Holey Smokes BBQ/Christian Stover Foundation/ButlerBuilt No. 29 machine in ninth fastest, putting him on the pole of his heat race.
When the green light flashed on, Croft was hard on the throttle, and went on to pick up the win in convincing fashion, and earned a spot in the Dash.
Continuing to draw very well in the Dash, Croft lined up in the last row, and finished eighth, putting him in the fourth row for the 30-lap feature event.
When the feature went green, Croft had his elbows up on the hooked up track, as he slowly carved his way up into the fourth spot.
While running in the fourth spot, Croft got a little tight in turns one and two and drifted up the track, and lost several spots, falling back into the 12th spot.
Doing what he could to finish on a high-note, Croft worked his way back up to a 10th place finish when all was said and done, and matched his career best finish in the KWS point standings, third place.
"We were pretty good in the feature, but just had that one issue, that really took us out of it," Croft said. "On a brighter note it's pretty cool to finish third in the standings, and also cool to see my brother-in-law, Kyle Hirst, win the deal."
Croft's 2013 campaign comes to a close with him competing in 53 races, winning five times, netting 20-top five finishes and 30- top 10's.
Willie Croft Racing would like to thank Holey Smokes BBQ, The Christian Stover
Foundation, ButlerBuilt , Brown and Miller, Sander Engineering, FK Rod Ends, Hinchman Indy, Schoenfeld, K&N, Smith Precision Products, All Pro Cylinder Heads, Shark Racing Engines, A.R.T., M.R.O. Industrial Supply, Redline Oil, Kaeding Performance, PaPa's Beef Jerky, Dan Olson Products, Vortex Wings, AIC Powdercoating, Les Schwab, and GUTS for their support in 2013.
2013 BY THE NUMBERS: Races-53, Wins-5, Top 5's-20, Top 10's-30.
STAY CONNECTED: Stay connected with Willie Croft Racing by visiting www.williecroftracing.com. You can also follow him on Twitter @wcroft29.