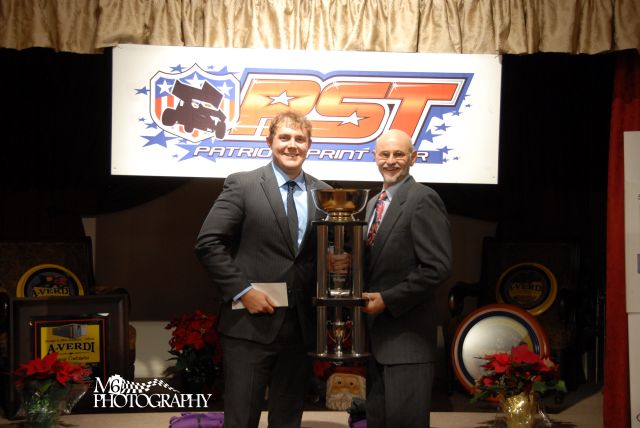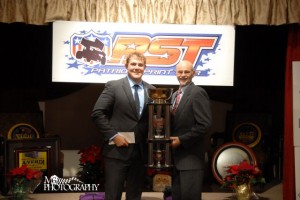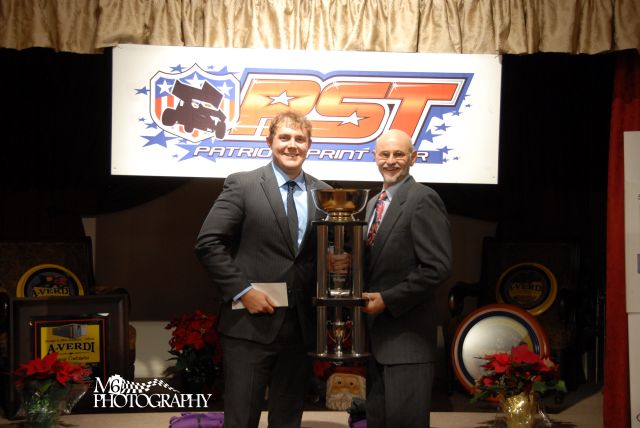 From Rich Vleck
Rochester, N.Y. — (December 21, 2013) — Christmas time a season for giving, and on Saturday Night, the Patriot Sprint Tour played the part of Santa Claus, handing out some big money after another big year.
The Patriot Sprint Tour held its annual Season Awards Banquet Saturday Night at Barnard Exempt in Rochester, NY.  A whopping $27,325 in cash prizes was distributed, a true dollar figure that had all teams in attendance smiling.
Jared Zimbardi and Steve Poirier took the largest slices of the point fund on the night, but more than 20 drivers walked away with solid paydays made possible by Hoosier Tire Canada, A-Verdi Storage Containers, Insinger Race Fuels, Original Pizza Logs, Mike Emhof Motorsports, Bonnell's Collision, Fine Touch Collision and Gater Racing News.
Zimbardi, 26, was crowned the PST America Tour Championship, netting him $5,000.  It was the second championship in three years for the Little Valley, NY driver now residing in Bradford, PA.  Zimbardi bounced back after a sluggish 2012 season to reel off three wins, two coming at the smallest tracks on tour (Bradford and Clinton County) and the other at the largest (Raceway 7).'
Zimbardi was given an Award for Sportsmanship for the eighth year in a row as well, an honor he joked about while accepting his championship trophy. Tony Difonzo, crew man on the 35, was named the Mechanic of the Year.
Poirier, of St. Mathieu de Beleoil, Quebec, made his preseason commitment to run the full PST Canada Tour pay off, as he outlasted Jason Barney over the six months to claim his own $5,000 cash championship.  Poirier was unable to attend the banquet Saturday Night due to a late business conflict, but his head wrench Kevin Loveys was on hand to accept the hardware despite driving through a blizzard on his way down from Montreal.
Scott Just, of Ransomville, NY, was another major award recipient on the night, taking home the Insinger Race Fuels Rookie of the Year, joining a select group.  Just was also named the Original Pizza Logs Dash Series Chapmion.
Defending PST America Champion Scott Kreutter was second in points this season.  In addition, he was honored as the Patriot of the Year for the second-straight season.
Defending PST Canada Champion Justin Barger was third in PST America points this year, Gater Racing News Hard Charger of the Season Tommy Wickham was fourth in the standings for the second-straight year while Geoff Quackenbush rounded out the top five in his return to the tour for the first time in six years.
Brad Knab was sixth in points, ahead of Clint Ide, Scott Just, Bryan Howland and Steve Collins who completed the top-10.  Top newcomer Tyler Graves and fellow rookie Dave Just also were point fund eligible.
Jason Barney finished second in the PST Canada standings, just ahead of Jamie Collard, who finished in that position last year.  Barger and Zimbardi doubled up their point funds, rounding out the top five.
Chris Jones, Glenn Styres, Keith Dempster, Patrick Vigneault and Etienne Girard completed the top 10 in the PST Canada standings.
A special moment on the night was when the Hard Luck Award was handed out to George Suprick.  The 2004 Series Champion's season was cut short back in June when he suffered a heart attack following a series event at Mercer.  Suprick thanked those in attendance, but made sure to let everyone know how truly lucky he was, before announcing he will be back to race next season.
Former racer and major series supporter Scott Bonnell was recognized for his Dedication to Motorsports, another special award on the night.
After the awards were distributed, each eligible driver in attendance took home a product through random draw.  These items were made possible by Diversified Machine Inc. (DMI), Winters Performance Products, The Brake Man, Saldana Race Prodcuts, M&W Aluminum Products, Insinger Race Fules, Top Flight Wings, Randy's Racing Filters, Bicknell Racing Products, Eagle Motorsports, Ti22 Peformance, Rod End Supply, MPD Race Products, Ti64 Titanium Products, Crow Racing Products, Brad Penn Oil and Mike Emhof Motorsports.
To conclude the ceremony, PST Owner Mike Emhof took to the podium to shed some light on the 2014 season.  Emhof first declared that once again next season their will be a PST America and PST Canada Series, each paying $5,000 to the champion.  In addition, if a driver can claim both titles, they will receive a $5,000 bonus, meaning that $15,000 will be up for grabs for a single driver.
It was also announced that almost every track on the tour this past season will be part of the 2014 tour, with a few tracks the series was not at last year will return.  It was a great way to close out a great night.
For more information, visit www.PatriotSprintTour.com.
PST America Top-12 (Special Awards in Parenthesis)
Jared Zimbardi (Sportsmanship)
Scott Kreutter (Patriot of the Year)
Justin Barger
Tommy Wickham (Gater Hard Charger)
Geoff Quackenbush (Worst Luck of Draw)
Brad Knab
Clint Ide
Scott Just (Insinger Rookie of the Year, Original Pizza Logs Dash Champion)
Bryan Howland (Best Appearing Car)
Steve Collins
Tyler Graves (Outstanding Newcomer)
Dave Just
PST Canada Top-10
Steve Poirier
Jason Barney
Jamie Collard
Justin Barger
Jared Zimbardi
Chris Jones
Glenn Styres
Keith Dempster
Patrick Vigneault
Etienne Girard
Additional Special Awards
Dedication to Motorsports: Scott Bonnell
Hard Luck Award: George Suprick
Mechanic of the Year: Tony DiFonzo