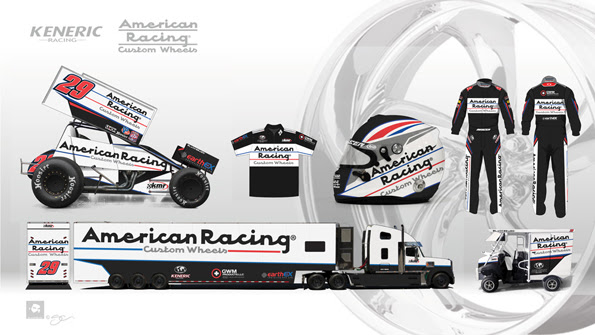 From Dan Ricehouse
Cerritos, CA — (January 21, 2014) ­– American Racing, the nation's iconic custom wheel manufacturer, will continue its partnership with the Australian owned Keneric Racing as the naming rights sponsor of the No. 29 sprint car piloted by Kerry Madsen for the 2014 World of Outlaws (WoO) STP Sprint Car Season.
"After the tremendous response at the WoO World Finals at Charlotte in November, we all sat down and had a serious conversation about the potential in our newly founded relationship," said Dan Ricehouse, spokesman for American Racing. "Keneric Racing runs a first class operation; with their core business in Australia (Keneric Group) and their race team in the USA, they have made a serious commitment to run for a WoO Championship in 2014. With the "Mad Man" Kerry Madsen behind the wheel all the pieces of the puzzle are there to have a successful 2014 season; game on."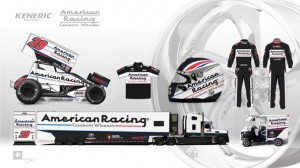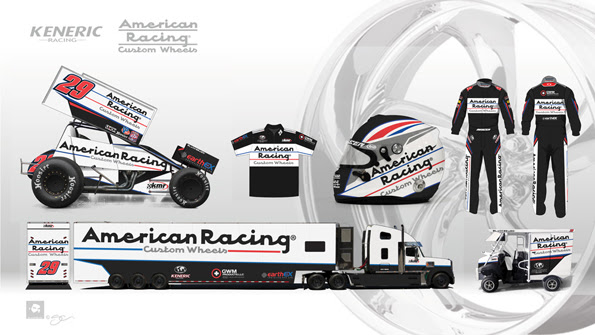 American Racing still prides itself on the mission that began in a California speed shop nearly 60 years ago with the production of a single set of lightweight, custom drag racing wheels. The company set a standard that launched the custom wheel industry and continues to set the benchmark around the world today. The Keneric Racing partnership further extends American Racing commitments to motorsports as they are the "Official Custom Wheel" and corporate partner to the World of Outlaws, and supporter of top teams and drivers in NHRA and Indy Car.
"We are extremely excited about the newly formed partnership with American Racing for the 2014 WoO sprint car season," said Peter Gavranich, General Manager and part owner of Keneric Racing. "We started on this journey back in 2011 and when we look back and reflect on where we are today, and the things that we have achieved for a privately owned Australian team, to be competing with the WoO in the USA is a pretty good thing in itself let alone the fact that we have just aligned ourselves with a corporate American company and WoO series sponsor. We have never been in a better position."
Excitement for 2014 is also at a high level for driver Kerry Madsen, "We're really looking forward to 2014. We have put in a lot of work in the off season and have been working harder than ever to prepare for our most important season to date," says Madsen. "I am proud to continue my association with Keneric Racing and the newly formed partnership with American Racing. With our new crew chief, Tyler Swank, on board I think we will be much more consistent in 2014. Since our inception we have taken small steps each year in our development as a race team and organization; we believe that we are now another step closer to achieving our goals. We are under no illusion of the expectations and the added pressure of securing a partner such as American Racing, but it's a challenge we are up for and ready for," explains Madsen.