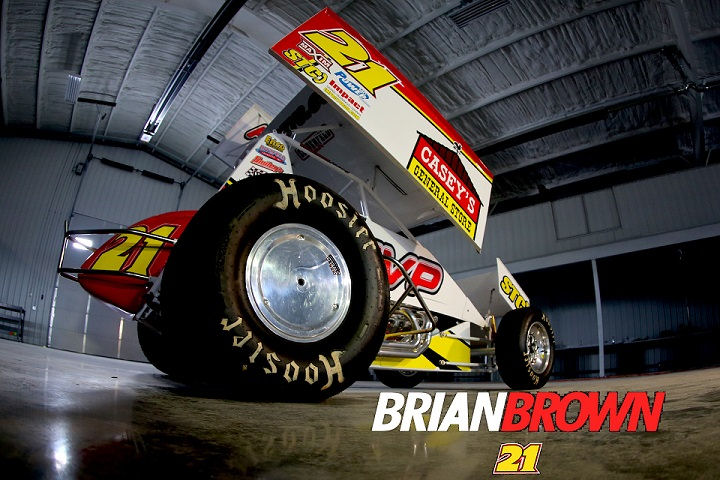 By Bill W
March 3, 2014 – The openers for the Brian Brown Racing Casey's General Stores/FVP #21 team didn't include a win, but two strong finishes of third and fourth were a solid start.  The finishes came against a stout field of Lucas Oil ASCS National Series sprint cars at Cocopah Speedway near Yuma, Arizona.  The Grain Valley, Missouri driver heads north to Las Vegas for Wednesday and Thursday matchups with the World of Outlaws before that series heads to Tucson, Arizona on Saturday.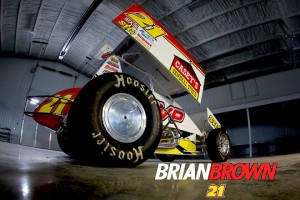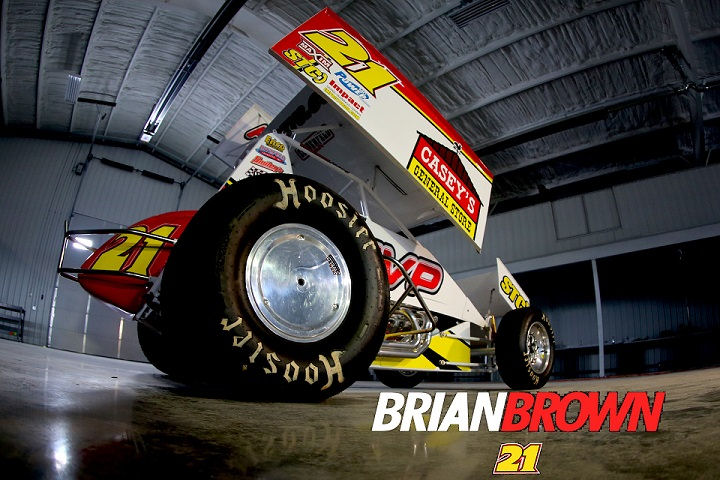 You drew outside of row one for his heat race on Friday night, and finished second to Rico Abreu, who swept the weekend.
We weren't that great to be honest.  We were trying to find a spot on the track where we could go forward.  We were having some issues.  Rico did a good job.  I tried blocking him a couple of times to hold him off, but it was inevitable that he was going to get by us.  With a couple of laps to go, I was able to move the wing around…that's what's nice about having Vortex wings.  That made the car a little better, but he was still able to win it.
How did it feel to be on the track for the first time since November?
Overall, it felt good to get back in the car and be competitive.  Rico has about eight to ten shows that he's run this year, so it was good to finish second.
Your heat race set you up starting tenth in the preliminary feature on Friday.
We got going pretty well.  We were fourth with about ten or twelve to go.  We were five car lengths or so out of third.  I thought we were going to have a good shot to win it.  Unfortunately, they just drove away from me.  We got bad there in the middle to late stages of the race.
What were you thinking while running fourth?
At that point, we were just trying to hold onto the lock-in spot.  Brad Loyet actually got by us there with a lap to go to put us back in fifth.  We pulled a rabbit out of a hat to get back by him in the last corner.
I assume you felt changes were needed for Saturday's finale.
We definitely felt we had some work to do after Friday. We were good enough to be third or fourth, but not good enough to beat those guys.  We went back to the drawing board and came back Saturday.
With this being your first weekend of racing this year, would you rather not have been locked into Saturday's main event so you could run a heat?
The advantages of not running the heats are: "What if I get a bad draw?  What if we get in a wreck in a heat?  What if?  What if?"  You do lose a little track time the other way though.  In the end, it's an advantage to be locked in and it's easier on the crew.
Your draw didn't go the best, putting you back inside row four for the feature, but you charged forward.
We were able to get to third pretty quickly.  We had a caution about halfway through.  We had a few lapped cars between Rico and me, and I just never got to the point where I thought I could go for the win, and we ended up third.  Hat's off to Rico and Chris Bell.  They ran well all week long.  They deserved to finish first and second.  We deserved our third and fourth.  It was a good start for us at Yuma, and we have a lot to build on.
Having finished second in several Outlaw races last year, you have to be looking forward to Las Vegas.
We were good at Vegas last year.  FVP is the presenting sponsor for both nights, so if it's time for our first Outlaw win, this would be a good week.
Saturday, you head to Tucson where you ran well last year with the Outlaws and got a win with ASCS.
We ran third to Daryn Pittman and Joey Saldana there last year.  We ran really well there, and I felt we had a chance at winning.  The three nights this week are as good a chance for us as any to knock them off.  Our Charlie Garrett engines are fresh and we're ready to get after it.  It won't be easy.  I'm looking for 40-45 cars to be there this week.  With the crew we have assembled, Chad (Morgan), Beau (Stewart)…Mark Clemons and Scotty Ritchhart are here with us too…I feel like we can get it done.
Follow Brian on the Web, Twitter and Facebook!
Follow Brian at his website located at www.BrianBrownRacing.com!
Also keep up with FVP, Casey's and Brian on Facebook and Twitter at the following links…
Twitter Links – @BrianBrown21, @FVPRacing, @CaseysGenStores
Facebook Links
Brian Brown Racing – www.facebook.com/pages/Brian-Brown-Racing/200630163294222
Casey's General Stores – www.facebook.com/pages/Caseys-General-Stores/112073528804354
FVP Racing –  http://www.facebook.com/FVPRacing?ref=ts&fref=ts
Other Web site info
Casey's: www.caseys.com
FVP: www.fvpparts.com
Brown's Bits
Of Brian's eighteen second place finishes in 2013, three came in World of Outlaws events.  Two were at Knoxville Raceway including the Nationals and one came at Eldora Speedway near Rossburg, Ohio.  Brian won his prelim at the Nationals.
15% off of Enco Tools Purchase!
Receive 15% off of your order with Enco Tools!  Just go to www.UseEnco.com and use the coupon code "BBR21"!
About Casey's General Stores
Casey's General Stores is a Fortune-500 company (NASDAQ CASY) operating nearly 1700 convenience stores in 11 states through the Midwest. Known for its "Homemade-To-Go" pizza, sandwiches, donuts and bakery items, Casey's strives to consistently deliver quality gas, fresh kitchen-prepared food, clean environments and friendly service at every retail location.  Casey's is currently the 12th largest c-store chain and sixth largest pizza chain in the United States.
About FVP
We are very excited to introduce our new line of automotive chemicals, oils and fluids to our product offering.  These new products will be available at many retailers across the country.  We continue to offer a full line of high quality oil, air, cabin air and fuel filters, plus a complete line of high quality batteries for multiple applications including cars, trucks, SUV's, commercial and other specialty vehicles.  All products are made to OE manufacturer fitment specifications.  FVP products are engineered to provide our customers with quality products that are equal or superior in performance to the major national brands at a competitive price.  To learn more about our FVP products or to find out where you can have FVP products installed in your vehicle, visit us at www.FVPparts.com!  FVP…The Confident Solution
SPLASH
In addition to our line of seasonal safety products, we are very excited to introduce a full line of SPLASH Wiper Blades.  Our SafeView Performance Blades fit 95% of the vehicles on the road with quick and easy installation for everyone.   The AccuVision Beam Blade offers memory curve steel, which provides uniform pressure for a clear wipe, without the streaks.  Look for these great new SPLASH products!  Whether it's keeping your windshield clean or free of ice, protecting your RV, boat or pool from freezing in the winter, or your sidewalk safe to walk on, SPLASH Products are what you need!  Check out our new SPLASH website at www.SPLASHWash.com!  SPLASH…SEE SAFELY!
Marketing Partner of the Week – Searsboro Telephone Company's www.FaxeMeService.Com
Brian says, "Don Long is an avid sprint car fan, and has been a part of the team for several years now.  We're just really happy to have him here."
Receive faxes through your e-mail when you're away from the fax machine!  Visit www.FaxMeService.com for easy sign-up options!  It's the simplicity of a fax through the convenience of e-mail.  It's easy to use, with no setup and a low fee!
Associate Marketing Partner of the Week – Smiley's Race Products
Smileys Racing Products and Hoosier Tire Southwest have been in the racing business for 30 years in the Dallas, Fort Worth area. Visit Smiley's the next couple of weeks, either in Kennedale, at the showroom store in Mesquite, or at the racetracks.  All employees at Smiley's Racing Products and Hoosier Tire Southwest are directly involved with race teams either as owners, drivers, pit crew members etc.  What this means to you our customers is racing advice that has been tested on the track first, and then we pass our findings on to you our customers.  From parts and tires to complete race cars, Smiley's Racing Products and Hoosier Tire Southwest is ready to help you get to the checkered flag first. All aspects of our business can be seen at www.SmileysRacing.com.  Click on catalog and put your information in and we will send you a catalog free of charge.
Brian Brown Racing would like to thank Casey's General Stores, FVP, Searsboro Telephone Company, MC Power, Impact Signs Awnings Wraps / impact4800.com, Champion Brands, DNA Energy, Ditzfeld Transfer, Maxim Racing, Smiley's Racing Products, Enco Tools, Weld Wheels, Housby Trucks, www.RateWin.com, Arctic Cat, K&N, Hostiowa.net, FSR Race Products, TI64, Fuel-Safe Tanks, Wolfe Eye Clinic, Bell Helmets, Hinchman, CP Pistons, Carrillo Rods, Vortex Wings, Penray, All Pro Cylinder Heads, Butler Built Seats, AkzoNobel, Kenny's Components, AllDayParts.com, Tru Square, Jack Links, Deli Express, Snap-On Tools, Rod End Supply, KSE Racing Products, Winters Performance, Cometic Gaskets, Shell Shock, Donovan, ISC Racers Tape, Kinsler Fuel Injection, Racing Optics, Mothers Wax, Hoosier Tires, Klein RV, XYZ Machining, Brown and Miller Racing Solutions, Red Devil Brakes, Schoenfeld Headers, 6B Apparel, Bosch, Garrett Racing Engines, MSD, Moyle Racing Engines, Fortress Wealth Management, Legacy, Flexzilla and WSIB Insurance for all their support!