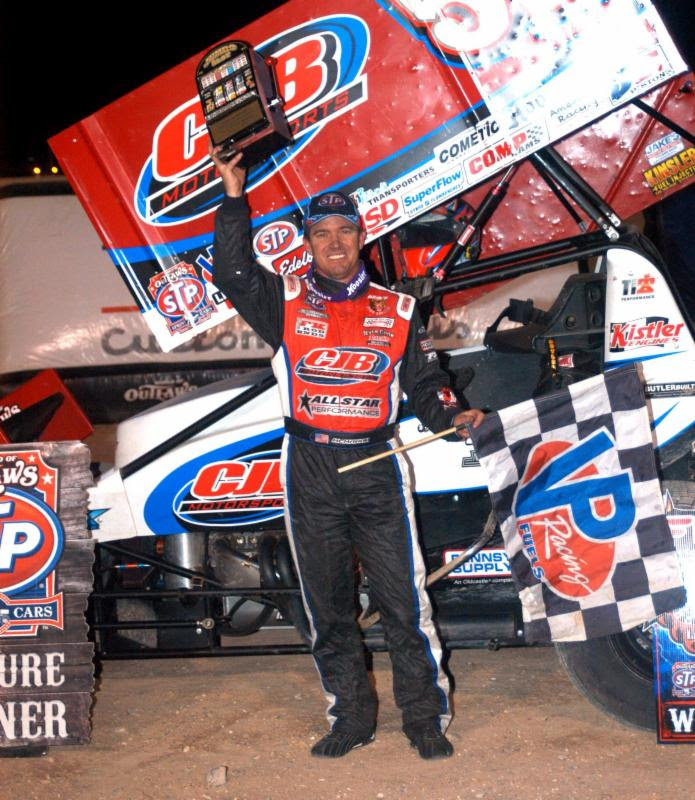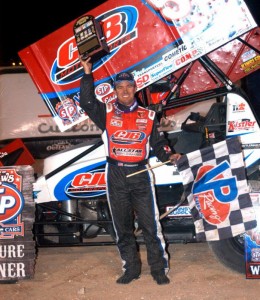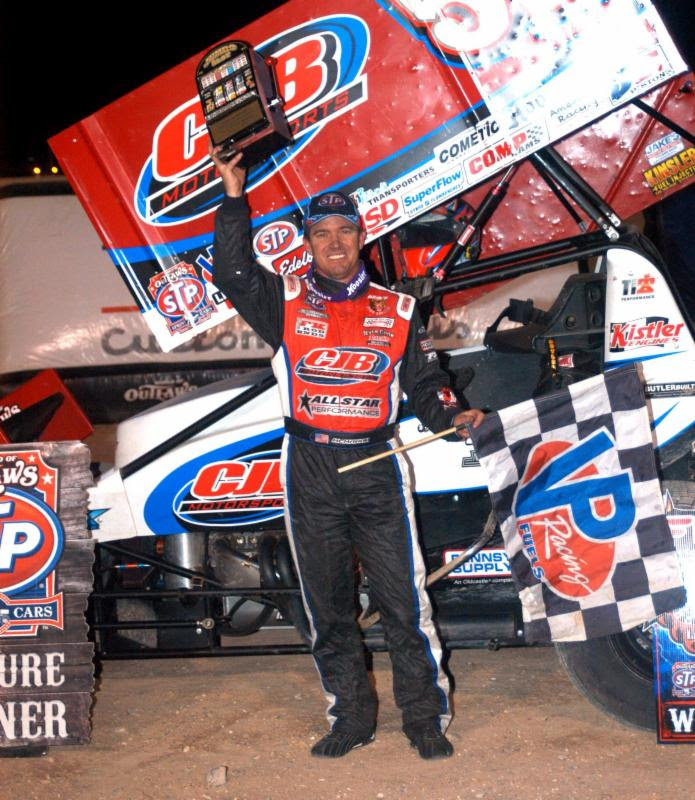 From R&R Media Group
Telford, PA — (March 11, 2014) —  If championships are won by getting off to a great start, Paul McMahan and the #51 CJB Motorsports team have to be happy.
Through six World of Outlaws STP Sprint Car Series events, the Nashville, Tenn. resident has three Quick Time awards, one victory, an average finish of 4.6 and heads into the series first west coast swing with the points lead.
"To be off and rolling like this is huge," said McMahan. "The entire CJB team worked extremely hard this winter to make sure we were prepared and it is showing. We've been fast every night and very racy."
That speed was on display as the #51 Bairs Tree Service/Nyce, Crete & Landis Block & Concrete/All Star Performance sprinter picked up its first win of the season during the opening night of the FVP Outlaw Showdown at the Dirt Track at Las Vegas.
(Photo courtesy of World Racing Group.)
"The first night in Vegas was excellent," said McMahan. "We got to start on the front row of the feature and got around Kerry Madsen on lap 19. We held on for the win and it was so gratifying to get the first victory in our pocket. It really relaxes the whole team. We had a few stumbles the following night but still managed to finish sixth. That makes me very happy as a driver because we battled through adversity."
From Vegas, the team moved south for the series lone race in Arizona at Tucson International Raceway.
"We battled some pretty fierce wind gusts while we were at Tucson," explained McMahan, who set Quick Time with a lap of 12.523. around the semi-banked, 3/8th's mile oval. "We got collected in a wreck in the dash and had to thrash to get the car back together for the feature. I really think, given the circumstances, we made the best of a bad situation. We got back out there in time for the feature and still salvaged an 8th place finish."
The CJB team now heads to California for over a month of racing with a one-point lead in the series standings.
"We're leading the points early which sets you up for a great year," said McMahan. "We really hope to keep it up and I think we can since we're heading to my home state. I know a lot of the tracks coming up. Thunder Bowl Raceway in Tulare is up first and it is one of the most exciting tracks we race at anywhere in the country. It's tricky to drive and set the car up for because you have to compromise. You can only have the car right for one end of track so it's a challenge. That being said, it still is exciting and it makes for one heckuva show for the fans."
CJB MOTORSPORTS 2014 STATS:
Starts: 7
Quick Times: 3
Wins: 1
Top-5's: 4
Top-10's: 7
UP NEXT: The CJB Motorsports team opens the Spring Break tour with a weekend double header at Thunderbowl Raceway in Tulare, Calif. on Friday, March 14 and Saturday, March 15.
STAY CONNECTED WITH CJB MOTORSPORTS:
For up to the minute race updates and behind the scenes content from CJB Motorsports, please follow the team on Facebook and Twitter.