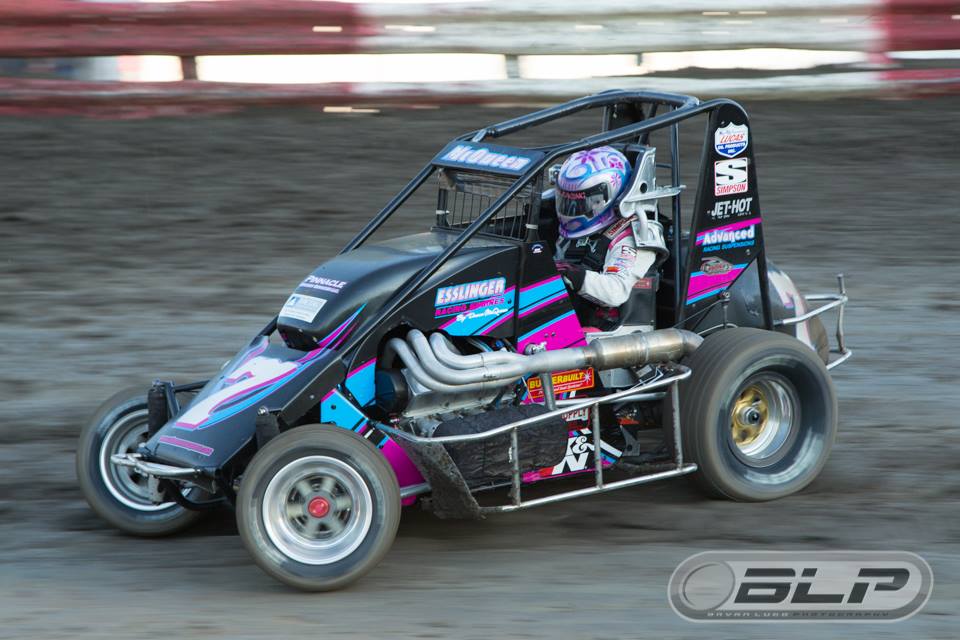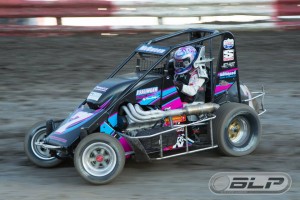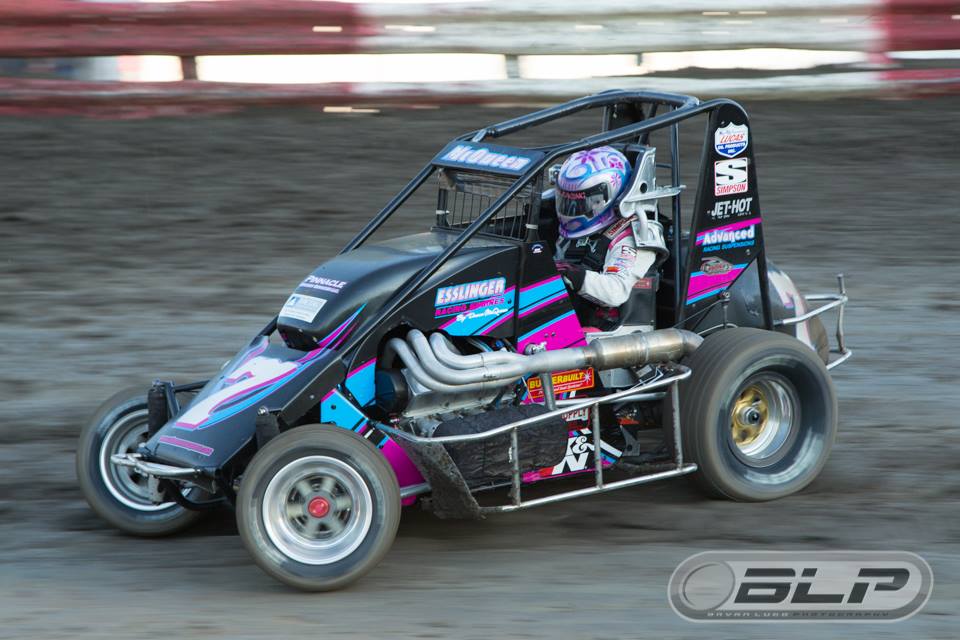 From  Robert Haugh
Returning to action at one of the fastest tracks in the West, Bakersfield's Shannon "Lightning" McQueen opened her 2014 racing season with a second place finish on Friday, March 21 at the Bay Cities Racing Association event at the 3/8-mile Stockton 99 Dirt Track in Stockton at the San Joaquin County Fairgrounds in Stockton.
Chauffeuring the McQueen Racing #7 Lucas Oil/Simpson Race Products Spike/Esslinger by Duane McQueen, the poised pilot overcome much adversity to claim a hard fought second place feature finish in her maiden California Midget race of the 2014 season.
McQueen, who became the track record holder in last year's debut Midget event at the track that sits inside the one-mile horse-racing track was seemingly behind the eight ball all evening. Early in the evening, McQueen missed hot laps due to what the team believed was a ruptured fuel line but ended up thankfully only being a loose fitting.
Following that, McQueen fought handling issues in qualifications, settling for fourth fast in the 21-car field. Trying something new for the Dash, McQueen liked the changes, taking second in the Dash and third in the Heat race.
Fighting overheating and oil pressure woes all night, McQueen's car was most definitely on burn down, losing a lot of power the last 10-12 laps of the race.  Having started seventh, McQueen had raced her way into the lead, but, unfortunately due to the loss of power, she could no longer run the cushion, so she move down off the cushion and "just quite frankly got beat," en route to taking home a very fortunate second-place in an incident-marred 30-lap feature race.
"It was super unfortunate to let one get away from us, as you don't have those opportunities to win every week.  Hopefully we can rebound and get all of our issues resolved and have another strong showing at Placerville on April 26," stated team owner and driver Shannon McQueen. "Hopefully we did not use up all of our luck this past weekend and left some for the rest of the year … my guys worked hard all night but I guess we are out of practice after being off for a few months.  Thanks to all of our sponsors, family and friends for the support."
Next up for McQueen will be the April 26 BCRA event at the ¼-mile red clay of the Placerville Speedway at the El Dorado County Fairgrounds in gold country.
McQueen became the first woman to win a BCRA Midget championship in 2011 when she claimed the BCRA Dirt Midget crown, then claimed the 2012 USAC-Western States Midget championship, amassing four Heat race wins, nine Top 5 runs, three fast time awards and 13 Top 10s in 2012. McQueen also holds track records at Calistoga Speedway, Silver Dollar Speedway and Orange Show Speedway.
McQueen is also the first female owner to boast a win with a female driver when Oklahoma's Michelle Decker won a USAC Western States Midget Feature in April 2012 at McQueen's home track of Bakersfield Speedway at the helm of one of McQueen's potent Spike/Esslinger entries.
McQueen Racing would like to thank all of our wonderful sponsors: Lucas Oil Products, Simpson Race Products, Eibach Springs, DMI, Rod End Supply, K&N Filters, Advanced Racing Suspensions, MPD, Ruth Engineering, Jet-Hot Performance Coatings, Butler Built Seating Systems, Schoenfeld Headers, American Fabrication, West Evans Motorsports, Western Open Wheel Racing News and Esslinger Racing Engines by Duane McQueen.
Visit www.shannonmcqueen.com for more information on McQueen Racing.