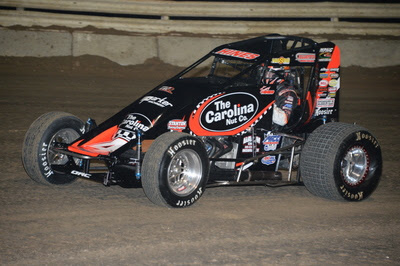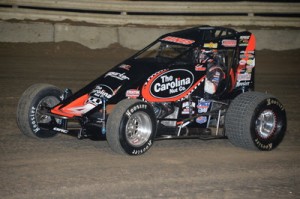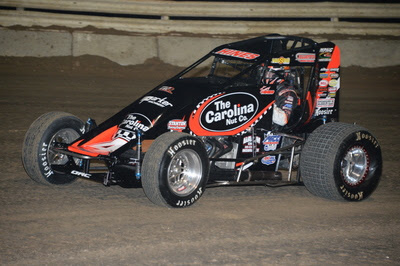 By Tracy Hines Racing PR
New Castle, IN — (April 3, 2014) — Baseball had its opening day earlier this week, which is a quasi-holiday to many. Now it's time for the racing crowd to celebrate the traditional USAC "Midwest Opener," also viewed by many as a holiday of sorts. Expanded in 2014, a pair of races will mark the occasion this weekend, as both the Amsoil USAC National Sprint Car Series and Traxxas USAC Silver Crown Series are in action in the Hoosier state. For Indiana native and two-time USAC champion Tracy Hines, it's one of the weeks he anticipates the most each year.
The weekend will begin for Hines on Saturday, April 5 at Lawrenceburg (Ind.) Speedway with the Amsoil USAC National Sprint Car Series and a full night of racing is on tap. On Sunday, April 6, action will shift to the historic Terre Haute (Ind.) Action Track for the running of the Sumar Classic for the Traxxas USAC Silver Crown Series.
"To have two races in two types of cars this weekend has us really pumped up," said Hines. "It seems like forever since we raced in Florida, with the winter we've had here in Indiana. Spring in the Midwest is always a gamble for sure, so we'll keep our fingers crossed and hopefully can get both full shows in."
Hines raced four times at Lawrenceburg Speedway last year, with three of those coming in Amsoil USAC National Sprint Car Series events, and the fourth with the Honda USAC National Midget Series. The veteran driver finished a season-best 10th at the three-eighths-mile during Indiana Midget Week. In the spring with the USAC Amsoil National Sprint Car Series, Hines was 12th at the venue, turning the fastest lap in qualifying of the 40 entries to earn his first quick time award of the season. He also finished 12th in July during Indiana Sprint Week.
"We're looking to carry the momentum from Florida into this weekend at Lawrenceburg," he noted. "We were fast right out of the box down there and led laps and contended both night and that's all you can ask for. The sprint car field with USAC is as tough as ever right now and you have to qualify in the right spot and put yourself in a position to be able to contend for the win. Lawrenceburg is a fast place and in the spring, depending on the weather, can be even faster. We feel good about our engine package heading over there."
Hines, who pilots The Carolina Nut Company DRC, opened the 2014 Amsoil USAC National Sprint Car Series campaign with a runner-up finish at Bubba Raceway Park in Florida in February, after leading 16 laps of the 30-lap main event. The next night he came home sixth, which currently has him fourth in points, just eight markers out of the lead as he chases his second series title.
The veteran driver will be teamed with Lightfoot Racing for the fifth consecutive year in the Traxxas USAC Silver Crown Series. The familiar No. 16 will again be a Chevy-powered Beast, with backing from Hugh Brothers and Midwest Sheet Metal.
Hines made three starts at the Terre Haute Action Track in 2013, two with the Amsoil USAC National Sprint Car Series and one with the Traxxas USAC Silver Crown Series. He finished fourth in the Sprint Car in October in the Tony Hulman Classic and followed that up with a fifth-place showing the next night aboard the Silver Crown machine.
Hines has three career USAC Amsoil National Sprint Car series wins at Terre Haute in 1999, 2001 and the most recent in 2003. He also claimed the 2001 Hut Hundred with the Honda USAC National Midget Series at the half-mile.
With the Traxxas USAC Silver Crown Series last year, the 2000 titlist was victorious at the Belleville High Banks and finished third in points. Hines recorded six top-10 finishes in eight starts. In addition to his win, Hines finished on the podium in the Hoosier Hundred at the Indiana State Fairgrounds and at Pikes Peak. He set fast time at Belleville and qualified among the top-five in five of the eight races.
"It's been a few years since we've had a Silver Crown race this early in the year, so that has us chomping at the bit to see how we stack up this year," said Hines. "From what I've been hearing, it sounds like there will be a strong field on-hand. Other than a couple races where we had some bad luck last year, we were pretty strong each time out in the Silver Crown car. We were strong last fall in both the Silver Crown and Sprint Car at Terre Haute, so we feel like we have a good baseline going into this weekend."
Tracy Hines Racing would like to thank Primary Sponsors:  The Carolina Nut Company, Hansen's Welding Inc,  Elliott's Custom Trailers and Carts, and MPHG Promotions Inc. Associate Sponsors for 2014 include: ProSource Professional Resources, Turbines Inc., Daum Crop Insurance, Parker Machinery,  Stanton Racing Engines and Schipper Family Farms. Product Sponsors that are part of Tracy Hines Racing in 2014 include: Afco Racing Products, Schoenfeld Headers, Autonet Mobile, Indy Race Parts, Bell Racing, Kenny's Components, Race Bumpers, Hoosier Racing Tires, CSI Competition Suspension, Shadow Graphix, Driven Racing Oil, Sander Engineering, Hugh Brothers and Midwest Sheet Metal.
For more information on Tracy Hines Racing, visit http://www.tracyhinesracing.com. Follow Tracy on Twitter at www.Twitter.com/TracyHinesRacin and "Like him" on Facebook at: https://www.facebook.com/Tracyhinesracing.