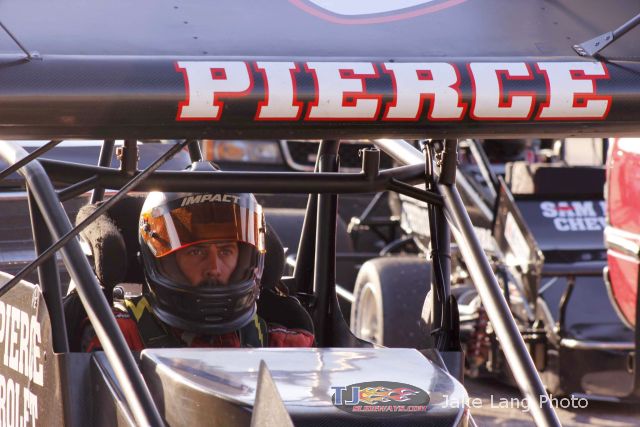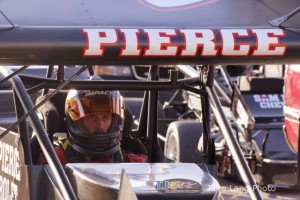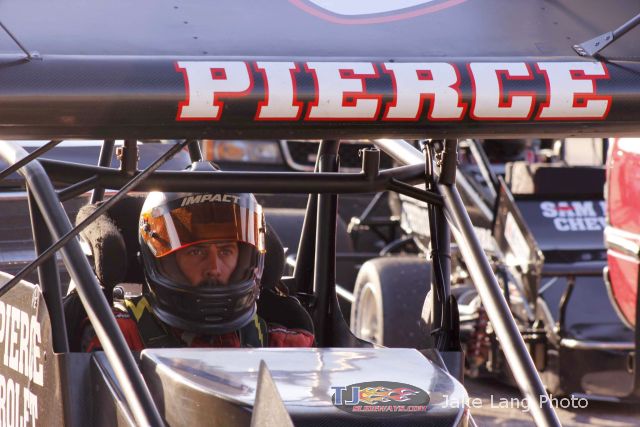 From David Sink
Pensacola, FL – (April 11, 2014) – Aaron Pierce took advantage of Jo Jo Helberg's lap five misfortune, inherited the lead, and cruised to the opening night of the 3rd annual "Southern Shootout" Friday night at 5 Flags Speedway in Pensacola, FL. The event was the first event on the 2014 Must See Racing  Xtreme Sprint Series (MSRXSS) schedule.
Helberg took the lead at the drop of the green from his outside front row starting spot. He began to build a sizeable lead until he blew a tire on lap five entering turn two. It is believed Helberg's tire went down after being cut by debris picked up off the track. Helberg was able to replace the right rear tire and get back in the race, without losing a lap, to the cheer of the huge crowd on hand.
Pierce became the race leader at the point, and set a torrid pace the remainder of the event. The action was taking place behind Pierce as Brian Gerster was working his way to the front after starting in eight starting position. In addition, Helberg put on a dramatic drive to the front after going to the tail for the tire replacement. Following Pierce to the checkered were Jimmy McCune, Brian Gerster, Ryan Litt, and Jo Jo Helberg rounded out the top five.
In victory lane, a confident Pierce explained he had a car capable of challenging Helberg for the win. "We had the best car on the race track" explained Pierce. "We could have run him (Helberg) down. He was really loose. Like I said we had the best car. It was just gonna be a matter of time before we got him and disposed of him". Pierce wasn't aware of how big his lead was late in the race. "I couldn't tell. The motor was getting hot and I was running it around there three quarter throttle all the way around. I was getting through the traffic good. My Dad was trying to give me signs, but I wasn't paying any attention to him" laughed Pierce.
Brian Gerster lowered his own 5 Flags Speedway track record during qualifications when ripped off a lap of 13.046 seconds. Heat races were won by Dave Baumgartner, Sport Allen, and Troy DeCaire
Garrett Green made MSRXSS history by becoming the youngest driver in the history of the series to start an event. The fifteen-year-old finished second in his heat race and finished ninth in the feature event. It was Green's first visit to 5 Flags Speedway.
The series will now head to Mobile International Speedway in Irvington, AL for the concluding event of the 3rd annual "Southern Shootout" tomorrow night.
FIVE FLAGS SPEEDWAY RESULTS APRIL 11, 2014
1.     Aaron Pierce
2.     Jimmy McCune
3.     Brian Gerster
4.     Ryan Litt
5.     Jo Jo Helberg
6.     Troy DeCaire
7.     Brian Olson
8.     Sport Allen
9.     Garrett Green
10.  Kevin Blue
11.   Jacob Wilson
12.   Dave Baumgartner
13.   Jim Sheets
14.   Ty DeCaire
15.  Richie Corr
16.  Johnny Gilbertson
17.   Tim Cox DNS
18.    Todd Fayard DNS