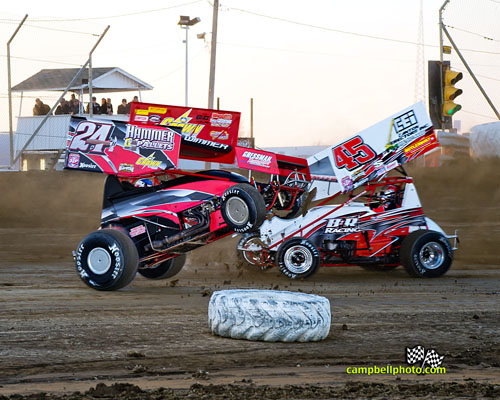 By Bill W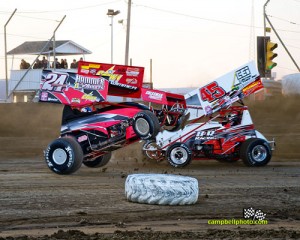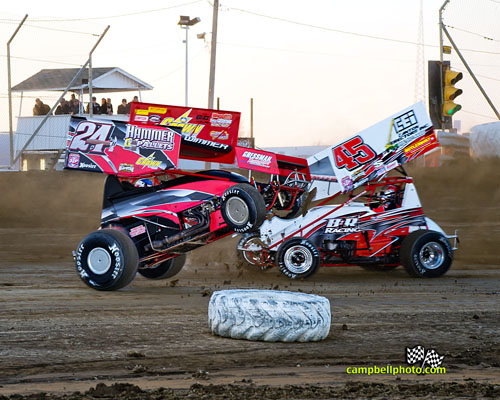 April 16, 2014 – Brandon Wimmer and the Hammer Motorsports #24H led by Randy and Lisa Hammer are starting their 2014 campaign in Ohio.  The team began Friday, April 4 at Attica Raceway Park and suffered a tire issue that resulted in a DNF.  The next two weeks, they'll be competing locally in anticipation of the May 2 and 3 arrival of the World of Outlaws at Eldora Speedway near Rossburg.
Brandon explained their issues in the feature at the April 4 All Star show at Attica.  "The valve stem core blew out of the tire," he says.  "The tire went flat and we weren't able to get back out to get it changed.  It was kind of a rough start to our season for sure.  The first night out didn't go as planned!"
The Fairmount, Indiana driver is starting his first full year with the Ohio based Hammer Motorsports team.  "Attica was only our third or fourth time out together," says Brandon.  "We're still in the early stages of getting the car figured out between us.  We still have some work to do, but we'll get there."
Three local shows will make up the schedule the next two weeks.  "This week, we'll be running Attica," says Brandon.  "Next week, we'll be running Attica and Fremont (Speedway).  Then the next weekend, the Outlaws will be coming to Eldora."
The rest of the schedule is yet to be determined.  "At this point, we're running a hit and miss schedule," says Brandon.  "These next two weeks, we'd like to get in a position where we're ready when the Outlaws get to the area."
Hammer Motorsports fans can expect the car to be running most of the big shows in the Midwest.  "We're planning on the big shows," says Brandon.  "We'll be at the Knoxville Nationals.  We'll probably go out there beforehand once, maybe for Twin Features night.  We'll hit the All Star and Outlaw shows in the area, and any local shows that pay a little more."
The Hammer Motorsports is looking for additional partners to expand their schedule in 2014.  Those interested can e-mail Brandon Wimmer at Brandon7TW@yahoo.com or Hammer Motorsports at hammertime24@ymail.com.
Hammer Motorsports would like to thank the following for their support: Crown Batteries, OC Shocks and Meggit Sandblasting and Powdercoating.