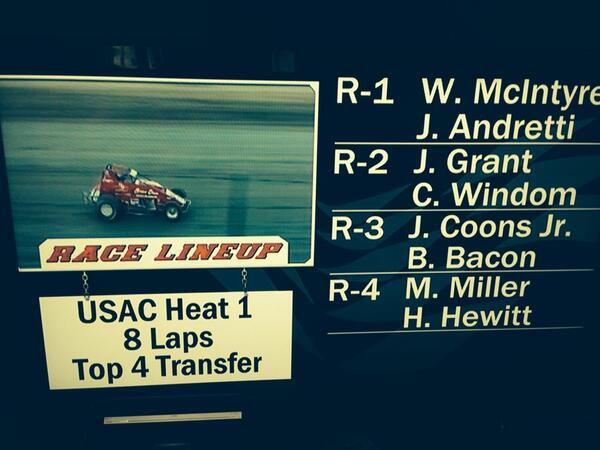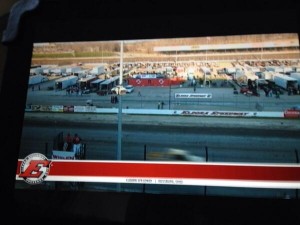 Racing on Easter weekend is a relatively normal practice for me. Typically I go to Eldora or elsewhere and race back home for a couple of hours of sleep before taking part in various family activities. With my son getting older, the list of places to get to on Easter growing every year, and the growth of this website and maintaining it without falling behind kept me home this year. Rather than try to pull an all nighter with no sleep I tuned into Eldora Speedway's pay per view webcast of the USAC National Sprint Car Series at Eldora Speedway. Here is the unusual recap of watching the race from my couch:
7:15: See hot laps and qualifying are complete at Eldora. I sign up for my account and prepare to watch the night's races on my iPad. I bring up the webcast and the picture quality is excellent. People look cold in the stands; my couch feels rather comfy at a warm 70 degrees.
7:25: I hear Dustin Jarrett give the welcome to Eldora Speedway. I notice the 40" television in my living room not in use by my wife or child. I flip over to my Apple TV and throw the picture up on there. My son seeing the Apple TV on instantly thinks the Disney/Pixar movie Frozen™ is coming on. While some of the people in the stands looked "frozen", he is greatly disappointed seeing race cars on the television and proclaims he does not like race cars. Damn you addicting Disney movies!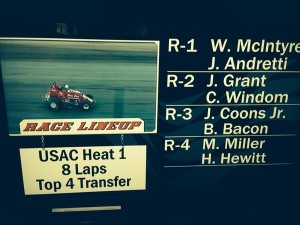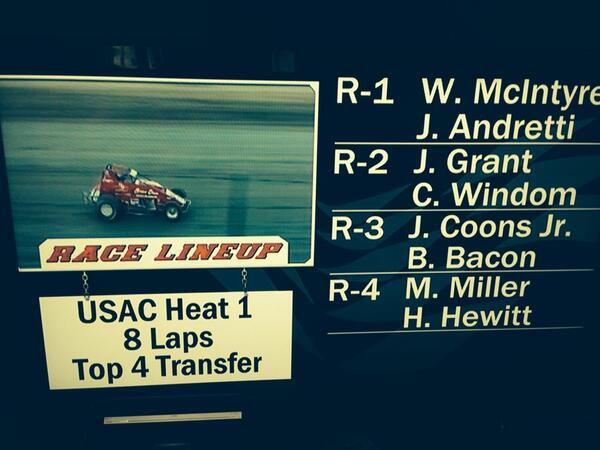 7:35: Heat races push off. The picture quality is very good on the 40" screen. My wife is being a very good sport about this considering the amount of time she already puts up with my racing endeavors. We both collaborate on the plan to color Easter Eggs using the coloring kit we purchased last week and watch the race. Maybe a new Easter tradition is born.
Ethan seems to have turned the corner on race cars when he discovers that Hoffman Auto Racing entry driven by Brady Bacon looks like El Chupacabra from Disney / Pixar Planes™. Thank you addicting Disney Movies. Unfortunately just like in the movie the entry I now coined "El Baconcabra" comes up a bit short and has to run the B-Main.
7:40: Near the end of the first heat race my wife realizes the coloring kit we purchased is the wrong kind. I race out the door hoping for an Easter miracle to find one at the Dollar General by our house. I race in to find only on cashier open and a huge line. I tear through the remaining discounted Easter items in the impulse buy isle to find an off brand shady looking Easter Egg coloring kit. Going against my instincts to look at where the kit was manufactured and what kind of product I was I quickly fall in line to make the purchase, following heat two and three on my phone via social media while my family watches at home.
7:50: Return to see the final heat race. Steph prepares various egg coloring while I catch the race action. Ethan is now oblivious to the racing action due to the excitement of coloring Easter Eggs.
8:00: Easter Egg coloring commences while modified heat races are on the track. I feel the urge to go to the kitchen and get something to eat or start typing up results; instead I fight the urge and begin taking photos of my son's Easter Egg coloring endeavors.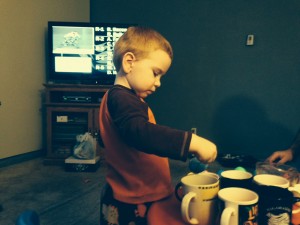 8:25: Notice the B-Main is ready to push out. My wife remarks on how well everything is going and it might be an early night. I give her the same dirty look I would give anyone who would say such a thing within a ten foot radius of me being at the race track. While the B-Main takes place we notice how great our Easter Eggs look. Apparently the scary looking generic egg coloring kit I picked up worked 100 times better than the brand name one we normally get. Granted we are unsure of what kind of third arm we might spawn if we actually were to eat the eggs, but for now they are colorful and highly entertaining to my son.
Ethan is not appreciating El Baconcabra's performance in the B-main, but does notice him slowing down at the end with an "ut oh". Even with his little exposure to racing he knew something did not go right with the Hoffman entry, thankfully it was just that Bacon thought he has only taken the checkered. I imagined the expression of Rob Hoffman's face upon Brady's explanation.
8:40: Clean up the eggs coloring setup and head to the popcorn line. While Eldora's concession line is extremely efficient there was no line in my kitchen. The downside was I had to wait for fresh popcorn to be popped and there wasn't a Pizza Burger available. My popcorn finishes popping just in time for the sprint car feature.
9:00: Ready to watch the feature event. My wife remarks why races never get over this early when she goes. I tell her it might be a sign, which promptly gets me a look that makes be believe I will be forced to watch the Notebook following the feature.
The stream has performed flawlessly at this point and would through the remainder of the feature. My wife, son, and I all perch on the couch to watch USAC sprint cars tackle a mean cushion in the 30-lap feature event. I pick Stockon to collect an Eldora victory, but quickly realize that Dave Darland is on a mission and is quite a bit faster than everyone else. Eldora cameras catch the wild exchange of slide jobs between Stockon and Darland including Stockon up on two wheels ever so slightly when sliding Darland back for the lead. Eventually Darland takes the lead and puts on a clinic running Eldora's cushion.
9:40: The sprint car feature is over I listen to Dave Darland's victory lane interview while getting my son ready for bed. My wife remarks that even she thought they did a nice job on the broadcast and wished more races got over that early (are you listening promoters). I remark how nice it was Ethan was still awake to see it. Being an early night we even stay logged in to watch Matt Westfall win the modified race before turning in for the night.
Overall even with the egg-mergency and everything my first at home pay per view experience from Eldora was great. With modern technology you can catch races from Knoxville, a number of World of Outlaws races, Sprint Car races from Crystal Motor Speedway on RacesOnTheWeb.com (shameless plug for the network our webcast appears on), and often various USAC races from anywhere you have a suitable internet connection. Going to be pleased I saw a race I would otherwise have missed was great and kept me engaged for the night, and hopefully this option will help keep fans that can't make it to the track engaged and wanting to come to the track because they can keep up on what is going on.  Overall the ppv is not a substitute for being at the track, but a nice way to keep up on things if you cannot make it in person.