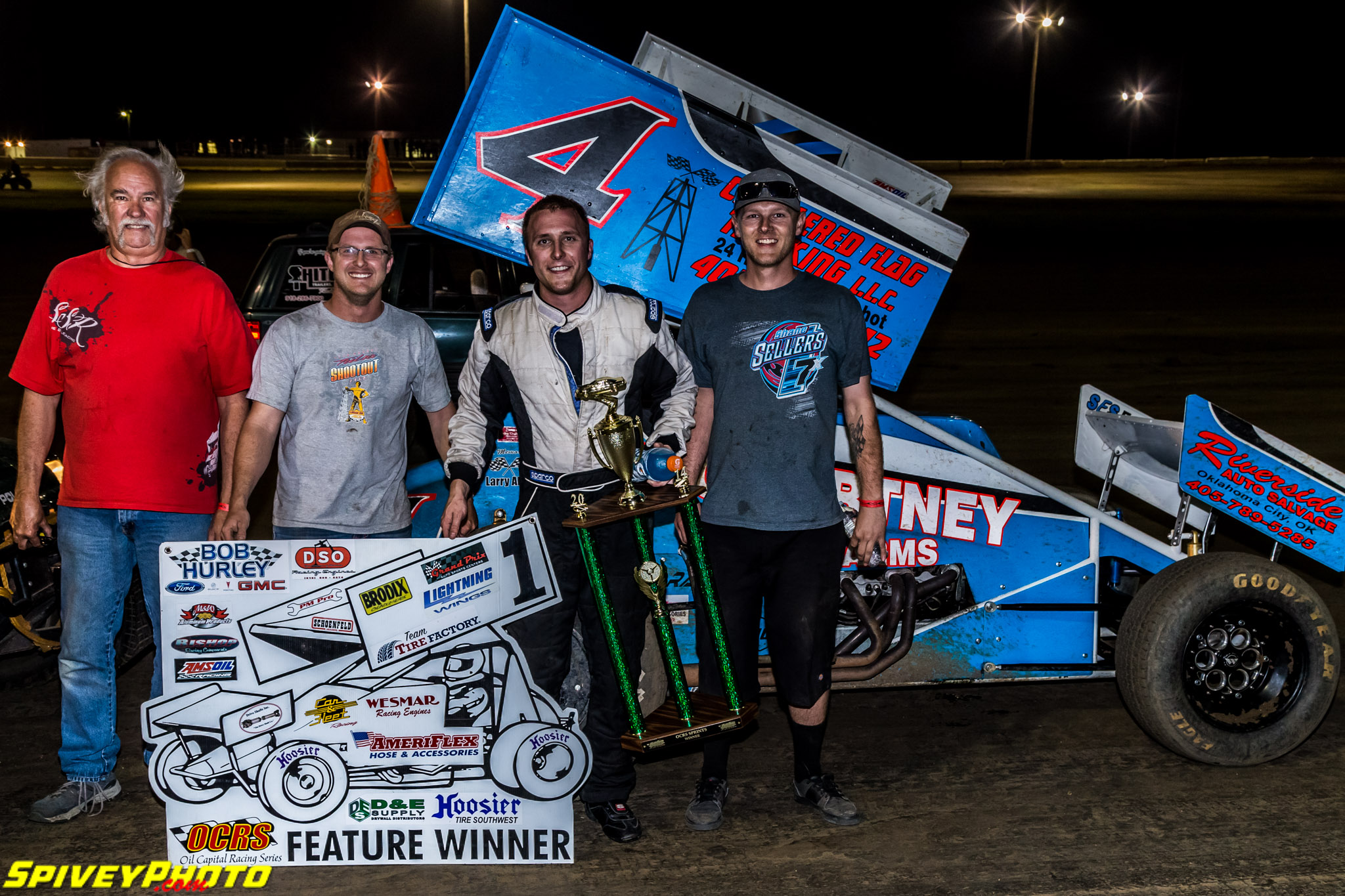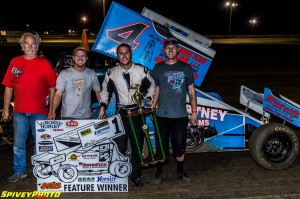 From John Rittenoure
Ardmore, OK – (April 26, 2014) – Timing was everything for Shane Sellers and he took full advantage Saturday night at Southern Oklahoma Speedway.
Sellers slipped underneath race-long leader Mickey Walker in the final corner and gunned his sprinter out front beating Walker to the finish to win his second career OCRS sprint car main event.
It was the climax to a hotly contested race between the top five drivers for 25-laps on the 3/8's mile Southern Oklahoma Speedway oval.
Sellers fought his way into second after a lap 16 restart, but could not find his way past Walker until opportunity presented itself with the checkered flag in sight.
"I don't know if he got a little tired, but his car setup was going away a little bit for him so he was really having to creep into the corner," said Sellers of following Walker. "He did what he had to do by stopping and making us have to go around him. I think he kind of missed his mark a little bit and I was able to keep mine and get underneath him.
"Sometimes it just works in your favor and tonight it was mine."
Walker, who was looking for his second career win in just his second season with OCRS, agreed.
"I just missed my line and slid up," said Walker who had led since lap 2. "He (Sellers) was there and capitalized on it. I drove in to hard."
Sellers led lap 1 before Walker roared past on lap 2. Sellers then gave way to Sheldon Barksdale on lap 6 and the race went 12 laps before the first yellow flag waved for Brian McClelland who had to be towed off. Barksdale remained in second behind Walker until lap 15 when Sellers charged back into the runner-up spot and pulled alongside of Walker briefly taking over the lead as the yellow waved again, this time for Brian Bishop who spun.
"On that track it was kind of follow the leader," recalled Sellers. "In that top five you had Sheldon Barksdale, Alex DeCamp and Danny Smith and we were all slicing and dicing.
"Danny Smith kind of showed me a nose a little bit and that kind of helped me out and I got around those guys.
"The yellows did not play in my favor but it worked out in the end."
After the restart Barksdale got by Sellers and took his turn at Walker. The Norman, Oklahoma native made contact with Walker and tried to take the lead away when the yellow came out.
On lap 16 Barksdale and Walker swapped the lead then the yellow waved again as Barksdale and Perry Pickard tangled.
The restart set the stage for the final 10 laps with eventual winner Sellers in second before his final turn pass. Alex DeCamp finished a close third, Danny Smith rode the high side of the track trying to challenge the leaders before settling for fourth and points leader Whit Gastineau rounded out the top five to end his two-race win streak.
It was a pressure packed race for Walker who is probably glad he did not have a rearview mirror to see what was going on behind him.
"I was kind of glad there were some yellows because we were getting into lapped traffic and I don't know what that would have done," Walker said. "It could have hurt us or helped us."
Some early contract from close racing did not faze Walker who refused to give up his line.
"Rubbing is racing," said Walker who won his first OCRS feature last October at West Siloam Speedway. "It did not bother me much. I just passed them back and went on.
"It made good racing for the fans. I hoped they liked it."
Promoters John and Nicky Webb prepared a very racy track that produced some of the best racing of the season.
"It was not too bad," commented Walker who won the Drive Shafts, Inc. third heat. "It was fast early on in the heat races and come feature time it was fast on the bottom."
Brandon Long paced the field to win the 12-lap Wesmar Racing Engines B feature. He transferred into the 25-lap main event along with Ty Williams, Glenn Owens, Brandon Jennings, Derek Cottrell, Shayla Waddell, Kyle Clark and Michael Bookout.
Besides Walker's heat win Smith won the AmeriFlex Hose and Accessories first heat and Alex DeCamp topped the Bob Hurley Auto Family second heat.
Jennings was awarded the AmeriFlex Hose and Accessories Hard Charger cash with a +7.
Chance Morton was the D&E Supply Hard Luck recipient.
OCRS RACE RESULTS:
Southern Oklahoma Speedway
Saturday April 26, 2014
25 Cars
(Pos-Car-Driver-Start)
AmeriFlex Hose and Accessories Heat
1, 5$-Danny Smith[1]. 2, 2W-Whit Gastineau[3]. 3, 87F-Brian McClelland[4]. 4, 20S-Sheldon Barksdale[2]. 5, 1-Ty Williams[5]. 6, 7M-Chance Morton[8]. 7, 25-Chuck Bellefeuille[6]. 8, 01-Mike Huard (DNS).
Bob Hurley Auto Family Heat
1, 84-Alex DeCamp[8]. 2, 8M-Kade Morton[1]. 3, 78-Perry Pickard[2]. 4, 4-Shane Sellers[6]. 5, 88S-Shayla Waddell[3]. 6, 33-Gary Owens[4]. 7, 007-Michael Bookout[7]. 8, 5-Cameron Hagin[5].
Drive Shafts Inc. Heat
1, 2-Mickey Walker[1]. 2, 77-Brian Bishop[6]. 3, 15D-Andrew Deal[8]. 4, 02-Brandon Long[4]. 5, 98-Jeff Garnett[7]. 6, 21-Brandon Jennings[2]. 7, 41-Josh Toho[5]. 8, 9-Derek Cottrell[4]. 9, 9$-Kyle Clark[3].
Wesmar Racing Engines B Feature
1, 02-Brandon Long[1]. 2, 1-Ty Williams[3]. 3, 33-Gary Owens[5]. 4, 21-Brandon Jennings[6]. 5, 9-Derek Cottrell[11]. 6, 88S-Shayla Waddell[4]. 7, 9$-Kyle Clark[12]. 8, 007-Michael Bookout[8]. 9, 25-Chuck Bellefeuille[7]. 10, 5-Cameron Hagin[10]. 11, 7M-Chance Morton[2]. 12, 41-Josh Toho[9]. 13, 01-Mike Huard (DNS).
OCRS A Feature
1, 4-Shane Sellers [1]. 2, 2-Mickey Walker [3]. 3, 84-Alex DeCamp[2]. 4, 5$-Danny Smith[10]. 5, 2W-Whit Gastineau[11]. 6, 02-Brandon Long[12]. 7, 20S-Sheldon Barksdale[8]. 8, 21-Brandon Jennings[15]. 9, 15D-Andrew Deal[9]. 10, 9$-Kyle Clark[16]. 11, 8M-Kade Morton[6]. 12, 88S-Shayla Waddell[17]. 13, 007-Michael Bookout[18]. 14, 33-Gary Owens[14]. 15, 78-Perry Pickard[4]. 16, 1-Ty Williams[13]. 17, 77-Brian Bishop[5]. 18, 87F-Brian McClelland[7]. 19, 98-Jeff Garnett[19]. 20, 9-Derek Cottrell (DNS)
AmeriFlex Hose and Accessories Hard Charger: Brandon Jennings +7
D&E Supply Hard Luck: Chance Morton