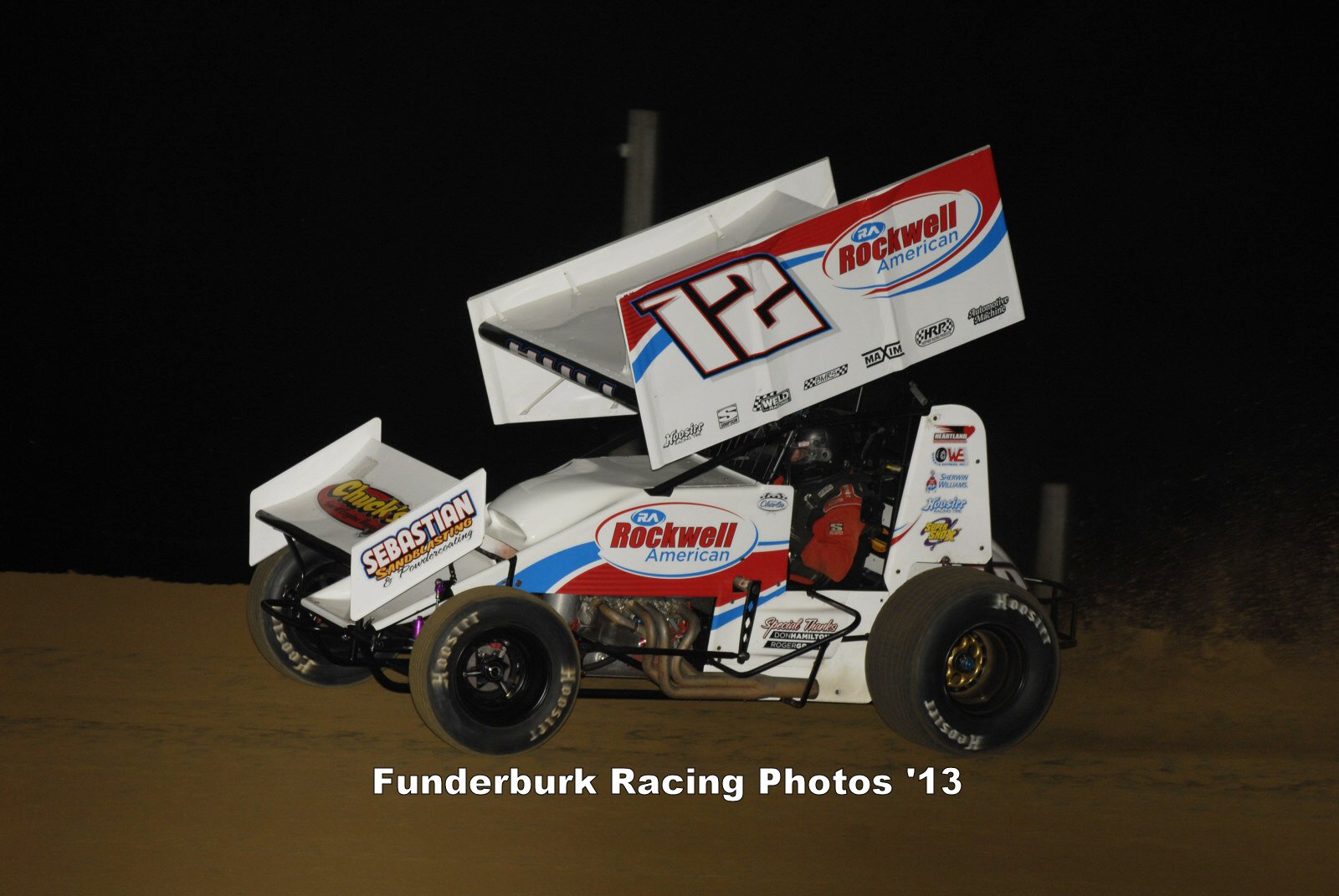 By Bill W
 May 5, 2014 – Jerrod Hull scored the second victory of the season aboard the Rockwell American #12 machine on Saturday night at the Clay County Speedway in Flora, Illinois.  The three-time and defending MOWA champion will tackle the World of Outlaws this Wednesday night at what he considers his home track, the Jacksonville Speedway in Jacksonville, Illinois.
The MOWA weekend saw two events.  On Friday night, Jerrod ran sixth in his heat race at Lincoln (IL) Speedway.  "We were really good in hot laps at Lincoln," he says.  "I thought we had a good car.  We didn't change much for the heat race.  We went out there, and wow were we tight!  We bicycled two or three times.  I don't know why the track got so much tackier than it had been.  We actually fell back to seventh at one point, but we salvaged sixth."
The finish would see him start twelfth for the main event.  "Actually, there was a crash in the Dash that took two cars out," says Jerrod.  "So we moved up to starting eighth.  We took off and passed a car right away and we were running seventh.  They had reworked the track, and it got dry-slick.  We kind of missed the setup again a little bit."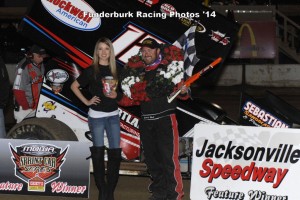 The Sikeston, Missouri driver started getting his groove, but bad luck hit.  "I was able to get a feel for it a little, but I clipped an infield tire and spun out," he says.  "That put us in the back.  I pulled the wing back, and started running low in one and two and high in three and four.  We were able to get back to sixth and salvage something.  It could have been a lot worse than it was."
That set up Saturday night's event at Flora.  "We were fast in hot laps again," says Jerrod.  "We ended up starting third in the heat and running second.  We felt really fast there.  We weren't too bad in the Dash either (fourth).  We were right there with third."
The fourth place finish in the Dash set Jerrod up outside row two for the main event.  "We made some changes and got up to third right off the bat," he says.  "They had a caution there and we were able to get by Critter Malone for second on the restart."
Jerrod would reel in leader, Joey Moughan.  "We worked on Joey, and he got over the cushion a little bit," he says.  "We were able to get a good run on him down the backstretch and get underneath him.  The car kept getting better and better.  It was really good all night long."
The team is still utilizing their Dash 12 motor first built in 1996.  "We'll take it to the Outlaw show Wednesday and see what happens," says Jerrod.  "You never know what will happen there.  If we can qualify up front for a heat race and have a good run, you never know.  On that kind of track, it would be good to have a little more horsepower, but I think for the most part, we'll be fine."
Jerrod and the #12 team would like to thank: Rockwell American, Midland Performance, Super Shox, Sebastian Sand Blasting & Powder Coating, Inc., Chuck's Small Engines, Don Hamilton, HRP, Lighthouse Christian Center, Logo Daddy, Hoosier Tire, Simpson, Weld, Automotive Machine, Maxim and Heartland Trailer Manufacturing.