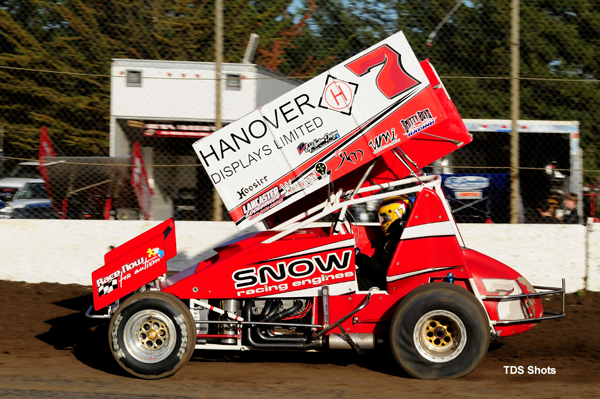 PETERSEN MEDIA
After picking up his first career Placerville win a few weeks ago, Justin Sanders wasted no time returning to victory lane as he picked up his second win of the season at the speedway on Saturday night.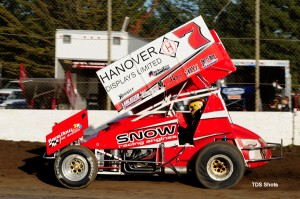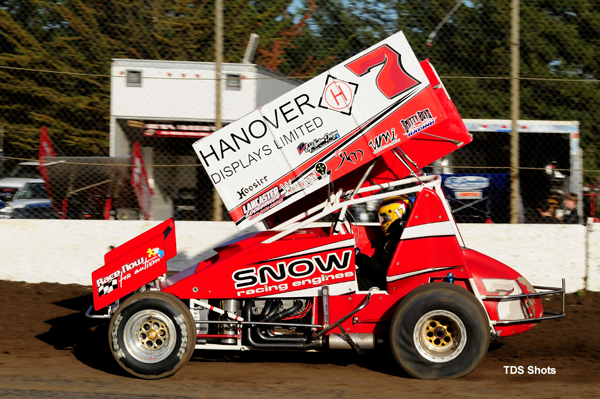 Timing in second fastest on Saturday night, Sanders worked his way to a second place finish, putting the Rudy Warrington owned machine in the Top-Eight redraw, and Sanders drew the seven, putting him in the fourth row of the 25-lap main event.
With Jimmy Trulli jumping to the early lead, Sanders found himself amidst some of the tracks top veterans as he rode the famous Placerville cushion towards the front of the field.
Getting past Colby Wiesz, and Greg DeCaires, Sanders set his sights on Trulli, as the race drew to a close.
Staying committed to the high-side, Sanders powered around Trulli exiting turn-two, and took the lead for good, as he raced his way to his second victory of the season.
On Friday night, Sanders was aboard his self owned No. 17 machine at the Ocean Speedway, and also had a very stellar night.
Timing in fifth fastest aboard his North County Plastering/G&N Construction/STS Trucking machine, Sanders ran third in his heat race, and also found himself in the Top-Eight redraw.
Drawing the five, the Prunedale, CA driver got off to a great start, as he was able to move into the fourth spot, as he chased after Mitchell Faccinto, Steven Tiner, and race leader, Carson Macedo.
On the very racy track, Sanders was able to get past Faccinto, as he worked on second running Steven Tiner.
Late in the race, Tiner took the lead, and Sanders worked on Macedo. With just a few laps to go, Sanders took over the second spot, and gave it his all in pursuit of Tiner, but came up just short.
"What an absolutely great weekend," Sanders said. "At the end of last year I the Warrington team was good enough to win at Placerville, and to have two wins there already this year is pretty great. In Watsonville, CA we had a really great car, and the track was awesome, and we raced very well and grabbed a second place finish."
Justin Sanders would like to thank North County Plastering, G&N Construction, STS Trucking, Lancaster Locksmith, Village Glass. Lufos Kustom Designs, Taco Bravo, LRB Race Products, Petersen Media, Fire Protection Management, Dirt Solution, Bob Tweedy, Ron Gravelle. Keener Auto Body, and  Dave Haver Racing Engines for their continued support.
ON TAP: Sanders will be in action on Friday night with the Ocean Sprints presented by Taco Bravo at the Ocean Speedway aboard his owned Sanders Racing entry, and will be back at the Placerville Speedway on Saturday.
2014 BY THE NUMBERS: Starts-9, Wins-2, Top-5's-4, Top-10's-5
STAY CONNECTED: Stay connected with Justin Sanders by visiting his website, www.teamsandersmotorsports.com.
PETERSEN MEDIA: Petersen Media specializes in motorsports media constructing news releases, both pre and post race, as well as constructing email lists to keep sponsors, and fans up to date. Petersen Media also utilizes today's Social Media networks to provide trackside updates to fans and sponsors, and can customize packages to fit your team's needs.
For more information contact sales@PetersenMediaInc.com, by phone at 916-342-3424,  visit www.petersenmediainc.com, www.facebook.com/petersenmedia or follow @Petersen_Media on twitter.