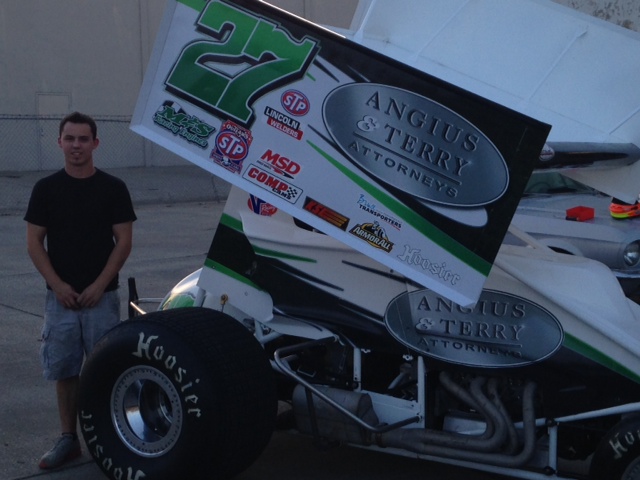 PETERSEN MEDIA
– Making his first two starts in the M&S Racing No. 27 car over the weekend at the Silver Dollar Speedway,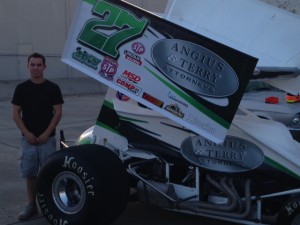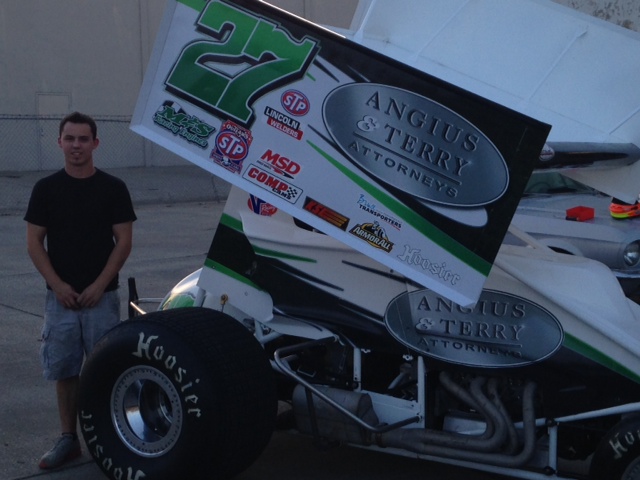 and his team continued to get the Kingsburg, CA driver more comfortable in the car every time it hit the track.
"We didn't have great results, but we got better each time we hit the track," Eliason said. "Everyone on the team was willing to do whatever it took to get us better and made a tough weekend fun."
Making his debut in the machine on Friday night, Eliason timed the Angius & Terry/FVP/EMI No. 27 machine in 22nd fastest, putting him in the third row of his heat race.
The start of his heat race was wild, as Eliason dodged a right-rear from a fellow competitor, and spun his machine to a stop, and when he restarted, he was able to get up to the seventh spot, and was forced into the B Main.
Lining up eighth in the B Main, Eliason continued to look better and more comfortable as he raced his way to the fourth spot, and transferred into the feature event.
Lining up scratch on the field in the A Main, Eliason felt his car out on what was a tricky racing surface, and picked up a 15th place finish.
Saturday night, Eliason and his M&S Racing team returned to the Silver Dollar Speedway for the Dave Bradway, Jr Memorial event, and again searching for speed in time trials, Eliason timed in 27th fastest.
Starting and finishing sixth in his heat race, Eliason lined up 12th in the 12-lap B Main. Eliason was able to do some moving and shaking in this event, as he clawed his way into the sixth and final transfer spot with two to go, but as he made his move the red flag waived, and with time, officials called the race, and with scoring reverting back a lap, Eliason finished in the seventh spot, and did not make the feature event.
"We knew it was out first weekend together, and there would be some growing pains," Eliason added. "All weekend we got better, and I think we really got somewhere with what we did before the Saturday night B, and I am excited to get to Placerville Speedway on Saturday night, and see what we have."
M&S Racing would like to thank Angius& Terry, FVP, M&S Racing Engines, and Eagle Motorsports for their continued support.
2014 BY THE NUMBERS: Starts-7, Wins-0, Top 5's-1, Top 10's-2.
ON TAP: Cory Eliason and the M&S No. 27 will hit the Placerville Speedway on Saturday night.
STAY CONNECTED: Stay connected with Cory by following him on Twitter @CoryEliason.
PETERSEN MEDIA: Petersen Media is a promotional agency that can handle your public relations, marketing, and any other promotional needs. Petersen Media utilizes multiple tactics to help you reach your intended audience, to boost awareness.
For more information contact sales@petersenmediainc.com, by phone at 916-342-3424, visit www.petersenmediainc.com,  www.facebook.com/PetersenMedia, or follow www.twitter.com/petersen_Media.
________________________