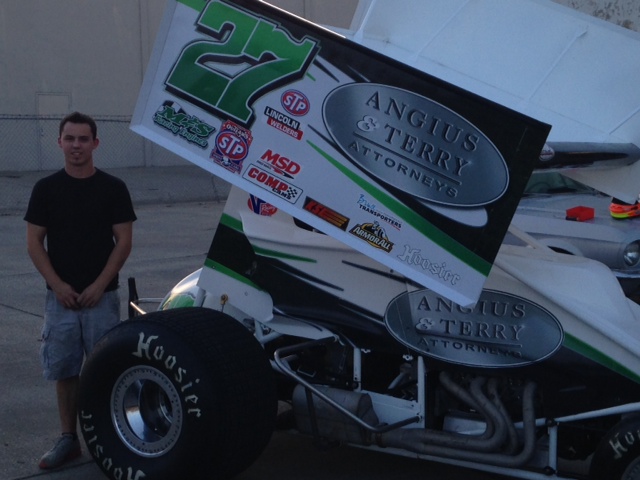 PETERSEN MEDIA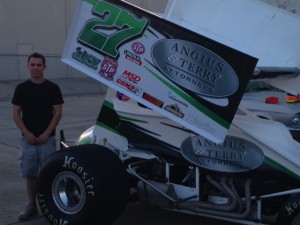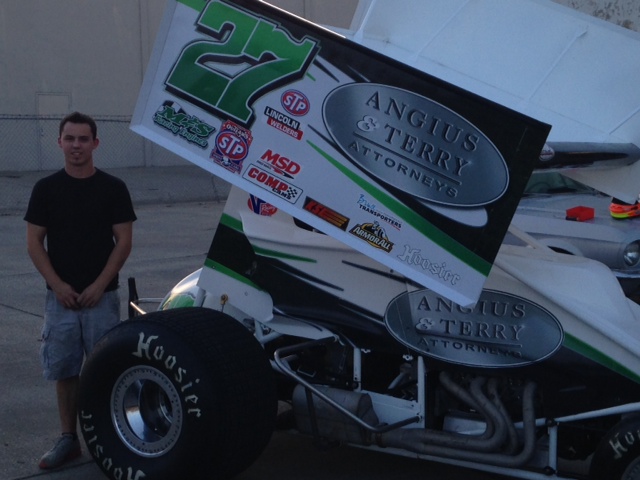 – After having an up and down debut with M&S Racing just a week ago, Cory Eliason climbed back aboard the Angius & Terry/FVP/EMI No. 27 machine at the Placerville Speedway on Saturday night and scored a fifth place finish.
"We had really good speed right out of the trailer, but unfortunately the track was a little tough with the wind that we had, but we will take a Top-Five for sure," Eliason said.
With 27 cars on hand for the Saturday night show at the ¼ mile bullring, Eliason set the standard in time trials, as he was the fast time qualifier, putting himself in the second row of the first heat.
Picking up a fourth place finish in heat race action as the track didn't allow for much passing, Eliason drew the four pill in the redraw, putting him in the second row for the 25-lap feature event.
When the race got underway, Eliason fell back to the sixth spot, as he chased after James Sweeney.
Flight tooth and nail, Eliason was able to get past Sweeney to move into the fifth spot, as he then worked on Greg DeCaires for the fourth spot.
On a track that didn't allow for much passing of excitement, Eliason and DeCaires duked it out for the fourth spot, as Eliason continuously hounded him, and finally took the spot late in the race.
DeCaires did not let the spot go easily as he came back and got the spot for good, and Eliason settled for a fifth place finish.
"I have never raced so hard battling one person for one position," Eliason said with a smile. "I have to thank everyone on this team for their hard work. I feel a ton more comfortable in it now, and looking forward to our next race."
M&S Racing would like to thank Angius& Terry, FVP, M&S Racing Engines, and Eagle Motorsports for their continued support.
2014 BY THE NUMBERS: Starts-8, Wins-0, Top 5's-2, Top 10's-3.
ON TAP: Cory Eliason and the M&S No. 27 will hit the Stockton Dirt Track on Saturday night.
STAY CONNECTED: Stay connected with Cory by following him on Twitter @CoryEliason.
PETERSEN MEDIA: Petersen Media is a promotional agency that can handle your public relations, marketing, and any other promotional needs. Petersen Media utilizes multiple tactics to help you reach your intended audience, to boost awareness.
For more information contact sales@petersenmediainc.com, by phone at 916-342-3424, visit www.petersenmediainc.com,  www.facebook.com/PetersenMedia, or follow www.twitter.com/petersen_Media.