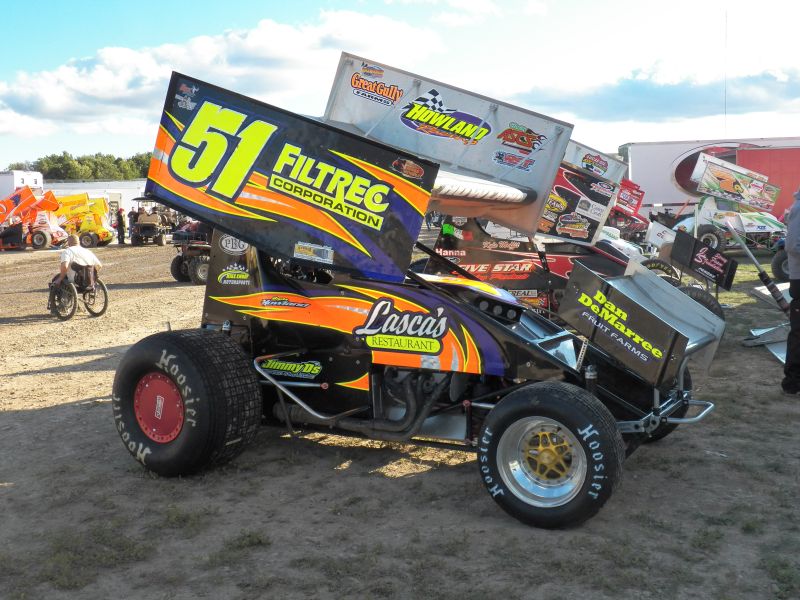 From Bryan Howland
East Smethport, PA — (May 24, 2014) — Bryan Howland will be running a limited schedule this season so he is wasting no time bagging up wins while he has a chance.
Howland, of Auburn, NY, moved by George Suprick on lap 19 and then cut through lapped traffic to score the $2,000 top prize in the Patriot Sprint Tour Feature at McKean County Raceway in his first race of the year.
"My guys did a great job all night long," exclaimed Howland in Victory Lane.  "Hats off to (George Surpick and Jared Zimbardi) though, they had their cars locked in tight."
In his second career appearance at MCR, Howland won his heat race on a last-lap pass, and drew the fifth starting spot for the feature.  On the second attempt to start the event, he was able to move his No. 51 up to third but it was Jared Zimbardi who was putting the throng of fans on the edge of their seats by driving from sixth to second place and putting pressure on George Suprick.
On lap six, Zimbardi had set up Suprick for long enough and made a slide job for the lead, only to see Suprick complete a crossover on the defending PST America Champion and take the lead back just before the red flag waved for a Dave Wickham flip.  Wickham was alright but it resulted in a lengthy stoppage to tow the car away.  The delay would fall right in to Howland's hands.
On the restart, Howland went to the top of the track and appeared to have Zimbardi cleared for second but Zimbardi was able to reclaim the position.
"This car usually restarts well after a red flag so I had a chance on the top but (Suprick and Zimbardi) started walking away," noted Howland.
As the top three duked it out they reached the back of the pack and the lapped traffic got thicker.  On lap 14, Zimbardi, just after Zimbardi had made another quality bid for the lead, he drove up the track and opened up the door for Howland to take his best shot at Suprick.  Just five laps later, the four-time series champion would get his opportunity.
"I don't know if the track took rubber or what but the bottom got a lot of bite.  George and Jared went in a little too high in (turn) one and I used it to my advantage."
Suprick tried to immediately retake the top spot but Howland began to drive away and stretch out his lead. Suprick was not ready to give up though and with two laps left reeled in the No. 51, but Howland was too smooth and refused to give away the win.
"Obviously we have been itching to race but we really wanted to come here and race.  It is a really cool track," added Howland, just after his 24th career PST win.  "My wife is pregnant and due in a few weeks and we are going to try to win as many as we can until then."
Howland was all smiles, but so too was George Suprick, who was ecstatic to run with Howland and Zimbardi and pick up his second-straight podium finish to start the season.  Zimbardi was a little more disappointed with his position on the podium, knowing that a potential win in front of his local fans were in his grasps.
Driving up to finish fourth was Sammy Reakes IV, who started back in 12th place.  Brad Knab scored his second fifth place finish in as many races this season, holding off Ohio's Paige Poylak, who was impressive in winning her heat race and backed it up with a sixth place effort.
Canadian Mitch Brown fell back on the opening lap but held steady for seventh.  Don Adamczyk drove up to eighth, with Jamie Bodo and rookie Jake Muench rounded out the top 10.
A total of 23 sprints helped to fill the pits on a perfect night for racing.  Scott Kreutter's early season woes continued as another electrical issues prevented the 2012 MCR winner and series winner from starting the feature.
For more information, visit www.PatriotSprintTour.com.

Patriot Sprint Tour America Series Results: 5/24/14, McKean County Raceway, East Smethport, PA.
A-Main (25 Laps)- 1. Bryan Howland (51), 2. George Suprick (87), 3. Jared Zimbardi (35), 4. Sammy Reakes IV (1), 5. Brad Knab (38), 6. Paige Polyak (10), 7. Mitch Brown (10), 8. Don Adamczyk (21), 9. Jamie Bodo (76), 10. Jake Muench (14), 11. Steve Collins (67), 12. Dave Just (54J), 13. Geoff Quackenbush (25), 14. Dennis Wagner (38o), 15. Kyle Drum (47), 16. Scott Just (54JR), 17. Tracy Potter (11), 18. Derek Jonathan (81), 19. Tyler Graves (25G), 20. Dane Lorenc (00), 21. Dave Wickham (80), 22. Clint Ide (3), DNS: Scott Kreutter (10B).
Lap Leaders- Suprick 1-18, Howland 19-25.
Four Laps of Fame Dash for Cash (4 Laps)- 1. Kyle Drum (47), 2. Dave Just (54J), 3. Jamie Bodo (76), 4. Sammy Reakes IV (1), 5. Jake Muench (14), 6. Dennis Wagner (38o).
Heats (8 Laps Each)-
Race 1: Polyak, Brown, Collins, Bodo, D. Just, Muench, S. Just, Wickham.
Race 2: Zimbardi, Suprick, Drum, Wagner, Hutchinson, Potter, Lorenc, Kreutter.
Race 3: Howland, Quackenbush, Knab, Reakes, Graves, Jonathan, Ide.
Patriot Sprint Tour America Points (Top 10)- Suprick 286, Knab 270, Zimbardi 264, Bodo 255, Potter 246, Collins 244, Drum 222, D Just 218, Quackenbush 217, Jonathan 216.