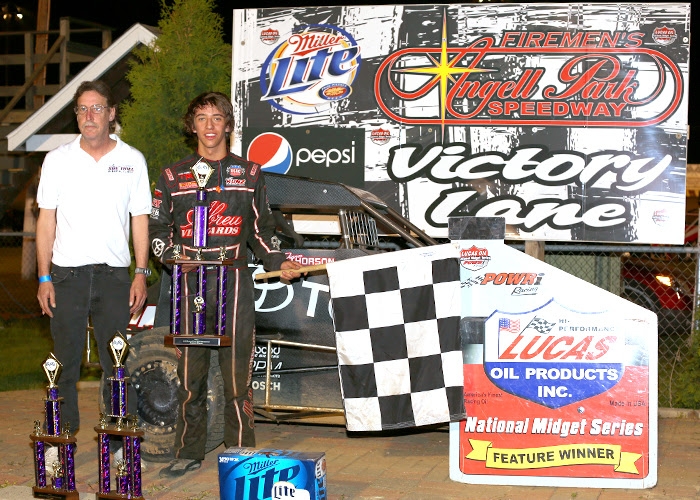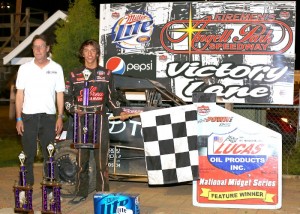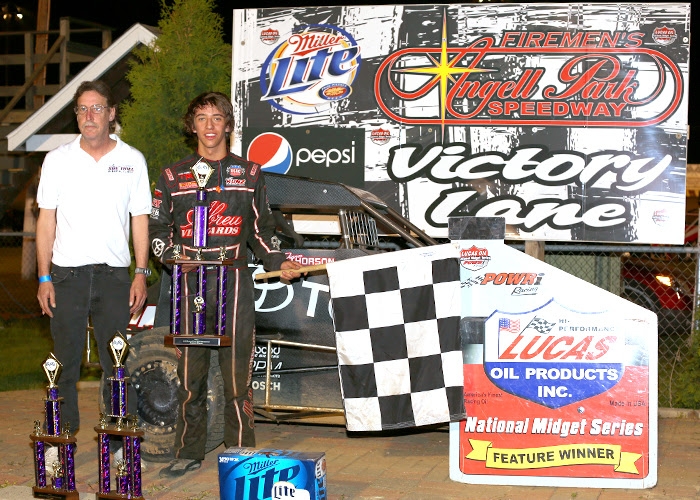 From POWRi
Sun Prairie, WI – (May 26th 2014) – Tanner Thorson of Minden, Nevada would earn his first career POWRi Lucas Oil National Midget Series victory after a hard fought battle with runner-up finisher Christopher Bell.
Thorson, driving a Keith Kunz/Curb-Agajanian Motorsports' Toyota-powered Bullet, would become the 137th different winner at the historical 1/3rd mile Angell Park Speedway in Sun Prairie, Wisconsin at the Thiel Memorial, an event that also doubles as the second of four POWRi World Championship events held in the United States.
Tanner Thorson started on the pole for the 30 lap A-main in a stacked field with teams competing for the POWRi World Championship hailing from Australia, New Zealand, and the United States. Thorson was steadily pulling away from the field when his momentum was slowed for the stopped cars of Jacob Patton, Spencer Bayston, and Robbie Ray bringing out the caution. When green flag racing resumed Rico Abreu would flip wildly, clearing the fence in turns three and four, landing outside the track, bringing out the only red for the 30 lap A-main. Abreu would be ok, but finished for the event.
When racing resumed, Tanner Thorson and Christopher Bell would pull away from the field as Brad Mosen and Darren Hagen battled for the third position. Racing would be slowed for the immobilized McCreery Motorsports-FSC Chassis of Daniel Robinson as the yellow flag waved with 10 laps in the book. Once cars we lined back up, Christopher Bell would mount his challenge, but Tanner Thorson would not be denied as he took to the top side as soon as Bell showed him he was there. As Bell and Thorson battled back and forth, Zach Daum would bring out the fifth and final caution with a flat right rear tire.
Once the field took the green and resumed racing, Thorson and Bell would pull away from the field as the underpowered car of Brad Mosen would make his way to the infield, bottling up the rest of the field, allowing Tyler Thomas to squeak into fourth and chase down Hagen for the third position. "I think we're getting a lot closer," explained third place finisher Tyler Thomas. "We were rolling really good on the bottom both nights."
As the final laps in the feature would begin to wind down, the battle for the lead would be anything but calm. Christopher Bell would crank up the pressure on leader Tanner Thorson with multiple slide jobs and Thorson would deny any attempt that Bell made. "Tanner definitely earned that one," explained runner-up finisher and POWRi World Championship points leader, Christopher Bell. "It was a really racy track tonight."
After denying Bell's final attempt to overtake the lead on the final lap, Thorson would dive to the bottom in turns three and four to hold off Bell and take his first career Lucas Oil National Midget Series victory. "I can't thank my guys enough: Keith, Pete, Chuck, my teammates, and Abreu Vineyards. I just can't believe this," explained a victorious Thorson. "I knew he [Bell] was on my back bumper. To get the win for him [Rico] is pretty awesome."
POWRi Lucas Oil National Midget Series feature results (30 laps): 1. Tanner Thorson, 2. Christopher Bell, 3. Tyler Thomas, 4. Parker Price-Miller, 5. Darren Hagen, 6. Justin Peck, 7. Austin Brown, 8. Jake Blackhurst, 9. Zach Daum, 10. Andrew Felker, 11. Daniel Robinson, 12. Seth Motsinger, 13. Scott Hatton, 14. Robbie Ray, 15. Brad Mosen, 16. Rico Abreu, 17. Brandon Waelti, 18. Spencer Bayston, 19. Scott Buckley, 20. Terry Babb, 21. Jacob Patton, 22. Andy Baugh
For more information, visit www.powri.com.