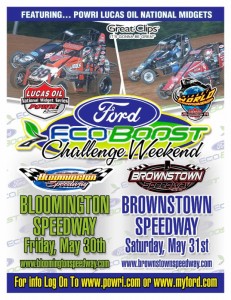 From POWRi
Millstadt, IL – (May 24, 2014) — After a series of events held in Australia, New Zealand, and the Unites States, the 2014 POWRi Midget World Championship finale will take place at the Ford EcoBoost Challenge. The $3,000 to-win Ford EcoBoost Challenge is a two-day event sponsored by Ford. The first night will be held at Bloomington Speedway in Bloomington, IN on May 30th and the second night will take place at Brownstown Speedway in Brownstown, IN on May 31st.
Teams from Australia, New Zealand, and the United States will all be vying for the first ever POWRi Midget World Championship title. 36 drivers from all three countries competed in the Australian and New Zealand events alone. Americans Bryan Clauson, Christopher Bell, and Darren Hagen were the top three in points after the Australian and New Zealand legs of the World Championship. New Zealanders Scott Buckley, Hayden Williams, and Brad Mosen sat in fourth, fifth, and sixth, respectively. Australians Nathan Smee, Adam Clarke, Chris McCutcheon and New Zealander Duane Hickman rounded out the top ten. After a hard fought battle that has extended over three countries, drivers will hold nothing back at the finale.
MAVTV American Real is set to broadcast both nights of the Ford EcoBoost Challenge at Bloomington Speedway and Brownstown Speedway. Fans will be able to witness the action from home on channel 248 on Dish Network or on channel 214 on DirecTV. MAVTV is also available on other providers. Go to www.MAVTV.com and click on "GET MAVTV" to find out if MAVTV is available to you.