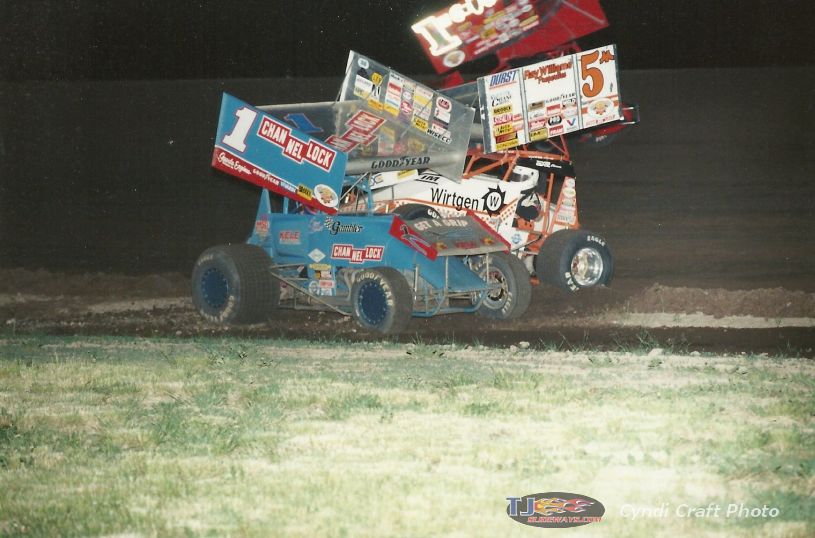 NOTE:  This story has run on the website before, but with the World of Outlaws visit to I-96 Speedway this weekend and Mark Kinser being inducted into the National Sprint Car Hall of Fame and Museum I felt it was time to revisit this strange moment in sprint car history.
By T.J. Buffenbarger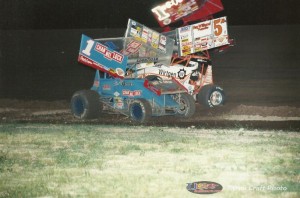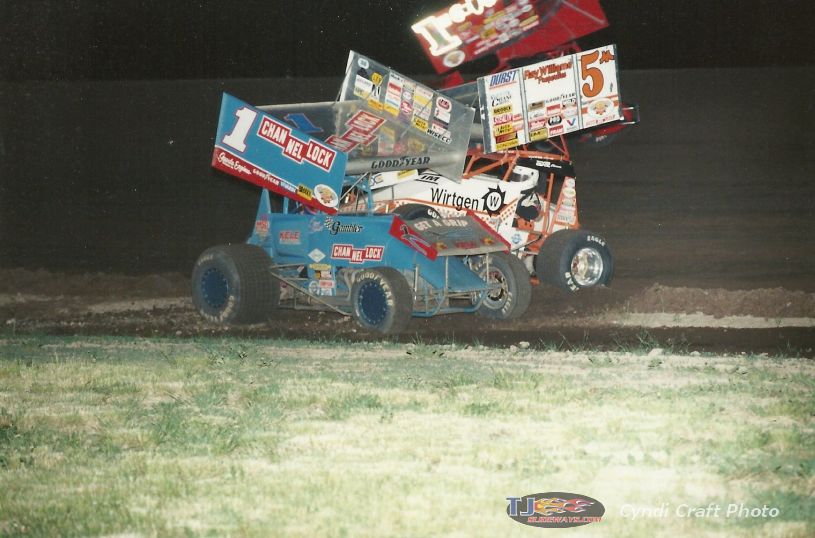 Often in racing you hear drivers reference being in the right place at the right time. The same goes for photographers and writers as well. One of the best examples of this involves the track the World of Outlaws STP Sprint Car series will visit this weekend, myself, and photographer Cyndi Craft.
1997 was my first season working in the tower at a race track. The World of Outlaws came to I-96 Speedway for the first of two visits during the season on Sunday June 15, 1997. This Father's Day affair was the same weekend NASCAR was at Michigan International Speedway. It was also the first time I was in the tower for a major sprint car event.
It was a fairly typical night at the races with Sammy Swindell and Mark Kinser racing for position when they made contact with Kinser spinning between turns one and two. What happened afterwards was almost beyond description. Kinser came back around the track under caution and drove up and over the front of Swindell's car in turn two with both cars coming to rest. World of Outlaws official Carlton Remers went ballistic on the radio. Swindell restarted while Kinser was parked for the remainder of the feature.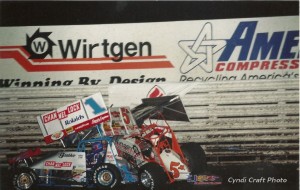 In the height of the World of Outlaws television era it was not unusual to see various VIP's. On this night Ralph Sheheen was seated right in front of me. Throughout the season Sheheen referenced the incident, none more though than on August 17, 1997 when Kinser and Swindell got together again racing for the win in the Knoxville Nationals. While the second incident was much more of an accidental nature, I couldn't help but think about the first incident earlier in the year.
The more amazing thing about both of these incidents is the same photographer was in position to capture both moments. Through the first couple of years of the website I became acquainted with Craft. After shooting the NASCAR race at Michigan International Speedway Craft just happened to be at I-96 that night in position for the first incident and captured the image. Then two months later Craft found herself in position again when Kinser and Swindell came together again. It's a strange combination of events, people, and places that leads back to I-96 Speedway on a random Sunday in June.