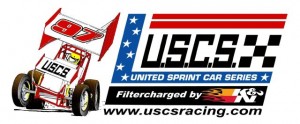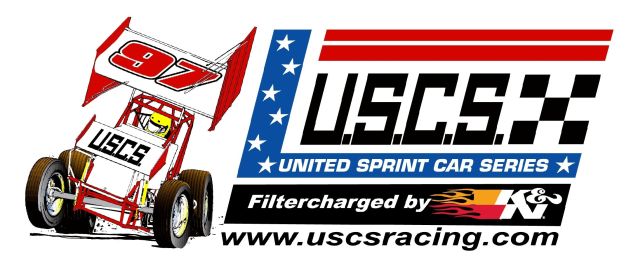 From Pete Walton
Eastaborga, AL — (May 30, 2014) — After three successful Memorial Day weekend events, the United Sprint Car Series 2014 Sprint Car Speedweek Round #4 "Thunder Thursday" event at Talladega Short Track was cancelled when rains came around 2:00 pm.
The USCS Outlaw Thunder Tour presented by K&N Filters for winged sprint cars now moves on to Speedweek Round #5 at Magnolia Motor Speedway (www.magnoliadirt.com) in Columbus, MS on Friday night May 30th at 7:30pm. Two other USCS series the K&N Filters USCS Outlaw Modifieds and www.rockauto.com USCS 600 Sprint Car Series winged mini sprints plus Super Late Models, Nesmith Dirt Late Models, Nesmith Street stocks and Mini stocks are on the racing card as well Friday night.
On Saturday night, May 31st at 7:30 pm the series completes the USCS Speedweek 2014 with a final Round #6 event at historic Riverside Int. Speedway (www.riversideinternationalspeedway.com) in West Memphis, AR.
Four weekly racing divisions join the USCS Outlaw Thunder Tour racers including the Riverside Limited Late Models, Open Wheel Modified, Stock Car and 305 winged sprint car divisions.
For rules and info on the USCS please visit www.uscsracing.com or call 770-460-7223 or 770-865-6097.
USCS Sprint Speedweek point standings as of May 26, 2014 after the Clayhill event.
Pos. Car# Driver Points
1 9Jr Derek Hagar, Marion, AR 450
2 26 Marshall Skinner,Marion, AR 430
3 10 Terry Gray, Bartlett, TN 426
4 88 Tim Crawley, Benton, AR 408
5 3 A.G. Raines, West Memphis, AR 398
6 14z Zach Pringle, Bryant, AR 394
7 16 Anthony Nicholson, Bartlett, TN 390
tie 12 Dalton Davis, Millington, TN 390
9 94 Jeff Swindell, Bartlett, TN 388
10 13 Todd Fayard, Saucier, MS 384
11 44 Ronny Howard, Nesbit, MS 378
12 10M Morgan Turpen, Cordova, TN 370
13 5 Jerod Roller, Hernando, MS 368
14 28 Jeff Willingham, Ripley, MS 358
15 12M Greg Merritt, Nesbit, MS 344
16 39 Brad Bowden, Hernando, MS 276
17 4M Michael Miller, Ocean Springs, MS 260
18 27 Curt Terrell, Bartlett, TN 242
tie 42 Andy McElhannon, Hernando, MS 242
20 32x Robert Richardson, Searcy, AR 240
21 13T Taylor Tidmore, Hernando, MS 222
22 1 Eddie Gallagher, Olive Branch, MS 220
23 3H Brandon Hanks, Burlison, TN 146
24 31G Cody Gardner, Little Rock, AR 142
tie 17 Joey Moughan, Springfield, IL 142
26 51 Joe B Miller, Millersville, MO 130
27 11 Jake Roach, Sardis, TN 122
28 33 Mark Huddleston, Mesquite, TX 116
tie 21 Kevin Hinkle, Cabot, AR 114
30 2 Brandon Kilpatrick, Strayhorn, MS 112
tie 46 Jan Howard, Marion, AR 112
32 n2 Ray Stevison, Biloxi, MS 108
33 22 Cody Howard, Byhalia, MS 106
34 57 Jason New, Byhalia 104