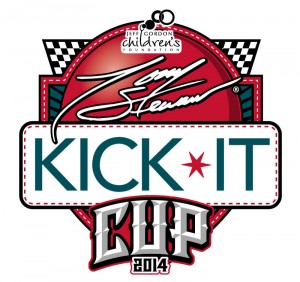 From Kick-It
Concord, N.C. — (June 3, 2014) — Kick-It and Jeff Gordon Children's Foundation announced today the official plans for the third-annual Tony Stewart Kick-It Cup events at the 2014 FVP Knoxville (Iowa) Nationals. All proceeds from both events will go to children's cancer research.
"I love going to the Knoxville Nationals and to be part of such a great event like the Kick-It Cup will make it even more fun to be there," said Tony Stewart, primary sponsor of the event. "I love racing, whether I'm driving a Cup car, a Winged Sprint Car or a go-kart. Being able to race against fans at Slideways Karting Center and help out the Jeff Gordon Children's Foundation at the same time is a win-win for everyone. I'm looking forward to getting a little sideways for a good cause and a great time."
The week's events will begin at Slideways Karting Center in Knoxville on Wednesday, August 6 , with an all-star lineup of NASCAR and former sprint car drivers racing their biggest fans. NASCAR champions Jeff Gordon and Tony Stewart, as well as 16-time Sprint Cup winner, Kasey Kahne, and Sprint Cup rookie-of-the-year contender Kyle Larson, will race head-to-head with 50 race fans in Slideways' fastest winged karts. The race, starting at 2pm, local time, will consist of eight heat races, a last-chance foot race showdown, and a 20-lap feature event. To donate and sign-up to race, please visit http://www.kick-it.org/games/2014/08/2nd-annual-go-kart-spectacular.
On Friday, August 8, drivers take on drivers in a seven-inning game of old-school kickball to see who takes the Cup. World of Outlaws STP Sprint Car series drivers, as well as Knoxville regulars, PA Posse boys, West Coast drivers and more will take to the Young's Park field at 12 noon, local time. Confirmed players at this time include Shane Stewart, Daryn Pittman, David Gravel, Rico Abreu, Dale Blaney, Logan Schuchart, Kevin Swindell, Jacob Allen, Mark Dobmeier, Danny Dietrich, Bryan Clauson, Danny Holtgraver, Justin Henderson, Sheldon Haudenschild and Bud Kaeding.
In addition, a one-hour Fan Fest from 11am until the first pitch, will include a Legends of Sprint Car Racing autograph session, featuring Rick Ferkel, Shane Carson, Bobby Allen, Kenny Jacobs and others, a longest-kick contest for the kids, music, food and more.
A live and silent auction will take place throughout the Fan Fest and following the Tony Stewart Kick-It Cup. The auction will feature autographed racing items from both sprint car racing and NASCAR as well as once-in-a-lifetime opportunities for diehard racing fans.
For more information on the kickball game and auction, including confirmed players and auction items, please visit http://www.kick-it.org/games/2014/08/3rd-annual-tony-stewart-kick-it-cup.
From now through the FVP Knoxville Nationals, updated information on both events can be found at the aforementioned websites and on Twitter @TSKickItCup. Sponsorship opportunities are available for both the karting event at Slideways Karting Center and the Tony Stewart Kick-It Cup kickball game at Young's Field. Contact Kendra Jacobs, kjacobs@spiresportsinc.com, for more information.