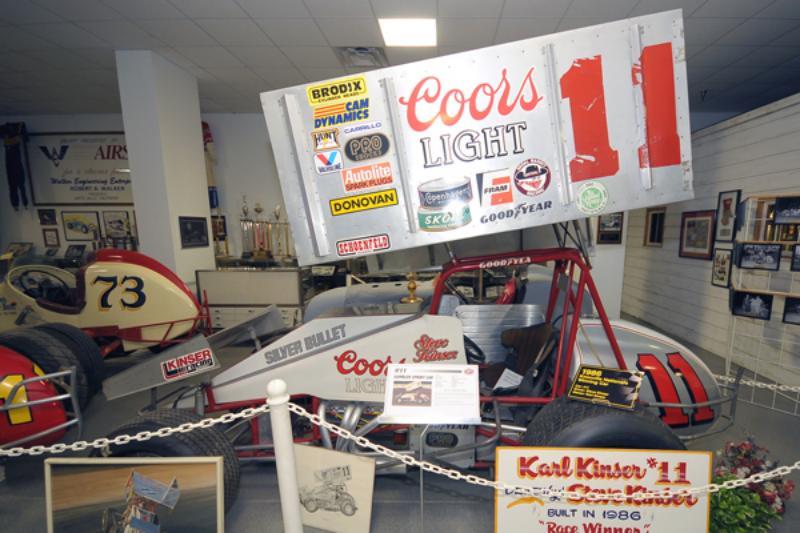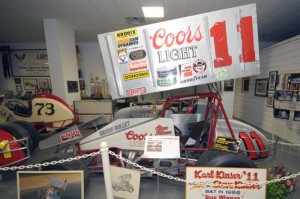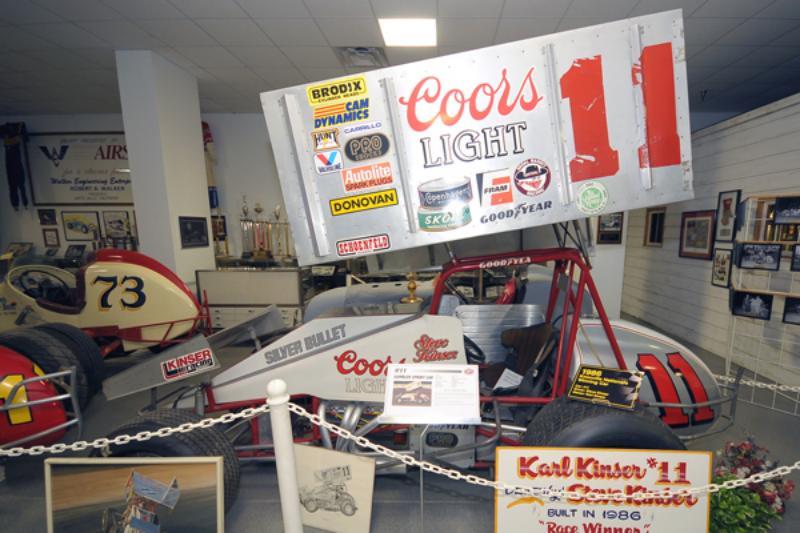 From Bob Baker
Knoxville, IA —  (June 10, 2014)  — A seventh sprint car, the 2010 Kings Royal-winning, Tony Stewart Racing-owned winged machine that was driven by the 'King of the Outlaws,' was rolled into the National Sprint Car Museum in Knoxville last night as final preparations for the "Salute to Champion Steve Kinser" special exhibition are being completed. The display, which will debut this Friday and consists of seven sprint cars that the National Sprint Car Hall of Fame inductee drove, features at least one winning car from each decade of his illustrious career. The exhibition follows similar ones honoring Tony Stewart (2011), Jeff Gordon (2012) and Mario Andretti (2013).
Said museum executive director Bob Baker today, "We are so pleased to debut another first-time-ever display this weekend, with both the World of Outlaws and the American Motorcyclist Association teams and fans here. Honoring arguably the greatest sprint car driver ever with a five-month special exhibition is a real pleasure for all of us at the National Sprint Car Hall of Fame & Museum. And I'd be remiss if I didn't thank Steve and Dana Kinser; Jimmy Carr, Misha Geisert and Tony Stewart of Tony Stewart Racing; the Robert Karnell family; Alan Kreitzer and Lynn Paxton of the Eastern Museum of Motor Racing; Chuck Merrill of Maxim Chassis; and Mike Brown. Words cannot truly express our sincere gratitude to all of these very generous people."
The "Salute to Champion Steve Kinser" special exhibition coincides with the King's final full season with the World of Outlaws (WoO) STP Sprint Car Series in 2014. Said Bob Baker, "The display, featuring the seven historically-significant non-winged and winged sprint cars and other Steve Kinser-related art and artifacts, will only be able to be seen at one place this year and that is at the National Sprint Car Hall of Fame & Museum. This will be a must-see attraction for the legion of fans of the 20-time World of Outlaws champion and 12-time Knoxville Nationals winner."
Those seeking additional information can visit the museum's web site at www.sprintcarhof.com.