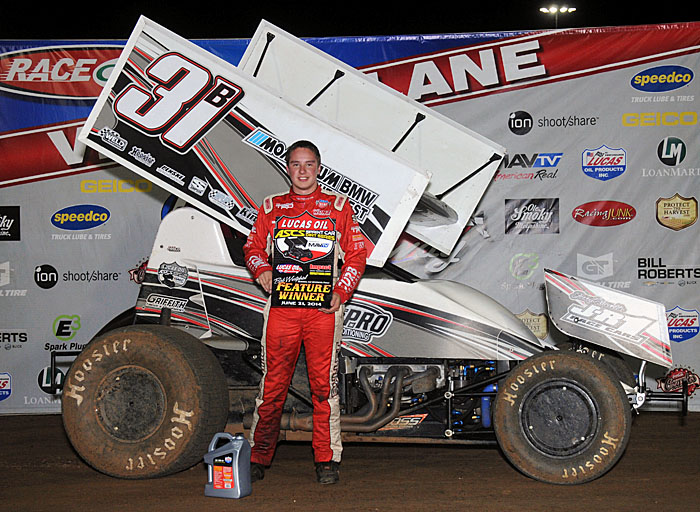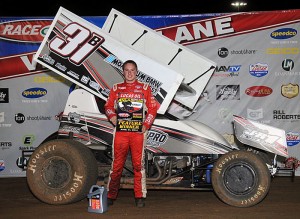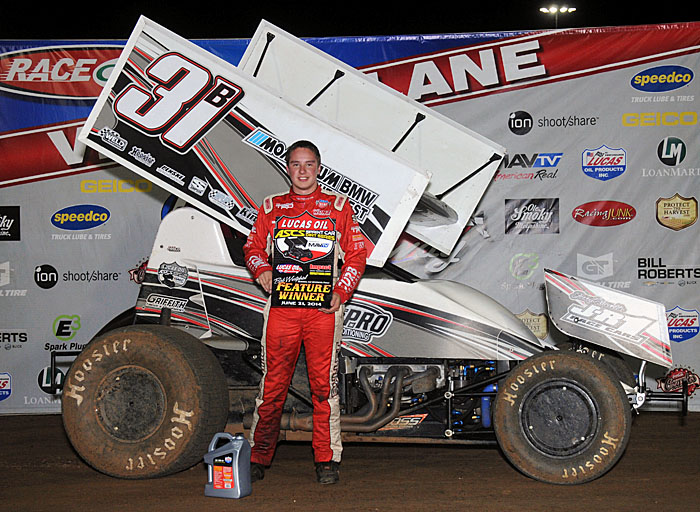 From Bryan Hulbert
Wheatland, MO — (June 21, 2014) — Five nights and four winners as Christopher Bell backed up his Creek County Speedway victory on Saturday night at the Lucas Oil Speedway; coming from seventh to earn his first Lucas Oil Speedway triumph in Lucas Oil ASCS National Tour competition and second on the season.
"That right there was a blast. It's doesn't get much better than that," said Bell of his Speedweek victory. "Hats off to the track crew. As a racer, when you come to a racetrack, all you want to be able to do is race and tonight, they gave us options to be able to move around and put on a good show."
Cracking the top five on Lap 5, Bell utilized a caution on the eighth round to jump to third. Working past Brad Loyet on Lap 10 for the runner up spot, the Berryman Motorsports No. 31b began running down race long leader, Matt Covington.
Slipping the tires on Lap 14 exiting turn two, the gap closed quickly with Covington again slipping though the groove two laps later to allow Christopher Bell to race into the top spot.
Sam Hafertepe, Jr. worked past Covington for the runner up spot on a Lap 22 restart, but a caution on Lap 23 saw the No. 15h making contact with an infield tire, causing the front axle to snap; sending the Left Front tire flying.
On the restart, nineteenth starting Tim Crawley worked by Covington for second.
"I can't thank John [James] enough, you know we had a little misfortune the middle of the week and had some problems. Maybe we would have had a shot at this Speedweek deal, but you never know," commented Crawley. "I hope everybody enjoyed it, I drove my butt off but come up second."
Brad Loyet crossed third and in doing so, picked up the title of Speedweek Champion by two markers over Jason Johnson.
"I've won in a Midget here, and I've been really close in a Sprint Car, just not yet," said Loyet "I kind of feel like I let my guys tonight. I had a better car than third place but I just messed around too much in one and two too long, and it cost me a good shot at winning this race."
Matt Covington ended up fourth with Johnny Herrera coming from fourteenth to fifth.
Jonathan Cornell from sixteenth grabbed sixth with Jason Johnson coming back to seventh after spinning on Lap 5 and having to come from twentieth. Brandon Hanks grabbed eighth with Seth Bergman from fifteenth to ninth. Dustin Morgan made the charge to tenth from twenty-second.
Speedweek high car count of 53 garnered six Heat Races with Blake Hahn, Jason Johnson, Brad Loyet, Tyler Blank, Jeff Swindell, and Johnny Herrera earning wins. Three B-Features were won by Randy Hibbs, Aaron Reutzel, and Tim Crawley.
The 2nd annual Bob Westphal Memorial Cup went to Brad Loyet. Jason Johnson ended up second with Seth Bergman, Jeff Swindell, and Aaron Reutzel completing the top five in Speedweek standings.
Co-sanctioned with the Speedway Motors Warrior Region with Jonathan Cornell earning high points for the region. Tyler Blank, Josh Fisher, Randy Hibbs, and J.R. Topper completed the top five in regional standings.
The Lucas Oil American Sprint Car Series presented by MAVTV American Real returns to action on July 11 at the Electric City Speedway in Great Falls, Mont. For continued updates, log onto http://www.ascsracing.com.
Lucas Oil ASCS presented by MAVTV American Real
Lucas Oil Speedway – Wheatland, Mo.
Speedweek Round 5 – Finale
Saturday, June 21, 2014
Car Count: 53
Heat Races presented by SpeedMart – 8 Laps, winners plus top 10 in passing points to A-Feature.
Heat 1 (8 Laps): 1. 17-Blake Hahn[6]; 2. 87-Aaron Reutzel[4]; 3. 86-Kyle Bellm[1]; 4. 48-Jake Martens[8]; 5. 85-Forrest Sutherland[7]; 6. 4-Evan Martin[3]; 7. 27X-Mark Finnell[5]; 8. 58-Gary Floyd[9]; DNS 94F-Joe Frazier
Heat 2 (8 Laps): 1. 41-Jason Johnson[1]; 2. 18-Tony Bruce Jr[5]; 3. 95-Matt Covington[9]; 4. 28-Jonathan Cornell[7]; 5. 72-Curtis Boyer[2]; 6. 51-Mitchell Moore[6]; 7. 3Z-Zach Davis[8]; 8. 99-Andrew Turley[3]; 9. (DNF) 38-Cody Baker[4]
Heat 3 (8 Laps): 1. 05-Brad Loyet[3]; 2. 81W-Danny Wood[5]; 3. 17W-Harli White[6]; 4. 3H-Brandon Hanks[9]; 5. 92-Jordan Weaver[2]; 6. 93-Dustin Morgan[8]; 7. 14-Randy Martin[4]; 8. 7M-Chance Morton[7]; 9. 76-Jay Russell[1]
Heat 4 (8 Laps): 1. 9M-Tyler Blank[2]; 2. 31B-Christopher Bell[9]; 3. 92J-J.R. Topper[3]; 4. 77-Zach Chappell[6]; 5. 14Z-Zach Pringle[8]; 6. 17X-Josh Baughman[7]; 7. 34-Corey Nelson[4]; 8. (DNF) 24X-Lanny Carpenter[1]; 9. (DNF) 50-Michael Sosebee[5]
Heat 5 (8 Laps): 1. 94-Jeff Swindell[1]; 2. 4J-Tim Crawley[2]; 3. 23-Seth Bergman[5]; 4. 33-Kris Miller[3]; 5. 0-Austin Alumbaugh[7]; 6. 81A-Chris Morgan[9]; 7. 8M-Kade Morton[8]; 8. 24-Ricky Lee Stangl[6]; 9. (DNF) 65-Trevor (T.J.) Muths[4]
Heat 6 (8 Laps): 1. 45X-Johnny Herrera[1]; 2. 15H-Sam Hafertepe Jr[4]; 3. 72X-Josh Fisher[6]; 4. 2A-Randy Hibbs[7]; 5. 00-Casey Shuman[2]; 6. 27-Danny Thoman[3]; 7. 9-Casey Baker[5]; DNS 22-Dustin Barks
Smiley's Racing Products B-Features – Top 2 advance to the A-Feature.
B Feature 1 (12 Laps): 1. 2A-Randy Hibbs[1]; 2. 17X-Josh Baughman[5]; 3. 14-Randy Martin[9]; 4. 92J-J.R. Topper[3]; 5. 00-Casey Shuman[6]; 6. 7M-Chance Morton[10]; 7. 3Z-Zach Davis[7]; 8. 24X-Lanny Carpenter[11]; 9. 27-Danny Thoman[8]; 10. (DNF) 48-Jake Martens[2]; 11. (DNF) 65-Trevor (T.J.) Muths[12]; 12. (DNF) 0-Austin Alumbaugh[4]; DNS 22-Dustin Barks
B Feature 2 (12 Laps): 1. 87-Aaron Reutzel[1]; 2. 77-Zach Chappell[2]; 3. 86-Kyle Bellm[3]; 4. 33-Kris Miller[4]; 5. 34-Corey Nelson[9]; 6. 72-Curtis Boyer[5]; 7. 8M-Kade Morton[7]; 8. 51-Mitchell Moore[6]; 9. 76-Jay Russell[12]; 10. 24-Ricky Lee Stangl[10]; 11. 27X-Mark Finnell[8]; DNS 50-Michael Sosebee
B Feature 3 (12 Laps): 1. 4J-Tim Crawley[1]; 2. 93-Dustin Morgan[4]; 3. 81A-Chris Morgan[6]; 4. 14Z-Zach Pringle[2]; 5. 92-Jordan Weaver[5]; 6. 4-Evan Martin[7]; 7. 58-Gary Floyd[9]; 8. 85-Forrest Sutherland[3]; 9. 9-Casey Baker[8]; 10. 99-Andrew Turley[10]; DNS 38-Cody Baker; DNS 94F-Joe Frazier
Protect the Harvest A-Feature
A Feature (30 Laps): 1. 31B-Christopher Bell[7]; 2. 4J-Tim Crawley[19]; 3. 05-Brad Loyet[3]; 4. 95-Matt Covington[1]; 5. 45X-Johnny Herrera[14]; 6. 28-Jonathan Cornell[16]; 7. 41-Jason Johnson[12]; 8. 3H-Brandon Hanks[5]; 9. 23-Seth Bergman[15]; 10. 93-Dustin Morgan[22]; 11. 87-Aaron Reutzel[18]; 12. 9M-Tyler Blank[8]; 13. 94-Jeff Swindell[13]; 14. (DNF) 81W-Danny Wood[6]; 15. (DNF) 15H-Sam Hafertepe Jr[9]; 16. (DNF) 77-Zach Chappell[21]; 17. (DNF) 18-Tony Bruce Jr[4]; 18. (DNF) 17-Blake Hahn[2]; 19. (DNF) 72X-Josh Fisher[11]; 20. (DNF) 17W-Harli White[10]; 21. (DNF) 2A-Randy Hibbs[17]; 22. (DNF) 17X-Josh Baughman[20]
Lap Leader(s): Matt Covington 1-15; Christopher Bell 16-30
FSR High Point: Christopher Bell
KSE Hard Charger: Tim Crawley +17
Hawk Performance Fastest Lap: Matt Covington 14.547 seconds
CSI Rebound: Sam Hafertepe, Jr.
Provisional(s): N/A
=======================================================
2014 A-Feature Winner(s): Aaron Reutzel -2, Rico Abreu – 2, Tony Bruce, Jr. – 2, Christopher Bell – 2, Patrick Stasa – 1, Derek Hagar – 1, Jeff Swindell – 1, Brad Loyet – 1, Seth Bergman – 1, Sam Hafertepe, Jr. – 1
2014 Lucas Oil ASCS Driver Standings (Top 10): 1. Brad Loyet 1,751; 2. Jason Johnson 1,725; 3. Jeff Swindell 1,656; 4. Johnny Herrera 1,649; 5. Aaron Reutzel 1,625; 6. Sam Hafertepe, Jr. 1,620; 7. Seth Bergman 1,551; 8. Blake Hahn 1,531; 9. Tony Bruce, Jr. 1,530; 10. Matt Covington 1,526;
2014 Speedweek Driver Standings (Final – Top 10) 1. Brad Loyet 639; 2. Jason Johnson 637; 3. Seth Bergman 599; 4. Jeff Swindell 598; 5. Aaron Reutzel 589; 6. Matt Covington 581; 7. Blake Hahn 580; 8. Dustin Morgan 580; 9. Johnny Herrera 572; 10. Tim Crawley 567;