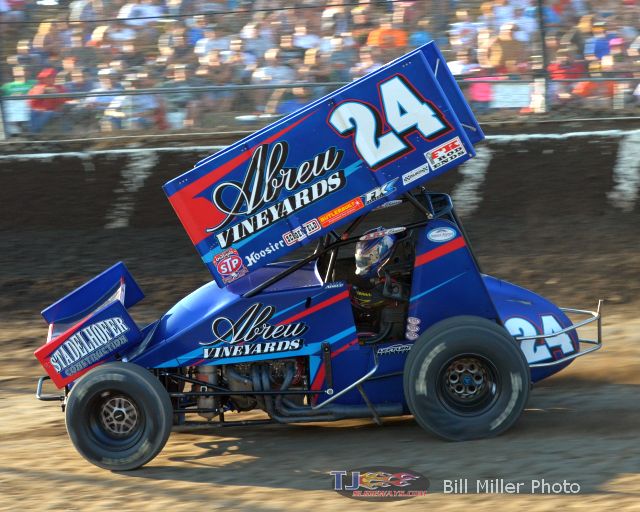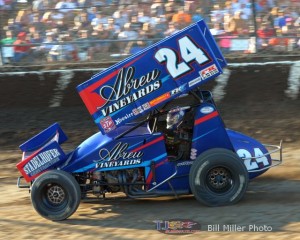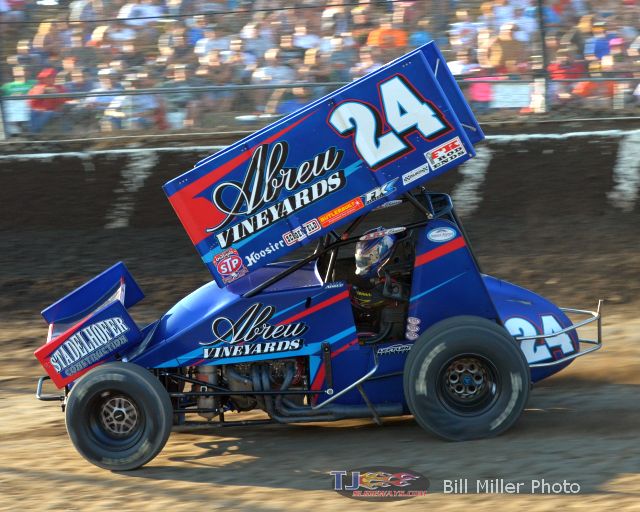 By Gary Thomas
Calistoga, CA – June 21, 2014…Rutherford, CA's Rico Abreu has prominently positioned himself as one of the very best Sprint Car & Midget racers across the country and on Saturday at the Wine Country Classic he added yet another victory to his resume, by claiming his fourth career win at the historic Calistoga Speedway.
It marked the eighth career King of the West 410 Sprint Car Series triumph for the 22-year-old pilot, which places him in a tie for 14th on the all-time win list with former series champion Jason Statler. It was also Abreu's third series win this season in three starts at the helm of his Paul Silva wrenched Abreu Vineyards/ Butler Built No. 24 machine.
"It's pretty cool to come out here and win at my home track tonight," said Abreu, who now has two KWS wins at the Calistoga Speedway, to go along with his two USAC Western Midget Series wins. "Paul Silva and my guys give me a great car whenever I'm in this thing so I can't thank them enough. I also want to give my hats off to the track prep crew, because the track was awesome tonight. It was a lot of fun and we had great racing all night long."
Pole sitter Bud Kaeding jumped to the early lead in the feature, as Abreu made a wild move from the third row on the start to carve his way into second. The main event featured some of the best Winged Sprint Car racing we've seen at the Calistoga half-mile, as drivers attacked the speedway in every corner. Abreu would stalk Kaeding for the lead and slowly but surely cut into his advantage.
While dealing with some lapped traffic Abreu closed even more and on lap 13 he would slice his way into the lead with the home-town crowd coming to their feet. Kaeding tried to race his way back by, but couldn't make it stick and Abreu began to pull away from the pack. Despite a few restarts nothing could slow the fast moving Abreu, who pulled away every time and ultimately took the checkered by two and half seconds for victory.
Chico's Jonathan Allard won out in a torrid battle for the runner up spot with Kyle Hirst and Bud Kaeding that thrilled the crowd. Allard started from the third row and took second for good on lap 18 to cap a strong weekend for the Tri-C Machine team, after also winning Friday at Ocean Speedway. "That was definitely a fun race right there and I really have to hand it to everyone that's put in the effort to make this place so good. What a race track and facility we have at Calistoga now. We have this car rolling really good right now and I'm excited for Dirt Cup next week at Skagit."
Hirst ran as high as second at one point in the feature and ultimately came home third to earn yet another top-five finish in King of the West 410 Sprint Car Series competition. The defending KWS champ has yet to finish outside of the top-five in the 10 events held so far this season aboard the Roth Motorsports No. 83jr mount. "We had a great race track to run on tonight and I think that was some of the best racing we've had here with the wing. I want to thank everyone that helps out at Calistoga. Rico was pretty tough tonight, but I want to thank all my guys for their support as always."
Bud Kaeding crossed the line in fourth, with his dad Brent Kaeding completing the top-five after putting together a new car following Friday's frightening crash at Ocean Speedway. Grass Valley's Jason Statler also put together a new car for Saturday and had an impressive drive finishing in sixth from 12th. Roseville's Sean Becker, Sacramento's Willie Croft, Roseville's Colby Copeland and Fresno's Cory Eliason rounded out the top-10.
Bud Kaeding claimed the six-car dash with the three entertaining eight lap heat races going to Fremont's Shane Golobic, Elk Grove's Bobby McMahan and Willie Croft. McMahan's drive was very impressive coming from the third row to pick up the crowd pleasing victory. Rico Abreu kicked-off the night by setting fast time with a lap of 16.939 around the big Calistoga Speedway half-mile. Full results can be viewed by going to www.kwssprints.com and clicking on the results tab.
The King of the West 410 Sprint Car Series will return to action at Watsonville's Ocean Speedway on Saturday July 12 as part of the Howard Kaeding Classic weekend. Also on Friday night at the track will be the Civil War Sprint Car Series vs. the Ocean Sprints.
Special events on tap during the weekend will include a Thursday night car show & party on July 10 at the High Five Pizza location at the Silver Creek Sportsplex off Hellyer Road in San Jose from 5pm-9pm. Various drivers and race cars will be on hand at the get together, for what will be the official kick-off of the Howard Kaeding Classic weekend.
There will be a bbq chicken & rib dinner from 6pm-8pm for donation, with proceeds going to the Silver Creek Sports Plex Foundation, which aims to ensure that every child, regardless of financial ability, is able to participate in local amateur athletic training and competition.
Following Friday nights races High Five Pizza will also be putting on a post-race party at the track, along with a Saturday afternoon luncheon, which will kick-off the final night's action. Both events will be held to support the Northern Auto Racing Club Benevolent Fund, which supports and aids injured drivers in California 410 Sprint Car racing. There will also be a 50/50 raffle and a silent auction.
1. Rico Abreu, 2. Jonathan Allard, 3. Kyle Hirst, 4. Bud Kaeding, 5. Brent Kaeding, 6. Jason Statler, 7. Sean Becker, 8. Willie Croft, 9. Colby Copeland, 10. Cory Elliason, 11. Bobby McMahan, 12. Tim Barber, 13. Dominic Scelzi, 14. Jarrett Soares, 15. D.J. Netto, 16. Pat Harvey, 17. Craig Stidham, 18. Richard Brace, 19. Shane Golobic, 20. Gordon Rodgers.