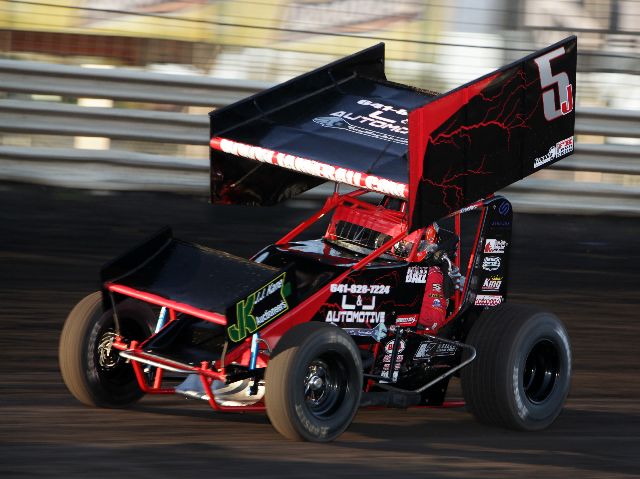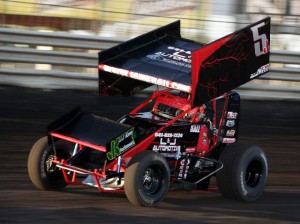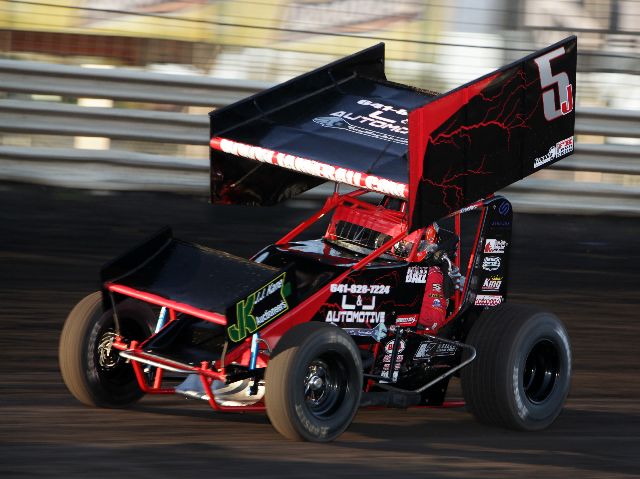 From Inside Line Promotions
Knoxville, IA — (June 24, 2014) — White Lightning Motorsports had a standout performance at Knoxville Raceway last Saturday as Jamie Ball highlighted the night by capturing his first career 360ci sprint car feature triumph.
"It was the greatest night we've had in a long time," he said. "This will be my fifth year of racing and I've been wanting to win a 360 race at Knoxville. To finally get one was a big sense of relief. They always say the first one is the hardest."
Ball opened the night by qualifying eighth quickest around the half-mile oval. He then charged from third to win his heat race. Since the top eight in qualifying who advanced through their heat race were inverted for the feature, Ball started the 18-lap main event on the pole.
"I was rolling into the feature with a boatload of confidence," he said. "The track was real nice. This week they cut the berm down. The bottom was there all night. I started on the pole and went out there with the plan to run high in turns one and two and low in turns three and four. I did that the first five laps then Russ (Hall) got by me and (Justin) Henderson made it three wide. I was able to calm myself down and run my race. When I got passed there by Russ and by Henderson I didn't get frustrated. I hit my marks."
Ball retook the top spot and he was cruising in the lead until a miscue allowed Henderson to take the lead on Lap 14.
"I drove it in full throttle in the middle in the next corner," Ball said. "There was a lapped car that was coming up and he shut the door on Henderson. It was wreckers or checkers at that moment. I did not want to lose that race. I had the will to win."
Ball powered back into the lead and held on for the monumental victory.
Larry Ball Jr. also enjoyed his most successful night of the season in the 410ci class. Ball Jr. qualified 14th quickest and after placing seventh in his heat race, he led the entire B Main to earn a transfer into the main event.
"He was rolling pretty good in the feature," Jamie Ball said. "He passed (Brooke) Tatnell and was up to 14th about halfway. The race went green to checkered, which is very rare there. He lost a spot to Tatnell and then one more later on. It definitely gives him confidence going into next week."
Ball Jr. ended with a 16th-place finish.
Devin Kline secured his best career result in the 305ci class. Kline timed in 10th in qualifying and then advanced from third to second place in his heat race. That started him on the inside of the fifth row of the 15-lap main event.
Not only did Kline make it past the opening lap for the first time this season, he completed the entire race and capped the night with a sixth-place result.
"He got up to fifth at one time," Ball said. "It was his first feature ever at Knoxville. He was way excited. He was screaming all night. It was just a good night all around. We all had pretty good nights. We're definitely rolling and starting to hit our stride."
White Lightning Motorsports will return to Knoxville Raceway this Saturday.
QUICK RESULTS –
JAMIE BALL – June 21 – Knoxville Raceway in Knoxville, Iowa – Qualifying: 8; Heat race: 1 (3); Feature: 1 (1).
LARRY BALL JR. – June 21 – Knoxville Raceway in Knoxville, Iowa – Qualifying: 14; Heat race: 7 (2); B Main: 1 (2); Feature: 16 (20).
DEVIN KLINE – June 21 – Knoxville Raceway in Knoxville, Iowa – Qualifying: 10; Heat race: 2 (3); Feature: 6 (9).
SEASON STATS –
JAMIE BALL – 8 races, 1 win, 3 top fives, 7 top 10s, 7 top 15s, 7 top 20s
LARRY BALL JR. – 8 races, 0 wins, 0 top fives, 0 top 10s, 0 top 15s, 3 top 20s
DEVIN KLINE – 4 races, 0 wins, 0 top fives, 1 top 10, 1 top 15, 1 top 20
UP NEXT –
Saturday at Knoxville Raceway in Knoxville, Iowa
MEDIA LINKS –
Jamie Ball Website: http://www.JamieBall.com
Larry Ball Jr. Website: http://www.LarryBallJr.com
Devin Kline Website: http://www.DevinKline.com
Jamie Ball Twitter: http://www.twitter.com/JamieBall5j
Larry Ball Jr. Twitter: http://www.twitter.com/LarryBallJr5j
Devin Kline Twitter: http://www.twitter.com/DevinKline5j
VIDEO –
Here is a link to highlights from Ball's first career 360 victory at Knoxville Raceway on June 21: http://youtu.be/sJxnb-gK1nY