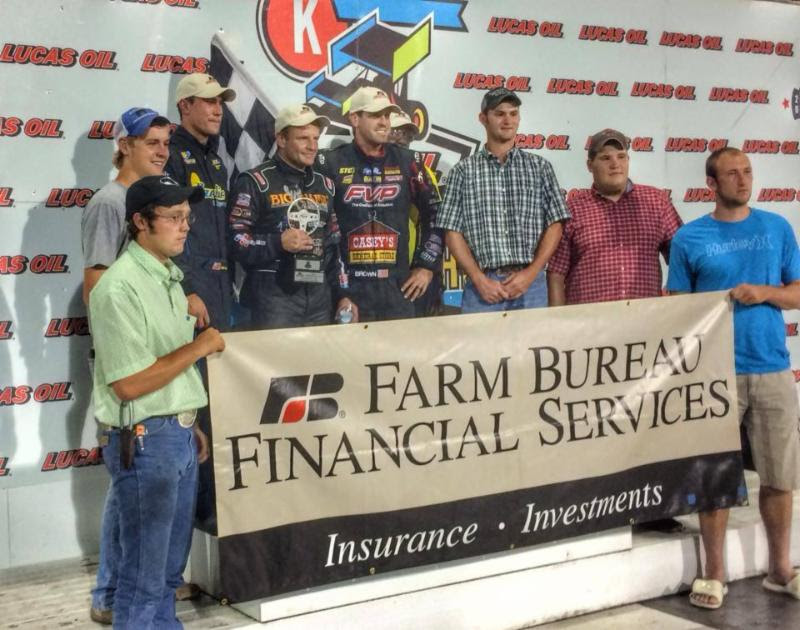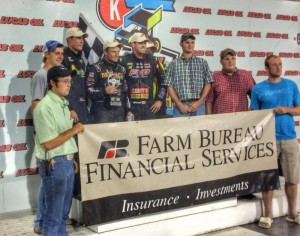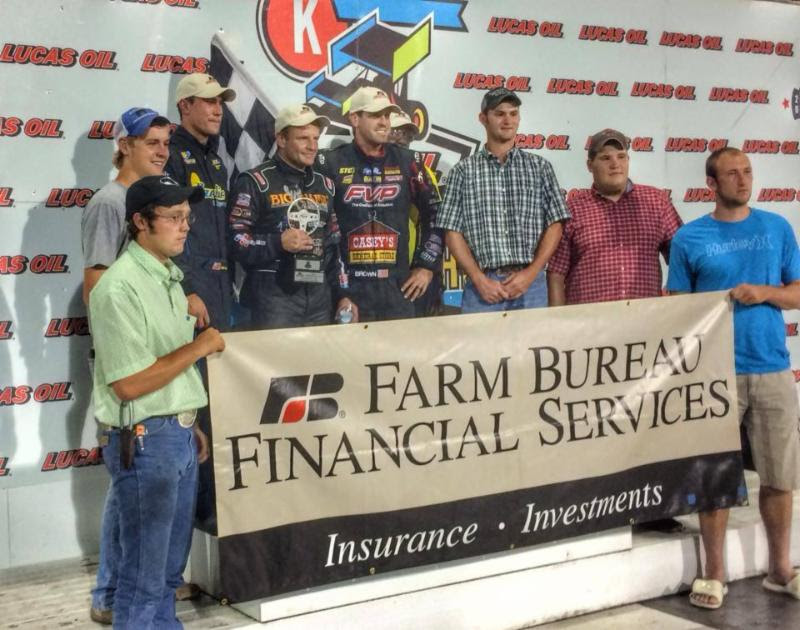 From Inside Line Promotions
Brandon, S.D. — (June 25, 2014) — Craig Dollansky provided Big Game Motorsports its banner week of the season by sweeping a pair of races last weekend.
With veteran Guy Forbrook joining the Big Game Treestands team, Dollansky picked up his third win of the season at Knoxville Raceway in Knoxville, Iowa, on Saturday before claiming Sunday's main event at Huset's Speedway.
"We've had some changes on our team," he said "We've got Guy Forbrook helping us get some things sorted out that have been plaguing us this year. That's been really helpful. It's been a work in progress and it still is, but to come out with two wins is a great weekend."
The action started on Saturday with Dollansky qualifying eighth quickest on the half-mile oval. He then finished fifth in his heat race to lock into the feature, which the Big Game Treestands car started on the pole following the eight-car inversion.
"We made some changes for the main event that were good," he said. "Even though we started on the front row, that doesn't always mean you are going to win the race. We got a good start and got going pretty good."
Dollansky led the first lap before falling to the runner-up position on Lap 2.
"The nice thing about Knoxville is Chris Dunkin and his crew do such a great job with the track," he said. "I was moving around some and found different places where we could make good time. I feel like we're getting a better handle on our race car and I'm feeling good behind the wheel."
Dollansky powered back into the lead on Lap 7 as he cruised to victory during the nonstop event, which was his 15th career triumph at Knoxville Raceway.
The weekend concluded on Sunday at Huset's Speedway, which was under several feet of water the previous weekend because of area flooding.
"Even with the water and flooding they were determined to get back to racing," Dollansky said. "It was great to see they were able to get the facility ready. It was prepared well. Our hats off to them to get ready and get that event in."
Dollansky qualified third quickest and he placed fourth in his heat race. The feature was inverted by six cars, which started Dollansky on the outside of the second row.
He spent a majority of the race in the runner-up position before leader Mark Dobmeier had mechanical problems with seven laps remaining.
"We were running second to Dobmeier and at the end of the day I think we had a second-place car," Dollansky said. "He blew a motor, which gave us the lead. We caught a break there. At that point the track was beginning to rubber up so we took it easy to conserve the tires."
Dollansky led the remainder of the race to give his Big Game Treestands team its fifth win of the season.
Dollansky will return to Knoxville Raceway this Saturday before tackling the World of Outlaws STP Sprint Car Series event at Cedar Lake Speedway in New Richmond, Wis., on Sunday.
QUICK RESULTS –
June 21 – Knoxville Raceway in Knoxville, Iowa – Qualifying: 8; Heat race: 5 (4); Feature: 1 (1).
June 22 – Huset's Speedway in Brandon, S.D. – Qualifying: 3; Heat race: 4 (5); Feature: 1 (4).
SEASON STATS –
16 races, 5 wins, 9 top fives, 12 top 10s, 13 top 15s, 15 top 20s
UP NEXT –
Saturday at Knoxville Raceway in Knoxville, Iowa, and Sunday at Cedar Lake Speedway in New Richmond, Wis., for the FVP Outlaws at Cedar Lake with the World of Outlaws STP Sprint Car Series
MEDIA LINKS –
Website: http://www.BigGameTreestands.com
Twitter: https://twitter.com/BigGameMotorspt
Facebook: https://www.facebook.com/pages/Big-Game-Treestands/251832101535076?fref=ts
Aggressive Hydraulics: http://www.AggressiveHydraulics.com
MobileStar: http://www.MobileStar.us/mobilestarwebsite
BIG GAME TREESTANDS –
Established in 1977 in Windom, Minn., Big Game Treestands® has grown to be a leading company in the outdoor industry. Big Game Treestands® offers a Rock Solid™ line of field tested, safety certified above TMA requirements, welded steel stands & free standing elevated platforms that gives you not only a safe and extremely sturdy vantage point, but also reliable all-day comfort at a great value. Large, non-slip standing platforms, top-notch fastening systems, and our innovative pinned, sleeved ladder sections provide the Rock Solid™ stance, twist free climbing, and all around silence that Big Game Treestands® is known for. Non-glare, powder coat finish keeps our products hidden from nature's wary eye.
For over 30 years, it has been our goal and our philosophy to provide the most innovative and practical treestands and hunting accessories in the field. As tradition continues, we are Exceeding Limitations and once again providing new models that challenge Mother Nature. In 2012 Big Game extended the line into Trail Cameras known for the easy to set, great picture quality, and over all great camera. Eyecon Trail Cameras® exceeds the expectations of consumers. Big Game Treestands® and Eyecon Trail Cameras® offers undeniable quality on time-tested favorites as well as new innovations for 2013.
For more information on Big Game Treestands®, visit http://www.BigGameTreestands.com.
TRAIL CAMERAS –
Big Game Treestands® offers a variety of trail camera options that are user-friendly with exceptional imaging as well as a 120 degree pivoting head. New and improved cameras include the Jag, Mantis II, Frenzy, Storm II, Black Widow and Quick Shot. To learn more about or to purchase a trail camera, visit http://www.BigGameTreestands.com.