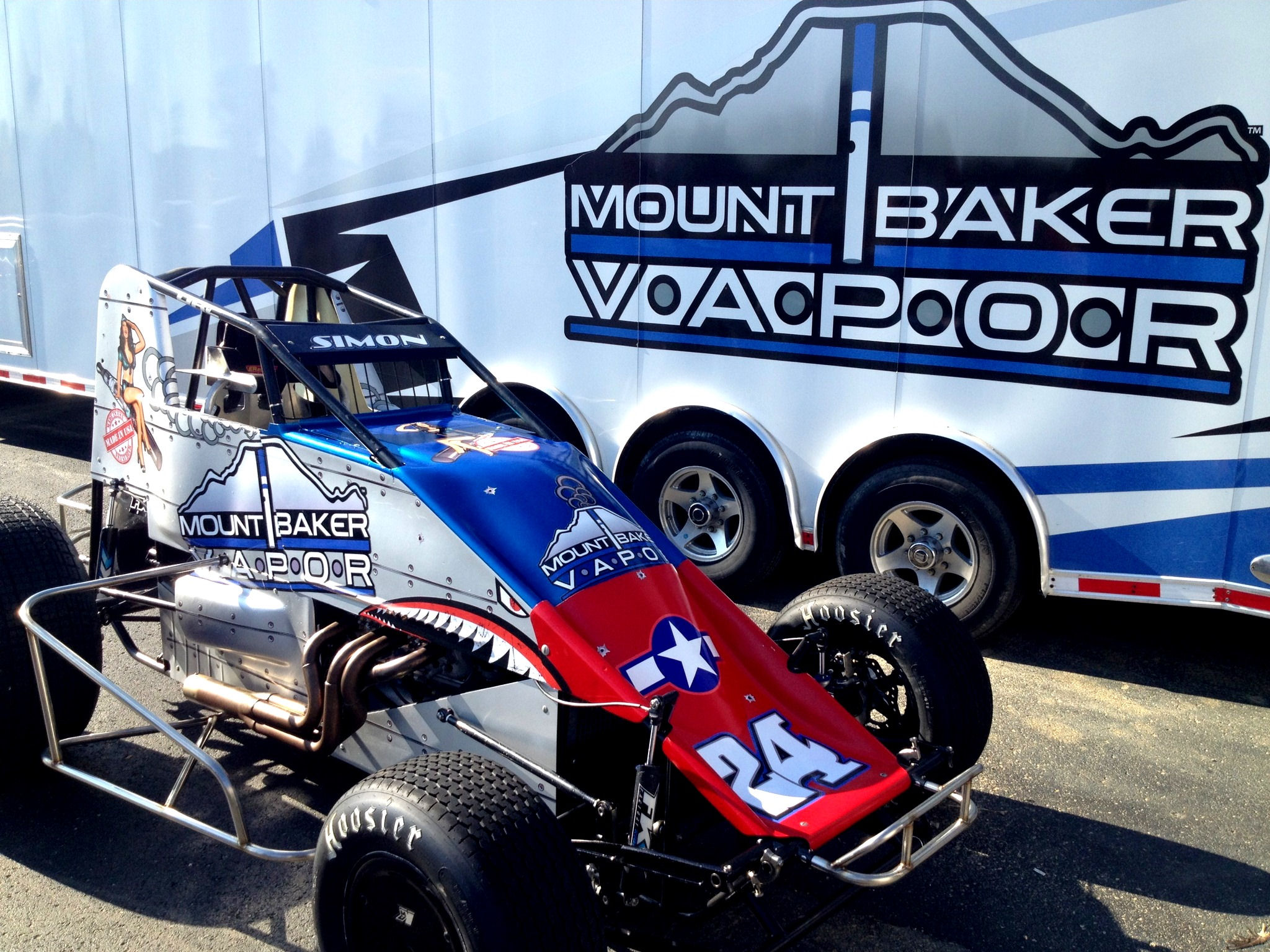 From Landon Simon Racing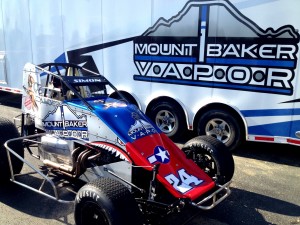 INDIANAPOLIS (July 10, 2014) – Non-wing Sprint Car driver Landon Simon will be running a special "Made in America" paint scheme for USAC's 2014 Indiana Sprint Week. The red, silver and blue body resembles a WWII P51 Mustang plane and acts as a tribute to veterans and our country. The car is highlighting Landon Simon Racing's primary sponsor, Mt. Baker Vapor, whose products are all made and distributed in the United States.
Indiana Sprint Week consists of seven races in nine days starting with Gas City on July 11, followed by Kokomo, Lawrenceburg, Terre Haute, Putnamville, Bloomington and Haubstadt.
"In my opinion, Indiana Sprint Week is the most exciting week of the year in motorsports. Fans come from across the nation to watch the best of the best compete. We've wanted to do something special for our country and our soldiers through a patriotic tribute for a while, we just never figured out what. Growing up I wanted to be either a fighter pilot or a race car driver so this year I thought it would be fun to combine the ideas in junction with a cause very dear to Mt Baker Vapor," said Simon.
Vape a Vet Project is currently holding a campaign thatMt. Baker Vapor Electronic Cigarettes is participating in. The project is a charity organization that provides free starter kits and juice to any active duty or former service member that is looking to kick tobacco. 99.9% of all money received by the Project is used directly on products and services. None of the staff, directors or volunteers receive any kind of paid compensation. You can make a donation at http://www.gofundme.com/b56l1c
"Vape a Vet is a non-profit organization that helps our service men and women make the switch from traditional cigarettes by donating electronic cigarette starter kits to them," said Michael Sullivan, Director of marketing for Mt. Baker Vapor. "We feel it is very important for our industry to give back to our communities and our country. Vape a Vet is working selflessly to help these military members who selflessly fight for each of us every day. Programs that benefit our military members are very dear to myself and the entire MBV team. This is why we are and will continue to be proud supporters of the Vape a Vet project," said Sullivan.
Mt. Baker Vapor came on as primary sponsor of Landon Simon Racing at the start of 2014. With LSR, they have a common goal in getting smokers of traditional cigarettes to switch to electronic cigarettes. In an effort to help the racing community, they have activated an exclusive coupon code with unlimited use and no expiration on behalf of this partnership. Enter LandonSimon24 and receive 11% off your order at www.mtbakervapor.com
"The 'Made in America' car is absolutely beautiful. I feel it's a great tribute to the many men and women who have fought and continue to fight in order to keep America the wonderful nation it is. Landon Simon Racing really nailed it with this design. You can't help but stare at the car and admire what they created. This classic design has always been one I really enjoy, and it's wonderful to see it on the Mt. baker vapor #24 car," said Sullivan.
The Tipp City, Ohio native is competing in more than 50 race events this season in the Mt. Baker Vapor-backed sprint car. Simon will run the "Made in America" through Indiana Sprint Week and the month of July.
"Made in America is something you see less in less in almost every industry these days. We work hard to create a quality product that we stand behind and use ourselves, we are very proud that we can make this product in the USA and still offer it at such a great price while maintaining this high quality," added Sullivan.
About Mt Baker Vapor
>From an economic standpoint, Mt. Baker Vapor makes ecigarettes very cost effective.  By switching to ecigarettes you'll usually spend less than half of what you used to spend on tobacco-filled cigarettes. An economical starter kit includes batteries, atomizers, cartridges, charger and liquid nicotine for less than the price of a carton of generic cigarettes.  Mt Baker Vapor offers nicotine strengths ranging from extra strong, to mild, to no nicotine content at all. You can choose from hundreds of juice options, including specialty flavors, or create your own at www.mtbakervapor.com
Facebook – Mt Baker Vapor
Twitter – @MtBakerVapor
Instagram – MtBakerVapor
About Landon Simon Racing
Facebook – Landon Simon Racing
Twitter – @LandonSimon24
Instagram – LSR_Racing
For more information, please contact landonsimonracing@gmail.com