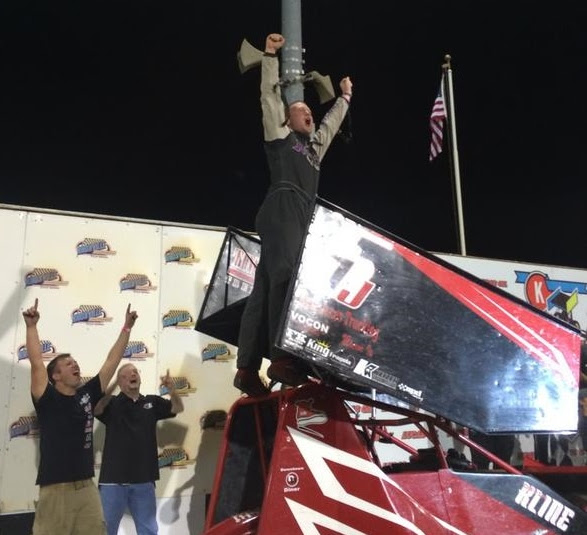 Inside Line Promotions
– KNOXVILLE, Iowa (July 22, 2014) – It didn't take long for Devin Kline to find his way into Victory Lane.
After spending the last four years as a crew member for White Lightning Motorsports, Kline powered to his first career 305ci victory in only his third main event start at Knoxville Raceway last Saturday.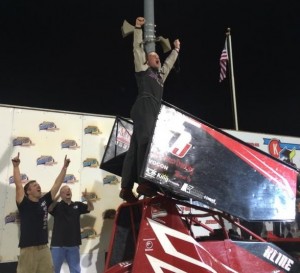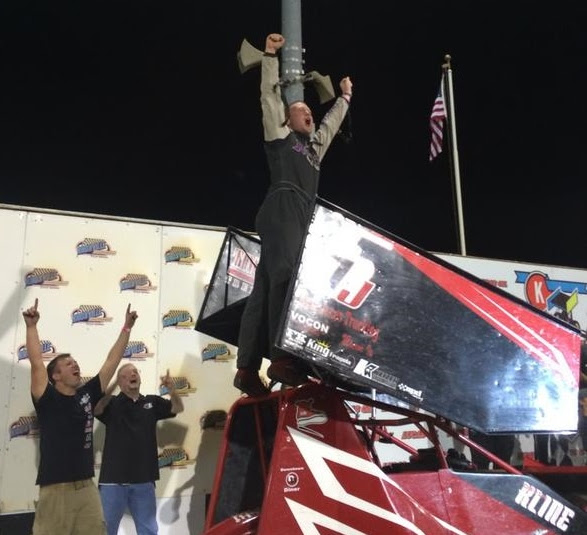 "Everything seemed to line up in place," he said.
Kline qualified ninth quickest and he advanced from fourth to second place in his heat race. Because one of the drivers who qualified quicker than Kline failed to make it through a heat race, Kline was moved into the feature inversion, which swaps the top eight for the 15-lap feature.
Starting on the pole of the main event, Kline took the early lead. However, his pace slowed dramatically once he got into traffic, which he said was like navigating through the old World of Outlaws PlayStation game.
"I felt like I was setting a pretty good pace on the bottom until I got to traffic," he said. "They were top, bottom, middle. You'd come on groups of four or five of them. It was absolutely nuts."
A fellow competitor capitalized to take the lead exiting turn four on Lap 10 before Kline returned the favor in turns one and two on the ensuing lap.
"I got a good run and went into turn one thinking I'm not going to have many more chances," he said. "I went in on the top and he went on the bottom. He was slowed by a lapped car and out of the corner of my eye I saw him slide up. I cut the corner and took advantage."
Kline retook the lead and cruised to the monumental victory.
"This win was for all those little kids in the stands," he said. "I've been to every Knoxville Nationals since I was two years old sitting in the stands. If I can do it anybody can do it. I still feel like I'm in shock. I'm waiting to wake up from my dream. I owe a big thank you to Larry and Jody for giving me the opportunity."
Fellow White Lightning Motorsports driver Jamie Ball put together another solid night in the 360 class.
"It was a very consistent night," he said. "There was nothing to complain about, but nothing to get too joyful about. I didn't really qualify bad. We just have been missing that little bit at the end."
Ball timed in seventh quickest and he made a last-lap pass to finish fifth in his heat race, which was the final lock-in position to the main event. Because three drivers who qualified quicker than Ball failed to advance through their heat races, Ball lined up on the inside of the third row for the main event.
"I had a decent start," he said. "The track was pretty bottom dependent. I was sixth or seventh out of turn two and slowly worked my way to fourth. We tried a few gear changes throughout the night and that one didn't work out."
Ball ended with a fourth-place finish, which was his fourth top five of the season. He continues to rank fourth in the championship standings.
Additionally, Ball made his 410ci debut.
"It wasn't too bad," he said. "In hot laps I was 21st overall, which I didn't feel was terrible. The speed wasn't too bad. It was comfortable and I liked the extra speed."
He qualified 26th quickest, which was only two spots out of the heat race inversion. Ball ended with an eighth-place result in his heat race after starting seventh. He was slated to start sixth in the B Main, but decided to park it for the remainder of the night to focus on his 360 duties.
Ball will return to Knoxville Raceway this Saturday for one final tune-up prior to the 360 Knoxville Nationals the following week.
QUICK RESULTS –
JAMIE BALL (410 class) – July 19 – Knoxville Raceway in Knoxville, Iowa – Qualifying: 26; Heat race: 8 (7); B Main: DNS (6).
JAMIE BALL (360 class) – July 19 – Knoxville Raceway in Knoxville, Iowa – Qualifying: 7; Heat race: 5 (5); Feature: 4 (5).
DEVIN KLINE – July 19 – Knoxville Raceway in Knoxville, Iowa – Qualifying: 9; Heat race: 2 (4); Feature: 1 (1).
SEASON STATS –
JAMIE BALL – 10 races, 1 win, 4 top fives, 8 top 10s, 8 top 15s, 8 top 20s
LARRY BALL JR. – 8 races, 0 wins, 0 top fives, 0 top 10s, 0 top 15s, 3 top 20s
DEVIN KLINE – 6 races, 1 win, 1 top five, 2 top 10s, 2 top 15s, 2 top 20s
UP NEXT –
Saturday at Knoxville Raceway in Knoxville, Iowa
MEDIA LINKS –
Jamie Ball Website: http://www.JamieBall.com
Larry Ball Jr. Website: http://www.LarryBallJr.com
Devin Kline Website: http://www.DevinKline.com
Jamie Ball Twitter: http://www.twitter.com/JamieBall5j
Larry Ball Jr. Twitter: http://www.twitter.com/LarryBallJr5j
Devin Kline Twitter: http://www.twitter.com/DevinKline5j
VIDEO –
Here is a link to highlights from Ball's first career 360 victory at Knoxville Raceway on June 21: http://youtu.be/sJxnb-gK1nY
Here is a link to highlights of Kline's first-ever 305 win at Knoxville Raceway on July 19: http://youtu.be/cu2F34pQISg
APPAREL –
White Lightning Motorsports has t-shirts and hoodies available for purchase at their race trailers in the infield of each sprint car event at Knoxville Raceway in Knoxville, Iowa.
SPONSOR SPOTLIGHT – The Hearing Clinic
Hearing evaluations shouldn't be scary, confusing or high-pressure sales pitches. That's why we opened The Hearing Clinic, where patient care is the priority. We're not big and impersonal; we're a locally owned, comprehensive Audiology practice that's more concerned with service than pushing products. When you visit The Hearing Clinic, Dr. Sara Michael, Audiologist will take time to listen to your concerns, educate you about hearing health, and work with you to find the best solution for your individual needs and budget. We Listen, You hear. For more information, visit http://www.TheHearingClinic-DSM.com.
"Sara, Bryan and Cooper have been great supporters of our race team for years," Ball said. "They have been providing our race team with custom-made ear molds for our raceceivers as well as providing Larry Ball Jr. with hearing aids the past few years. We love having The Hearing Clinic onboard again this year with White Lightning Motorsports. It is family owned companies like them that help make our race team such a success. They will be on the car as the primary sponsor this week as well."
White Lightning Motorsports would also like to thank L & J Automotive, AIB College of Business, JJ Kane Auctioneers, Ostrich Racing Engines, Van Gorp Construction, Timber Line Tree Service, Keizer Aluminum Wheels, Matt Jones Trucking, Bell Helmets, Driver Websites, Sweet Manufacturing, Vocon Auctioneers, Iowa State Savings Bank, FK Rod Ends, Fragola Performance Systems, King Racing Products, BR Motorsports, Hoosier Tire, MPD Racing, Champion Oil, Wingdance Graphics, Replay XD, Shell Shock and Hooker Harness for their continued support.
INSIDE LINE PROMOTIONS –
Inside Line Promotions specializes in affordable public relations and media management for motor sports drivers, teams, sponsors, tracks, series, events, organizations and manufacturers. ILP Founder Shawn Miller leverages professional journalism with new media technologies and social networking to improve your exposure and the return on investment for your sponsors.
To meet the media relations needs of your program and to join Team ILP, contact Shawn at 541-510-3663 or InsideLinePromotions@gmail.com. For more information on Inside Line Promotions, visit http://www.InsideLinePromotions.com.