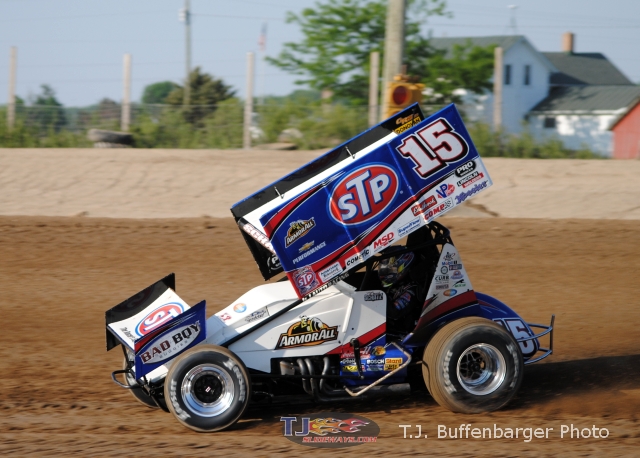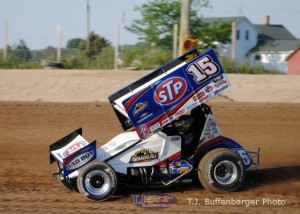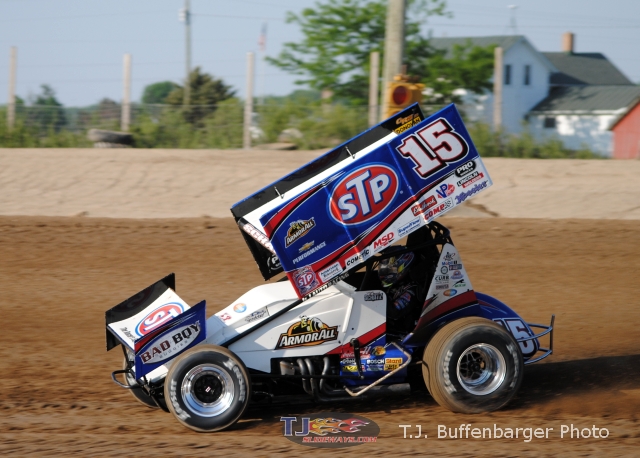 Drummondville, QC — (July 26, 2014) — Donny Schatz charged past lapped cars and his competition Saturday night at Autodrome Drummond on the way to his 10th World of Outlaws STP Sprint Car Series win of the season.
Schatz, who spent much of the race in his fifth place starting position, had his patience pay off as his STP/Armor All car and the track came around.
"You need traffic, you need your racecar to change," Schatz said. "You put 30 gallons of fuel in these things, they're not as fun to drive as they are at the end. We had to wait for the racecar to change a little bit – the track was going to change a little bit. This STP team did a phenomenal job making the right changes for the feature."
As Schatz got around Cody Darrah and then Kerry Madsen he said he didn't focus on what was behind him.
"If I do my job right and get [my] car stuck, you don't have to worry about what's going on behind you," Schatz said. "And my car was very good, very stuck – I could go around the racetrack. I just had to pick the right line to get through those guys and I did… like I said, it was a fun race."
In addition to picking up his 10th win of the season, Schatz improved his points lead over second place Daryn Pittman to 63. Third place Paul McMahan is 121 points out of the lead.
In front of a full house at Autodrome Drummond, Cody Darrah led the field to the green flag in his Ollie's Bargain Outlet car with Paul McMahan on the outside front row. Darrah led the first lap as McMahan worked to hold back Daryn Pittman.
Kraig Kinser brought out the only caution of the race on lap three after coming to a stop in the back shoot. After a brief stop in the work area, Kinser returned to the track. Darrah maintained his lead on the restart as McMahan and Madsen advanced their positions, getting around Pittman, who had a bad restart.
As Darrah hit lapped traffic on lap eight, Madsen, who had moved into the second position, looked for a way around. It took Madsen nine more laps. As the two drivers crossed the start/finish line, Madsen dove his American Racing Custom Wheels car low into turn one and slid Darrah through the corner. When the two hit backstretch, Madsen was in the lead.
Schatz, who maintained his fifth place starting position through the early portion of the race, began to make his move on lap 14. He got around Pittman near the halfway point of the feature and then set his sights on Paul McMahan, who he got around just a few laps later.
On lap 22, Madsen came off of turn two and got off track down the back stretch. His slowed momentum allowed Darrah to close the gap. As Darrah dove low into turn three he and Madsen touched tires. Madsen maintained position as Schatz, in third place, closed the gap on the two drivers. Schatz took over the second place position from Darrah on lap 24. Then, after reeling in Madsen, Schatz passed him on the backstretch going into turn three. Schatz led lap 27 and was never seriously challenged again.
Madsen, who scored the quick time during qualifying earlier in the night and started the feature in fourth, led nine laps through the mid-point of the race.
"Yeah I was trying to push and you want to build up a lead," Madsen said. "I had pretty nice, comfortable groove on the top but I just didn't do a good enough job in traffic and made a mistake and let Donny drive right by. Congrats to Donny, congrats to Cody running third. It's still a great result for our team."
Darrah, who won last year's feature at Autodrome Drummond, led the first 17 laps of Saturday night's A main. He said he moved around throughout the night looking for the right line.
"I was just kind of moving around," Darrah said. "From the start I felt pretty free and I was a little worried. As I brought my wing back to get my right rear on the track, when I had to slow down to move to the bottom I'd get myself tight… Back when I got to third Kerry made some mistakes and got off track and I was never able to capitalize but I love Drummondville. It's an awesome place to come to."
The World of Outlaws STP Sprint Car Series continues its swing through Canada Sunday night at Cornwall Motor Speedway in Cornwall, Ont. The Outlaws then head Ohswheken Speedway on Tuesday, July 29 for the Six Nations Showdown.
AUTODROME DRUMMOND NOTES: Donny Schatz scored his 10th win of the season… Kerry Madsen picked up the quick time at Autodrome Drummond, his fourth of the year… Donny Schatz won the KSE Hard Charger Award after advancing four positions to win the feature… 2013 winner Cody Darrah won the dash and started on the pole for tonight's A main.
SEASON WINNERS: Daryn Pittman – 11 (Thunderbowl Raceway on March 14, Calistoga Speedway on April 6, Devil's Bowl Speedway on April 19, Williams Grove Speedway on May 16 and May 17, Orange County Fair Speedway, May 18, New Egypt Speedway, May 20, Dodge City Raceway Park on July 4 and 5, Lincoln Speedway on July 17 and Fulton Speedway on July 23); Donny Schatz – 10 (Volusia Speedway Park on Feb. 15, The Dirt Track at Las Vegas on March 6, Devil's Bowl Speedway on April 19, Lawrenceburg Speedway on May 27, I-96 Speedway on May 31, River Cities Speedway on June 20, 34 Raceway on June 27, Cedar Lake Speedway on June 29, Lernerville Speedway on July 15 and Autodrome Drummond on July 26); Joey Saldana – 5(Perris Auto Speedway on April 12, Salina Highbanks on April 25, The Dirt Track at Charlotte on May 23, I-80 Speedway on June 6 and Jackson Speedway on June 13); Brad Sweet – 5 (Volusia Speedway Park on Feb. 14, Tucson International Raceway on March 8, Calistoga Speedway on April 5, Knoxville Raceway on June 14 and Beaver Dam Raceway on June 28); David Gravel – 4(Merced Speedway on March 28, Eldora Speedway on May 3, Wilmot Raceway on May 9 and Lebanon Valley Speedway on July 20); Kerry Madsen – 4(Stockton Dirt track on March 22, El Paso Speedway Park on April 15, Lakeside Speedway on June 7 and Eldora Speedway on July 12); Paul McMahan – 3(The Dirt Track at Las Vegas on March 5, Tri-State Speedway on May 10 and Limaland Motorsports Park on July 9); Cody Darrah – 2(Kings Speedway on April 11 and Lernerville Speedway on July 15); Rico Abreu – 1(Thunderbowl Raceway on March 15);Sammy Swindell – 2(Federated Auto Parts Raceway at I-55 on April 26 and Eldora Speedway on July 11);Dale Blaney – 1 (Attica Raceway Park on May 30); Christopher Bell – 1(Jacksonville Speedway on May 7); Lance Dewease – 1 (July 20 at Williams Grove Speedway); Greg Hodnett – 1 (July 18 at Williams Grove Speedway); Roger Crockett – 1(I-94 Speedway on June 21); Mark Dobmeier – 1 (Huset's Speedway on July 2); Steve Kinser – 1 (Volusia Speedway Park on Feb. 16); Stevie Smith – 1 (Lincoln Speedway on May 14); Shane Stewart – 1(Eldora Speedway on May 2).
World of Outlaws STP Sprint Car Series Statistical Report; Autodrome Drummond; Drummondville, Que.; July 26, 2014
A-Main – (35 Laps) – 1. 15-Donny Schatz [5] [$10,000]; 2. 29-Kerry Madsen [4] [$5,500]; 3. 4-Cody Darrah [1] [$3,200]; 4. 51-Paul McMahan [2] [$2,800]; 5. 9-Daryn Pittman [3] [$2,500]; 6. 11-Steve Kinser [6] [$2,300]; 7. 83-David Gravel [10] [$2,200]; 8. 49-Brad Sweet [9] [$2,100]; 9. 71M-Joey Saldana [7] [$2,050]; 10. 7S-Jason Sides [11] [$2,000]; 11. 5W-Lucas Wolfe [12] [$1,500]; 12. 1s-Logan Schuchart [13] [$1,200]; 13. 28-Steve Poirier [15] [$1,100]; 14. 11K-Kraig Kinser [8] [$1,050]; 15. 1A-Jacob Allen [14] [$1,000]; 16. 422-Etienne Girard [19] [$900]; 17. 24K-Devin Caron [17] [$800]; 18. 15AW-April Wilson [18] [$800]; 19. 84-Tyler Rand [16] [$800]; 20. 123-Yan Bilodeau [20] [$800]. Lap Leaders: Cody Darrah 1-17, Kerry Madsen 18-26, Donny Schatz 27-35. KSE Hard Charger Award: 15-Donny Schatz [+4]
Qualifying – 1. 29-Kerry Madsen, 14.047; 2. 9-Daryn Pittman, 14.059; 3. 51-Paul McMahan, 14.146; 4. 4-Cody Darrah, 14.170; 5. 11K-Kraig Kinser, 14.235; 6. 49-Brad Sweet, 14.362; 7. 83-David Gravel, 14.379; 8. 7S-Jason Sides, 14.411; 9. 15-Donny Schatz, 14.541; 10. 71M-Joey Saldana, 14.630; 11. 11-Steve Kinser, 14.652; 12. 5W-Lucas Wolfe, 14.673; 13. 1s-Logan Schuchart, 14.834; 14. 1A-Jacob Allen, 15.203; 15. 28-Steve Poirier, 15.274; 16. 84-Tyler Rand, 16.071; 17. 24K-Devin Caron, 16.184; 18. 15AW-April Wilson, 16.393; 19. 422-Etienne Girard, 15.979; 20. 123-Yan Bilodeau, 15.657
Heat 1 – (8 Laps – Top 6 finishers transfer to the A-feature) – 1. 71M-Joey Saldana [1]; 2. 83-David Gravel [2]; 3. 4-Cody Darrah [3]; 4. 29-Kerry Madsen [4]; 5. 1s-Logan Schuchart [5]; 6. 84-Tyler Rand [6]; 7. 422-Etienne Girard [7]
Heat 2 – (8 Laps – Top 6 finishers transfer to the A-feature) – 1. 11-Steve Kinser [1]; 2. 7S-Jason Sides [2]; 3. 11K-Kraig Kinser [3]; 4. 9-Daryn Pittman [4]; 5. 1A-Jacob Allen [5]; 6. 24K-Devin Caron [6]; 7. 123-Yan Bilodeau [7]
Heat 3 – (8 Laps – Top 6 finishers transfer to the A-feature) – 1. 15-Donny Schatz [2]; 2. 49-Brad Sweet [3]; 3. 5W-Lucas Wolfe [1]; 4. 51-Paul McMahan [4]; 5. 28-Steve Poirier [5]; 6. 15AW-April Wilson [6]
Dash – (6 Laps, finishing order determined first 8 starting positions of A-feature) – 1. 4-Cody Darrah [1]; 2. 51-Paul McMahan [2]; 3. 9-Daryn Pittman [3]; 4. 29-Kerry Madsen [4]; 5. 15-Donny Schatz [6]; 6. 11-Steve Kinser [8]; 7. 71M-Joey Saldana [7]; 8. 11K-Kraig Kinser [5]
World of Outlaws STP Sprint Car Series Championship Standings
| | | | | | | | | |
| --- | --- | --- | --- | --- | --- | --- | --- | --- |
| Pos. | Car | Driver | Total | Diff | Wins | Top 5's | Top 10's | QT |
| 1 | 15 | Donny Schatz | 7754 | 0 | 10 | 36 | 49 | 5 |
| 2 | 9 | Daryn Pittman | 7691 | -63 | 11 | 32 | 48 | 2 |
| 3 | 51 | Paul McMahan | 7633 | -121 | 3 | 29 | 50 | 8 |
| 4 | 71M | Joey Saldana | 7482 | -272 | 5 | 26 | 37 | 19 |
| 5 | 29 | Kerry Madsen | 7454 | -300 | 4 | 27 | 44 | 4 |
| 6 | 49 | Brad Sweet | 7311 | -443 | 5 | 19 | 37 | 2 |
| 7 | 4 | Cody Darrah | 7048 | -706 | 2 | 14 | 32 | 2 |
| 8 | 11 | Steve Kinser | 6968 | -786 | 1 | 8 | 27 | 0 |
| 9 | 11k | Kraig Kinser | 6727 | -1027 | 0 | 2 | 19 | 0 |
| 10 | 83 | David Gravel | 6354 | -1400 | 4 | 13 | 31 | 6 |
| 11 | 7s | Jason Sides | 6207 | -1547 | 0 | 2 | 12 | 0 |
| 12 | 1 | Sammy Swindell | 5915 | -1839 | 2 | 11 | 19 | 1 |
| 13 | 1S | Logan Schuchart | 5811 | -1943 | 0 | 3 | 9 | 0 |
| 14 | 1A | Jacob Allen | 4947 | -2807 | 0 | 0 | 1 | 0 |
| 15 | 5W | Lucas Wolfe | 3113 | -4641 | 0 | 2 | 8 | 1 |
| 16 | 59 | Tim Kaeding | 3099 | -4655 | 0 | 3 | 13 | 0 |
| 17 | 21 | Brian Brown | 2567 | -5187 | 0 | 2 | 7 | 0 |
| 18 | 77X | Wayne Johnson | 2297 | -5457 | 0 | 0 | 0 | 0 |
| 19 | W20 | Greg Wilson | 2156 | -5598 | 0 | 0 | 2 | 0 |
| 20 | 2 | Shane Stewart | 2102 | -5652 | 1 | 5 | 10 | 2 |