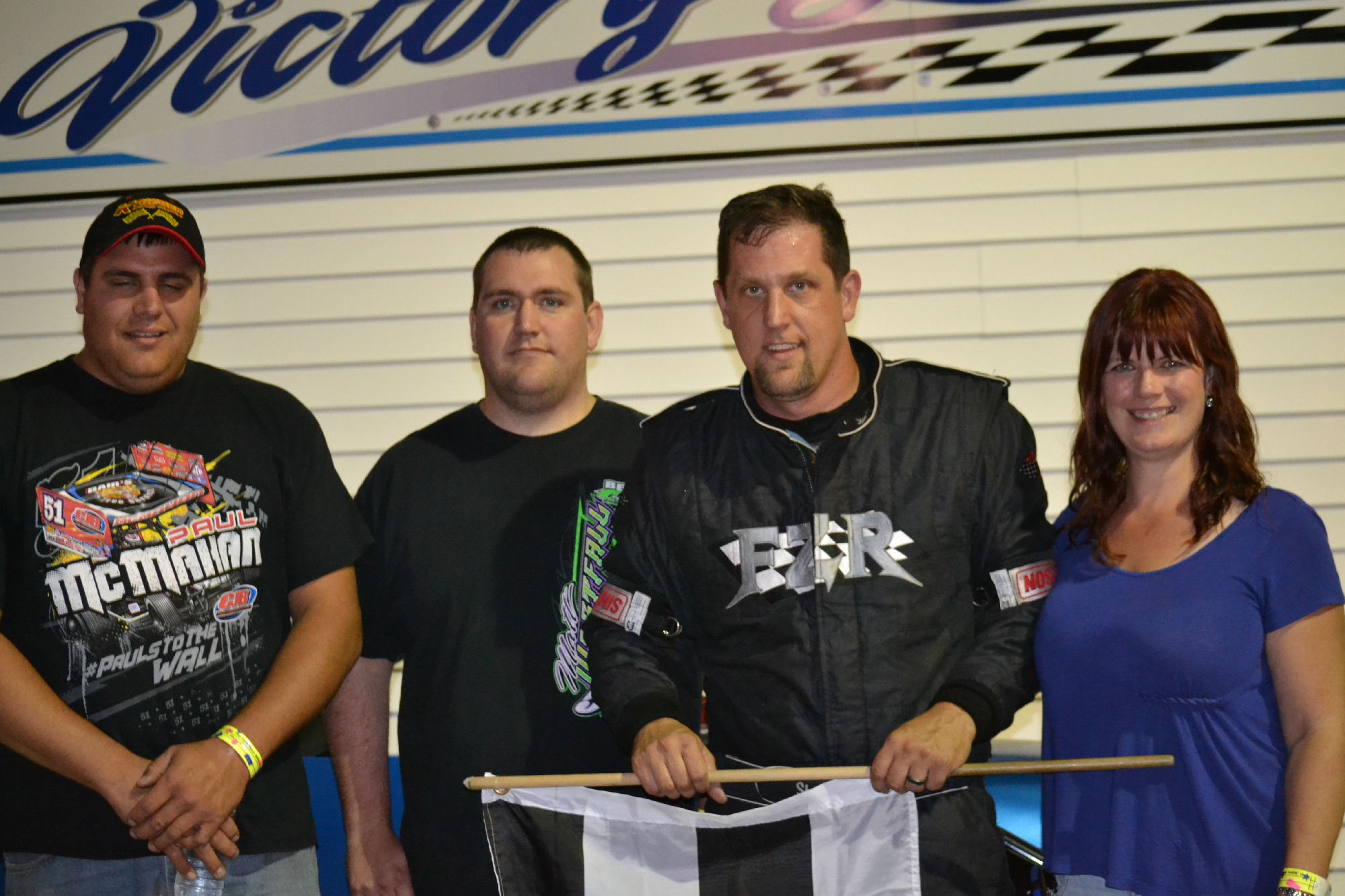 Mason,Mi. (July 25, 2014)- Steve Irwin capped off a stellar night by setting fast time, winning his heat race and taking the 30 lap feature at Spartan Speedway Friday night. Irwin's win came with the largest field of sprint cars thus far in 2014 on hand.
It was another one of those evenings with rain in the area, but it stayed away and the track even enjoyed a nice sunset with comfortable temperatures for the nice crowd on hand.
As the field roared out of turn for the green, pole setter Anthony McCune took control early however a lap two yellow for a Don Hamilton spin that also collected Chris Randolph slowed things. Both cars were able to restart. Lap three saw 3rd starting John Turnbull make the pass on McCune to take the lead with Steve Irwin (from 5th) in tow for 2nd.
A strong run for the #44 of McCune was keeping him glued to the lead duo with Chance Rice and Donnie Adams Jr. keeping up with the lead pack making for some great action. At ten laps it was Turnbull, Irwin, Doug Dietsch, McCune, Rice, Adams, Hamilton and Matt Goodnight.
At the half way mark Turnbull was pulling out to a slight advantage but Irwin wasn't letting him get away. Chance Rice executed a 360 coming out of four as he was about to make a pass on lap 16. This brought out another caution and put Rice on the tail.
As the green flew, Irwin was all over Turnbull and the two touched but continued. One more caution period for Randolph and Tony Main on lap 17 with Turnbull, Irwin, Dietsch, McCune, Adams, Hamilton and Goodnight still all in contention.
The remainder of the race went green and on lap 21 Irwin made his move going low in turn three and making a pass on Turnbull for the lead. The final nine circuits saw Turnbull putting pressure on Irwin nearly making a pass at one point. This was Steve Irwin's night though and he wasn;t going to be denied and held off a determined Turnbull, Doug Dietsch, Anthony McCune, Chance Rice, Donnie Adams, Don Hamilton, Chris Randolph, Matt Kinzinger and Tony Main.
Heats went to Steve Irwin and Doug Dietsch.