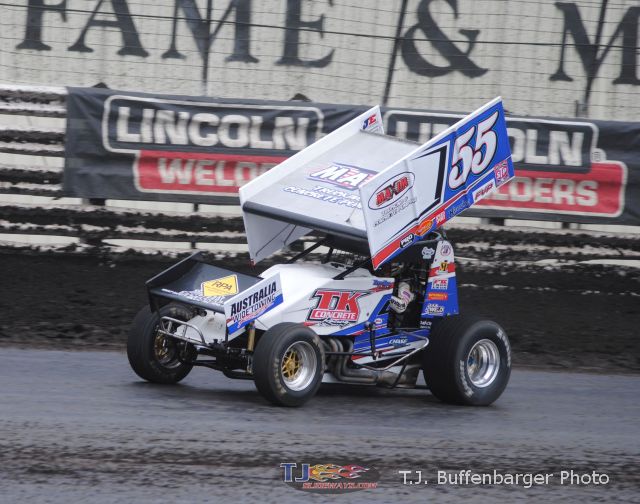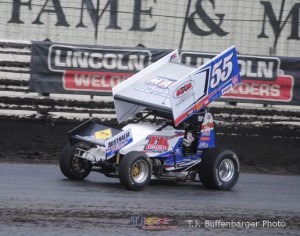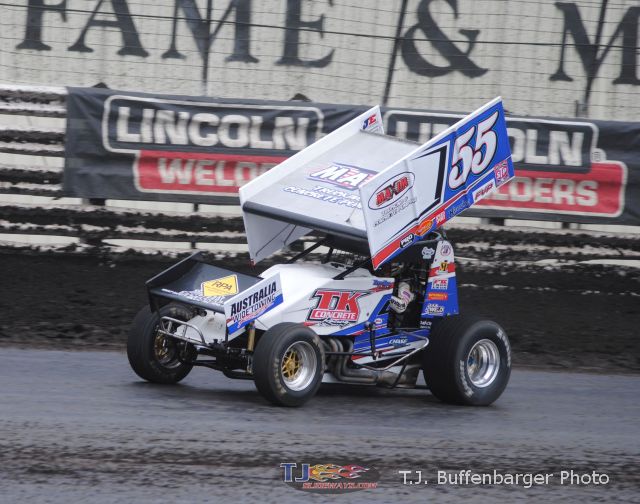 By T.J. Buffenbarger
Knoxville, IA — (Saturday August 8, 2014) – Brooke Tatnell took advantage of a front row starting spot and a timely caution to win the B-Main during the 54th Annual FVP Knoxville Nationals presented by Casey's General Store. Tatnell led the B-Main start to finish, but had a challenge from Clint Garner for the lead when the caution flag came out as Garner got by on the back stretch. Tatnell used the restart to his advantage and pulled away for the victory.
Tatnell and Droud started on the front row with Tatnell getting out front with Droud, Gardner, and Jacobs in tow. On lap four Jacobs drifted high and allowed Sheldon Haudenschild to close in, but Jacobs was able to hold onto the final transfer spot. Then on lap two Danny Dietrich brought out the caution when he lost a right rear wheel in turn four. Dietrich was able to put on a new wheel and continued.
During the restart Lee Jacobs got a run under Garner at the start, but Garner fought back on the outside. Jacobs lost momentum and fell back to Haduenschild and Brad Sweet racing for fifth. Then while racing for fifth Brad Sweet's right rear touched Haudenschild's front end, sending Haudenschild into a tumble wildly down ¾ of the front stretch. Haudenschild emerged from his car under his own power.
During the restart Sweet drove by Jacobs for the final transfer spot. On lap seven Garner motored by Droud for second then Sweet dropped Droud to fourth one lap later. Jacobs and Droud started to race for position, but that allowed Greg Hodnett to close in on Jacobs. Then Jacobs found himself racing for Hodnett for fifth. Up front Garner started to close in on Tatnell for the lead when the caution appeared for Jon Agan stopping with engine problems in turn one.
During the restart with seven laps to go Droud tried to move around the outside of Sweet for third, but dropped back into the clutches of Jacobs and Hodnett. Then off turn four Droud stumbled and Jacobs and Hodnett both slipped past. Jacobs then got the upper hand when Hodnett ended up having to race with Lucas Wolfe for the fifth position.
Up front though it was all Tatnell winning the B-Main with Garner, Sweet, and Jacobs transferring to the 50-lap A-Main
54th Annual FVP Knoxville Nationals presented by Casey's General Stores
Knoxville Raceway – Knoxville, IA
Saturday August 8th, 2014
B-Main (22 Laps): 1. 55 – Brooke Tatnell, 2. 40 – Clint Garner, 3. 49 – Brad Sweet, 4. 81x – Lee Jacobs, 5. 27 – Greg Hodnett, 6. 1Z – Lucas Wolfe, 7. 41 – Jason Johnson, 8. 55J – Ian Madsen, 9. 94 – Jeff Swindell, 10. 47 – Don Droud, Jr., 11. 33 – Danny Lasoski, 12. 96 – Bronson Maeschen, 13. 56 – Davey Heskin, 14. 17W – Cole Wood, 15. 14K – Dale Blaney, 16. 29W – Danny Dietrich, 17. 10 – Matt Moro, 18. 17B – Bill Balog, 19. W20 – Greg Wilson, 20. 0 – Bud Kaeding, 21. 7TAZ – Tasker Phillips, 22. 4A – Jon Agan, 23. 77x – Wayne Johnson, 24. 1B – Sheldon Haudenschild. (First four finishers transferred to the C-Main)
Lap Leaders: Tatnell 1-22