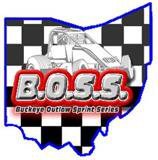 From BOSS
Orrville, OH — (August 15, 2014) — This Saturday, August 16th is a show sprint car fans will not want to miss at the Napa Auto Parts – Wayne County Speedway near Orrville, Ohio. The Buckeye Outlaw Sprint Series event that was rained out in July will be on the card this Saturday as a make-up event. In addition, WCS promoter Jason Flory has decided to add his weekly winged 410 sprint cars to the card as well! Fans will get to see complete programs for wing and non wing sprint cars in addition to late models, super stocks, mini stocks and mini wedges for just $15. With the added excitement of such a large program, Wayne County Speedway has also added the Electromode band which will be playing some pre-race entertainment from 3 to 6 pm.
The title chase for the BOSS non wing sprints is rapidly coming to a close with just 4 events remaining and no less than 4 drivers with a legitimate shot at the championship. "The Magic Man" Mike Miller of Wapakoneta, Ohio will come in with a 24 point lead over the "Hustlin Hoosier" Dustin Smith of Russiaville, Indiana. Smith has close company with the "Nati Nightmare" Michael Fischesser of Cincinnati, Ohio just 7 points behind. You can never count out the "Evans City Earthmover" Brandon Spithaler from Evans City, Pennsylvania who is just 46 markers behind Fischesser and only 77 points from the championship lead. Of the four, Smith is the only one to have scored previous wins at WCS recording two victories. Miller, Spithaler, and Smith all have one win apiece on the trail in 2014.
Other drivers expected to be in action are BOSS regulars Bob McMillin, Joe Butera, and Adam Miller representing the Keystone state of Pennsylvania. "Joltin" Joe Liguori and "Lightning" Logan Hupp will help Smith represent the Hoosier state of Indiana. However, the Buckeye series is well represented with Ohio drivers Derek Hastings, Chad Wilson, Aaron Middaugh, Scott Hardman, Andy Fike, Chuck Wilson, Steve Little and George Willard.
The standard BOSS purse will be in effect paying $1500 to win and $250 to start with $100 guaranteed to any driver who fails to start the A-Main. As always, BOSS pays many bonus incentives and the top heat race positions pay $40, $30, $20, and $10 each. Special thanks to our sponsors: Buckeye Machine (Forest, OH), The Bridge Restaurant (Sidney, OH), Lynn Cook (Dayton, OH), Hochstetler Trucking (Ashland, OH), K-D Pizza (Wooster, Mansfield, Ashland, OH), Cowen Truck Lines (Perrysville, OH), Burdette Builders (Sunman, IN), Lias Tire American Racer (Indiana, PA), Hoosier Tire Midwest (Indianapolis, IN), Indy Race Parts (Indianapolis, IN), Southeast Harley Davidson (Cleveland, OH), The Blue Room Restaurant (Kirby, OH), Precise Racing (Sarver, PA), FAST Signs (Dayton, OH), McMillin Apiaries (Wampum, PA), Elliott Custom Trailer Sales (Warsaw, IN) and Rusty and Cappie McClure (Ashland, OH).
Pit gates will open at 3 pm with drivers meeting at 6 pm. BOSS pill draw will open at 4:30 pm. Transponders are required and Wayne County Speedway is setting the standard for the industry by having the technology where BOTH types of transponders will work. For more information, please log on to www.waynecountyspeedway.com or check out the BOSS website at www.buckeyesprints.com or phone 740-703-3768.