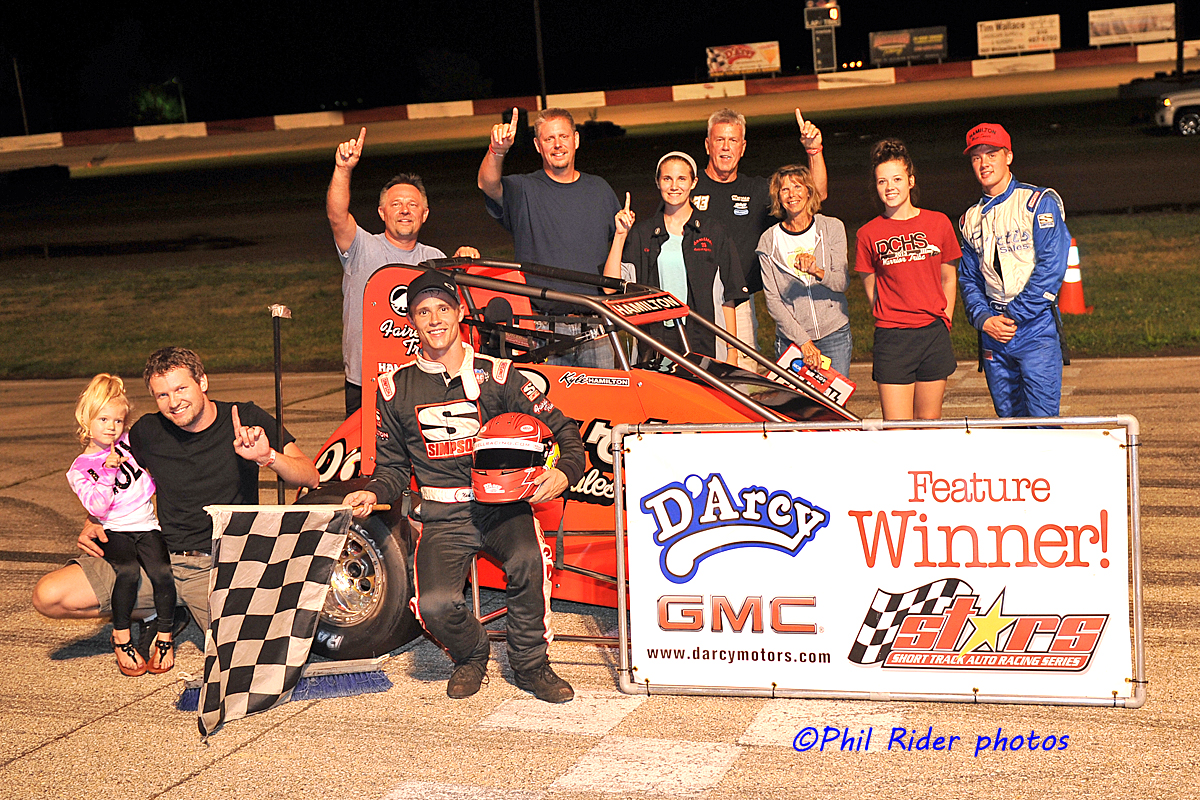 From Rich Murray
Morris, IL — (August 23, 2014) — Absolutely nothing, not even a torrential downpour, could stop Kyle Hamilton during Saturday night's "D'Arcy GMC Pavement Nationals presented by Bell Helmets" at Grundy County Speedway.
A heavy mid-afternoon storm soaked the 1/3-mile, paved oval in Morris, Illinois, but that was not enough to pull the plug on the event. A relentless effort by the track crew to dry the racing surface allowed the night's events to begin with only a slight delay.
In qualifying, Hamilton, who is known as "The Professor" in racing circles, claimed his fifth fast qualifying time in five STARS appearances this season. The quick lap also set a new STARS record for the Danville, Indiana native as he collected his record ninth fast qualifying time in his career with the series.
In the first heat, the story remained the same as Hamilton wasted no time getting to the front from his sixth starting spot and was able to pick up his first career heat race win in STARS action. Plainfield, Illinois', Nick Baran, who was gunning for his shot at coming one step closer to taking the $2000 bonus for winning the "Safety-Kleen Triple Crown," took the win in the second heat race.
Three-time UMARA champion, David Gough, and current STARS National Midget series point leader, Austin Prock, led the 17-car field to the green flag in the 50-lap feature. Gough, the Machesney Park, Illinois native, got the jump on Prock at the start and took off to a comfortable advantage. While Gough was pacing the field, Hamilton was methodically picking his way through the field one-by-one.
On the 15th lap, Hamilton got on the inside of Prock while entering turn three and it resulted in the two waging in a spectacular side-by-side battle for the next two laps. On the 17th lap, Hamilton was finally able to clear Prock heading down the back straightaway, and then immediately dove to the low side in turn three to overtake the top spot from Gough.
From that point forward, it was all Kyle Hamilton, who led the remaining 32 laps to take his third win of the season and the seventh victory of his STARS career in only his 14th feature start, which moves him into second place on the series' all-time win list. Hamilton earned the coveted Bell Helmet in victory lane along with a $3500 check, a portion of which he donated to the ALS Foundation. Behind Hamilton at the finish line was Prock, Kyle O'Gara, Nick Hamilton, and Tyler Baran.
Hamilton earned the first sweep in the history of the STARS National Midget series by turning the fastest lap in qualifying, winning his heat race, and then taking the checkered flag in the feature. The Curtis Motor Sales Spike/Esslinger #33 was on a rail all night long, even as soon as it was unloaded from the trailer.
"We almost got beat by Prock (last time at Grundy), so we made some changes this week to make sure it didn't happen again, Hamilton said." "We nailed (the setup) tonight. It was fast right out of the box. It's an awesome feeling when the car is good every time you go on the track."
Amazingly, of Hamilton's seven career STARS wins, six of them have come in 50-lap features at Grundy County Speedway. It was his second consecutive victory in a 50-lapper at the track this season after winning the "Border Battle" just two weeks prior. While a race of this length might be challenging for some drivers to keep their focus, Hamilton's previous experience in a 500-lap sprint car race at Anderson Speedway back in May makes 50 laps look like a cakewalk.
"I raced in the Little 500 this year, so I'm well accustomed to the longer races," Hamilton said. "I've always been good at keeping my cool. As the race goes on, a lot of guys start to get tired and kind of lose their head. I've always been pretty good at managing my cool and temper as the race goes on. Once I got in the lead, I just realized it's a 30-lap race now and I just have to pace myself for 30 laps. The mindset I take into every race is to make it into smaller chunks."
While second place finisher Austin Prock was disappointed he didn't get the win, he is looking on the bright side and taking tonight's result as a learning experience.
"Getting beat like this is sometimes good because it makes you want to get better," Prock said. "Hamilton spanked us real good tonight. His stuff was pretty much perfect. Our stuff was close, but he was just better than us. He's a great driver; he raced me clean and we never touched wheels once. That was pretty cool."
In other action, Darren Ihrke did his best Danny Sullivan impersonation by spinning and winning the STARS Classic Modified feature, taking the lead by passing Greg Wills with two laps left. After six straight CSR Super Cup victories at Grundy County Speedway, Dallas Frueh's streak came to an end as Jamie Domski took the victory. Austin Kunert passed Bryce Bailey with only three laps to go to win the INEX Legends feature. Jordan Caskey took the lead on lap three and never looked back, taking a sweep of the night's action in the Legacy Midwest Series.
The next STARS event comes next Saturday, August 30th when the late, great Bob Lockard is honored in the "Bob Lockard Memorial" STARS National Midget race. Also on the agenda are the Illini Racing Series Midgets, STARS Classic Modifieds, INEX Legends, and the CSR Super Cups. Adult tickets are just $12. Kids age 5-12 get in for $2. Children age 4 and under are free! Pit gates open at 2 p.m. Grandstands open up at 5 p.m. Racing starts at 6:30 p.m.
Before all the racing gets underway, fans have a chance to meet the legends who have made racing the great American sport that it is today during the 11th annual Mazon Speed Bowl and Grundy County Speedway Hall of Fame & Racers Reunion. From noon until 6 p.m., a historical photo collection featuring more than 4000 pictures of the cars and stars from years past can be viewed while the Hall of Fame awards ceremony takes place at 3 p.m. Fans can also get a close look at the display of vintage cars of the open wheel and stock car variety. Grundy County Speedway is located one mile north of I-80 on Route 47 in Morris, Illinois.
GRUNDY COUNTY SPEEDWAY
STARS NATIONAL MIDGETS – "D'ARCY GMC PAVEMENT NATIONALS PRESENTED BY BELL HELMETS"
AUGUST 23, 2014
QUALIFICATIONS:
1. Kyle Hamilton, 33, Hamilton-14.315; 2. Kyle O'Gara, 99, Guess-14.521; 3. Ryan Probst, 99p, Probst-14.566; 4. Nick Hamilton, 32, Hamilton-14.613; 5. Tyler Baran, 11, BBOYZ-14.627; 6. Travis Young, 11y, Young-14.641; 7. Austin Prock, 41, Prock-14.680; 8. David Gough, 9, Fox-14.712; 9. Tyler Trainor, 25, Trainor-14.752; 10. Jim Anderson, 36, Guess-14.753; 11. Billy Hulbert, 88, Hulbert-14.786; 12. Rich Corson, 15, Corson-15.280; 13. Erica Ensor, 16, Ensor-15.582; 14. Terry Ahern, 6T6, Ahern-16.035; 15. Mike Wallace, 10a, MWR-16.043; 16. Nick Baran, 87, BBOYZ-18.408; 17. Patrick Bruns, 10b, MWR-NT
FIRST HEAT: (8 laps)
1. K. Hamilton, 2. Prock, 3. Hulbert, 4. Probst, 5. Trainor, 6. Ensor, 7. Wallace, 8. T. Baran. 2:08.13
SECOND HEAT: (8 laps)
1. N. Baran, 2. Gough, 3. N. Hamilton, 4. Anderson, 5. O'Gara, 6. Young, 7. Ahern, 8. Corson. 2:01.41
FEATURE: (50 laps)
1. Kyle Hamilton, 2. Austin Prock, 3. Kyle O'Gara, 4. Nick Hamilton, 5. Tyler Baran, 6. Nick Baran, 7. Jim Anderson, 8. Billy Hulbert, 9. Tyler Trainor, 10. Travis Young, 11. David Gough, 12. Patrick Bruns, 13. Terry Ahern, 14. Ryan Probst, 15. Rich Corson, 16. Mike Wallace, 17. Erica Ensor
FEATURE LAP LEADERS:
Laps 1-17 Gough, Laps 18-50 K. Hamilton