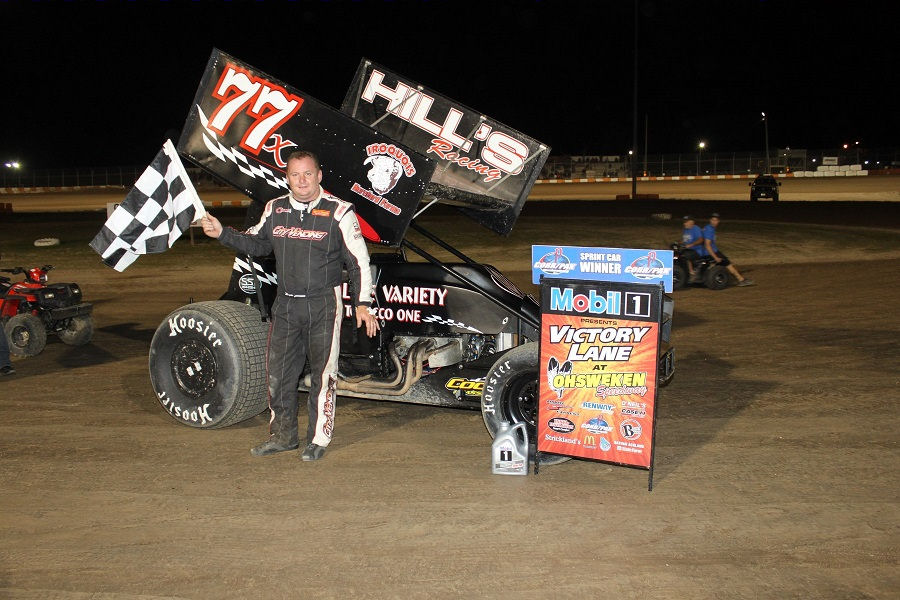 By Bill W
August 27, 2014 – Wayne Johnson racked up another win in Ontario at the Ohsweken Speedway last Friday night.  The Knoxville, Iowa driver felt he should have picked up at least one more win on a weekend that saw three events.  The Wayne Johnson Racing #77x team is contemplating their race weekend with plenty of shows scheduled for the Upper Midwest.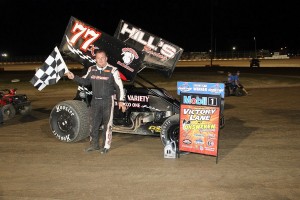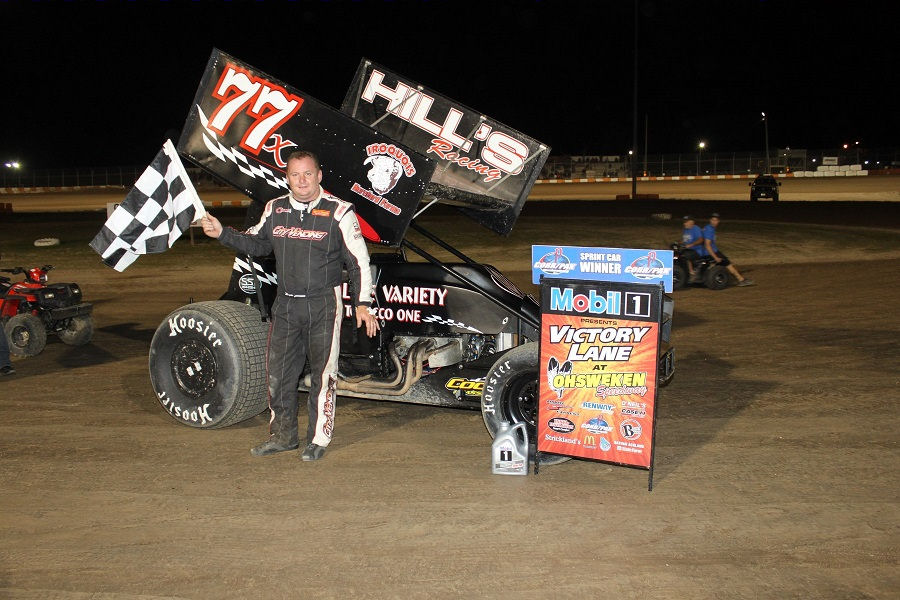 Things started well last Friday at Ohsweken.  "We were running Miles Hill's car," says Wayne.  "It's a Cool chassis, which I haven't run before.  We were pretty good.  We started the heat from the pole and won that."
The feature went as well as it could.  "We were able to start back on the pole, and lead every lap," says Wayne.  "The car was very good again in the feature."
The last two events of the weekend were sanctioned by the Patriot Sprint Tour group.  On Saturday, at Brockville Ontario Speedway, Wayne started seventh in his heat.  "We were able to run up to third," he says.  ""The track was rough and heavy there!  It was tough to pass, but we were good enough to get in the redraw."
Wayne would start the main event sixth and made his way forward.  "We were able to get up into the lead on lap seven or eight," he says.  "We led for three or four laps.  I was running the top.  It was rough and heavy, big-time.  Everyone else was running the bottom.  I bounced the car off the end of the track, and fell back to sixth or seventh."
It would set up a second charge.  "I was able to drive back through there," says Wayne.  "I passed the guys that I had passed for the lead earlier.  There was about four to go, and I went back to the bottom and started riding around to block.  I thought I was the leader!  Unfortunately, another guy had passed those guys!"
The mistake left Wayne second at the checkers.  "That's what happens sometimes when you're not familiar with the cars you're racing with," he says.  "I finished right behind him.  Maybe I could have pulled out and passed him, I don't know.  I thought he was a lapped car!"
The series moved on to Cornwall Speedway in Ontario on Sunday.  Wayne would win his heat from outside row one, and start fifth in the feature.  "The track was a little weird," he says.  "It just outguessed me.  I thought it was going to stay heavy and it got slicker than heck.  We were loose.  We were running fifth and slid over the edge of the track.  We brought out the yellow and came back to ninth.  There was nothing special about it.  We were just too loose."
Options for Wayne this weekend include shows at the Randolph County Raceway in Moberly, Missouri on Saturday and Sunday, and the Jackson Nationals in Minnesota slated for Friday and Saturday.  "We're sitting here deciding what we're going to do," he says.  "It all depends on weather.  We'll probably either go to Moberly or Jackson."
Follow Updates on Facebook!
Wayne will update as his race night commences at his Facebook page.  Find it by searching for Wayne Johnson Racing or clicking the following link…
http://www.facebook.com/#!/WayneJohnsonRacing
Outlaw Wings – "The Wing with an Attitude"
Check out the new "recessed rivet" design put out by Outlaw Wings.  Talk to Wayne about purchasing Outlaw Wings for your car! Outlaw Wings – "The Wing with an Attitude"!
Wayne's Fast Facts
On August 4, 2000, Wayne won in ASCS National competition at the Route 66 Motor Speedway in Amarillo, Texas.  Terry Gray was second, followed by Jason Sides, Ted Lee and Jason Johnson.
Partner of the Week – Rod End Supply
Whether you are running a go-cart, micro, mini-sprint, midget, modified, late model, sprint or a tractor, Rod End Supply has the assortment of rod ends, radius rods, and specialty products that will help you lead the field in performing at your maximum potential. At Rod End Supply, "They don't just sell 'em, they race 'em! Visit them on the web at www.RodEndSupply.com or call 1-800-284-2902 today!
"Wednesday's with Wayne"
"Wednesday's With Wayne" is an up close look at the past, present and future of colorful and talented sprint car driver Wayne Johnson. You'll never know what to expect next with Wayne, so don't miss us on Wednesdays!
To receive "Wednesday's with Wayne", send an e-mail to sprntcar@hotmail.com with"Wayne" in the subject line.
Wayne Johnson Racing would like to thank partners, Todd Carlile, Vern Rengen, Miles with Townline Variety, Russell with Outlaw Wings, Ray with City Vending, Scott with Stone Mountain Access Systems and product sponsors Bill with The Oil Medics, Byron with Sebastian Sandblasting & Powdercoating, Shawna and Kaleb with Triple X Race Components, Bob with Rod End Supply, Dave with Astro Titanium, Mark and Doug with Schoenfeld Headers, Desiree at Simpson, Jeannie at Butlerbuilt, Tom at Xtreme Accu-Tach, Carl with Kustom Sprint Car, Brad with Momentum, Charlie with Fisher Racing Engines, Team Achieve and Tim with Canyon Apparel.