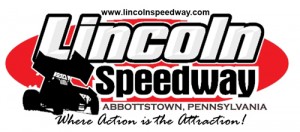 From Lincoln Speedway
Abbottstown, PA — (September 6, 2014) — Lincoln Speedway gave it the ole' college try Saturday, running in the track after a mid-afternoon rainfall and sitting through a lightning delay as the three divisions of race cars were getting ready to come out for warm-ups.
But persistent rainfall coupled with another band of rain off to the west forced promoters to cancel Saturday's program shortly after 7:00 p.m.
Because Saturday's event was to be the final points race of the season, Chase Dietz locked up his first-ever 358 sprint car track title over 2013 track champ Niki Young, who finished 95 points behind. Had the race been run, Dietz would have had to finish 18th or better to claim the title. Third through fifth in season points were Chandler Leiby, Matt Campbell, and lady driver Brie Hershey. Another female driver, Ashley Cappetta, finished the season sixth in points.
The second leg of the Trail-Way/Lincoln Shootout was postponed to the next 358 sprint car show on September 20th, and the PA Sprint Series Racesaver 305 sprints will make up their portion of the program on the same date (9/20).
Lincoln swings back in action next Saturday night, September 13th, with the 40TH ANNUAL LAWRENCE CHEVROLET SPORTSMAN 100 for the Super Sportsman, plus 358 Late Models. Gates will open at 5 PM, with super sportsman time trials scheduled to start at 7 PM.
To get all the latest news, results, schedule changes and rule changes, visit Lincoln Speedway's website at http://www.lincolnspeedway.com to stay up-to-date on all the action or pending weather conditions at Central Pennsylvania's "Premier" Saturday night race track – The Fabulous Lincoln Speedway.