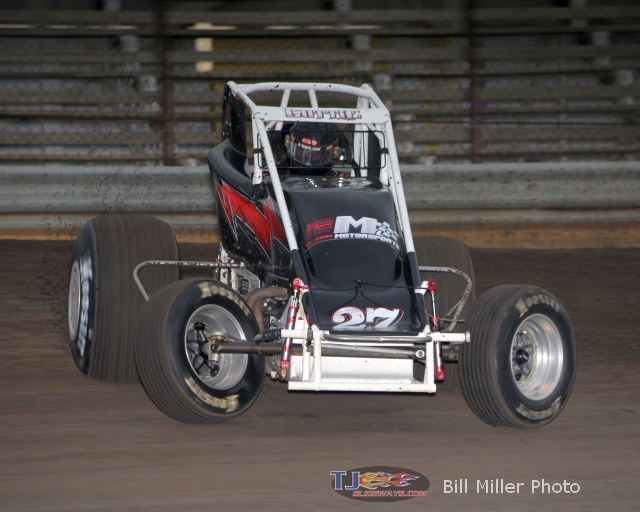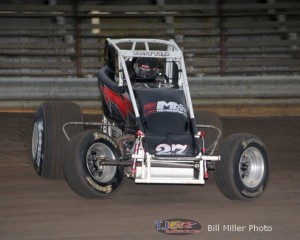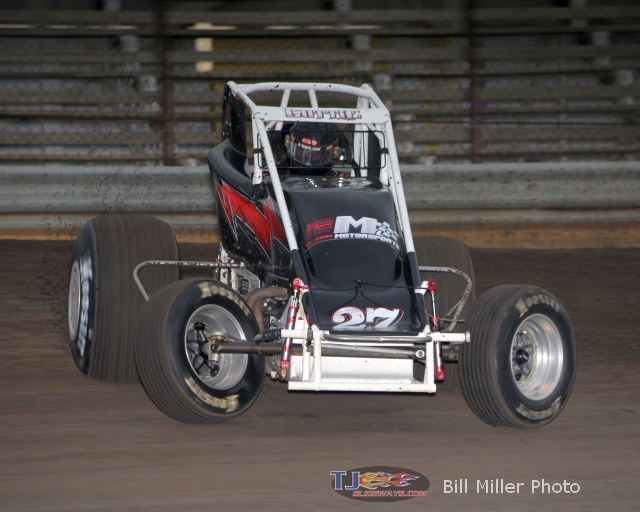 From Lawrenceburg Speedway
Lawrenceburg, IN — (September 22, 2014) — The coronation of Kokomo's Shane Cottle as the 2014 King of Indiana Sprint Series Champion will take place Saturday at Lawrenceburg Speedway. He becomes the eighth different racer to have earned the honor in the 14-year history of KISS.
After securing the title at Paragon Speedway in May, Cottle said, "It's something that I've wanted to do my whole career running sprint cars, but I just never had the opportunity to do it. (Car-owner) Tony Epperson gave us the chance to do it this year and we capitalized on it."
It is the eighth consecutive year for the KISS track promoters to present the unique Helmet Award, which is made possible by sponsors Sprint Car and Midget Magazine, Simpson Performance Products and VanHorn Tint & Accessories. Fully state of the art in the critical areas of safety, materials and construction, the Simpson helmet comes equipped with everything a driver needs to strap it on and go racing. The helmet features artwork specially designed for the KISS champion by Bloomington's Jeff VanHorn.
Cottle earned the crown by opening the KISS tour with back-to-back wins at Bloomington and Kokomo, then a fourth at Lawrenceburg and sixth at Tri-State. Closing with a third place finish at Paragon, he earned the title by 34 points over two-time champion Brady Short. Six-time champion Jon Stanbrough captured KISS victories at Lawrenceburg and Paragon Speedways, Jeff Bland Jr. took the win at Tri-State, and the Terre Haute and Gas City rounds fell to weather.
It is interesting that each of the Champions who have won a helmet (Jon Stanbrough in '07, '08, '10 and '12, Brady Short in '09 and '13, and Dave Darland in '11) have chosen not to wear it for racing, but rather to display it with their personal trophies. This only makes sense in that there are no other helmets like the KISS Champion's, and the only way to get one is to earn it on the race track.
Simpson Performance Products and Sprint Car and Midget Magazine are nationally recognized as established leaders in their fields, with Simpson's safety and racing product base, and the magazine's reputation for strong feature articles, photos, editorials and race reporting. Located in Bloomington, Indiana, VanHorn Tint and Accessories offers a broad range of products, including window tinting, LED lights and truck bars, rear window graphics, specialized graphics for everything from racing cars and helmets, to personal, company and fleet vehicles.
Final 2014 KISS Points: 1. Shane Cottle 851, 2. Brady Short 817, 3. Robert Ballou 654, 4. Jon Stanbrough 619, 5. CJ Leary 568, 6. Jeff Bland Jr. 514, 7. Jerry Coons Jr. 496, 8. Kevin Thomas Jr. 473, 9. Daron Clayton 416, 10. Ethan Barrow 404
2014 KISS RESULTS
April 27 Terre Haute Action Track – Rain
May 2 Bloomington Speedway – Shane Cottle
May 4 Kokomo Speedway – Shane Cottle
May 9 Gas City I-69 Speedway – Rain
May 17 Lawrenceburg Speedway – Jon Stanbrough
May 25 Tri-State Speedway – Jeff Bland Jr.
May 31 Paragon Speedway – Jon Stanbrough
Champion – Shane Cottle