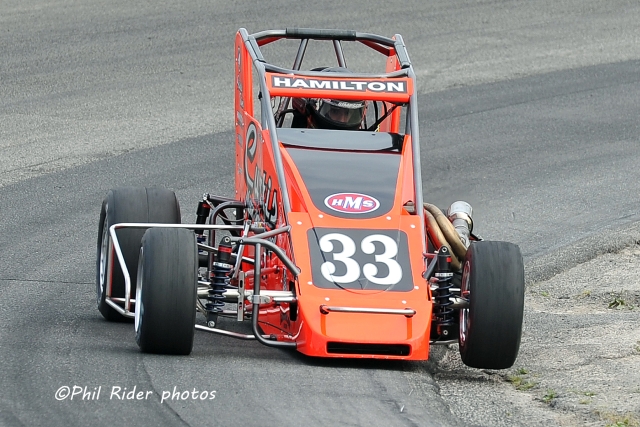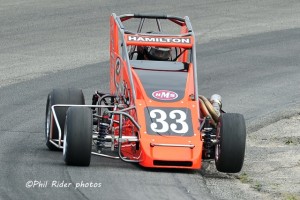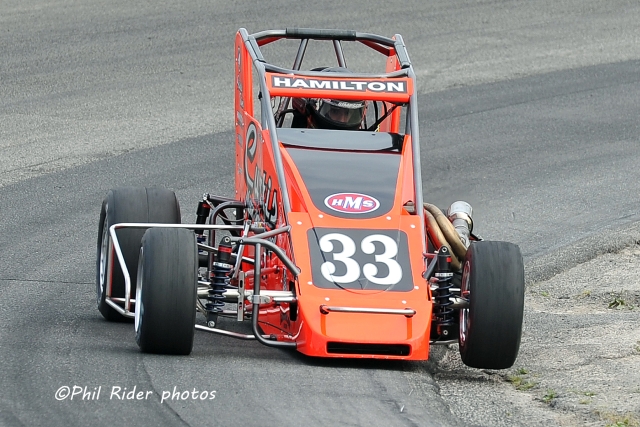 From Rich Murray
Morris, IL — (September 27, 2014) — When you have to dial long distance, "The Professor" is the one you got to call. Kyle Hamilton once again displayed his dominance in the longer races at Grundy County Speedway by scoring his seventh career 50-lap feature win in D'Arcy GMC STARS National Midget competition during Saturday night's seventh annual running of the "Alex Pruett Memorial" 'Til the Wheels Fall Off' presented by 3 Wide Life. The win also gave Hamilton his ninth career STARS Midget victory which made him the all-time winningest driver in series history.
Hamilton started the night out strong by collecting his eighth fast qualifying time in his Curtis Motor Sales Spike/Esslinger. It is an astonishing feat considering that this was only the Danville, Indiana native's eighth appearance of the season. New Lenox, Illinois' Ryan Probst and Joliet, Illinois' Jim Anderson won each of the eight lap heat races.
Franklin, Indiana's Travis Young, who carried sponsorship from the TV show that Alex Pruett created, 3 Wide Life, and Danville, Indiana's Nick Hamilton led the field to the green flag. Young, who won the Inaugural "Alex Pruett Memorial" in 2008, got the jump and led the first several laps. On lap 17, Kyle Hamilton was able to move around Young to take the spot and held on to that advantage for the remaining 34 laps to take his series-best fifth win of the 2014 season. Hamilton was followed to the line by a hard-charging Prock from the tail of the field, then Nick Hamilton, Brandon Wagner, and Young.
When all was said and done, Prock won his first STARS National Midget driving championship and, by virtue of his trio of second place finishes in the "Illinois State Championship," "Pavement Nationals," and "Alex Pruett Memorial," Prock earned the most points in the Safety Kleen Triple Crown and took home a $750 bonus.
In the STARS Classic Modifieds, the points race was a battle for the ages. Tom Schnabel won the STARS Classic Modified feature, but when all the points were tallied after the feature, Greg Wills and Darren Ihrke were tied atop the standings. The first tiebreaker of who had most wins was a dead heat, so the second tiebreaker went to the driver who had led the most laps throughout the season. Wills had led 30 more laps than Ihrke which meant that the title belonged to Wills.
Johnny Kringas won the INEX Legends feature, but it was Cullen Camasta who took the season championship. Derek Doerr won the CSR Super Cup feature while Dallas Frueh's six wins during the season were enough to drive him to the season title. Nathan Bertino was the victor of the Legacy Midwest Series feature.
GRUNDY COUNTY SPEEDWAY
D'ARCY GMC STARS NATIONAL MIDGETS
SEPTEMBER 27, 2014
QUALIFICATIONS:
1. Kyle Hamilton, 33, Hamilton-14.294; 2. Tyler Baran, 11, BBOYZ-14.373; 3. Nick Baran, 87, BBOYZ-14.393; 4. Billy Hulbert, 88, Hulbert-14.403; 5. Austin Prock, 41, Prock-14.460; 6. Kyle O'Gara, 99, Guess-14.559; 7. Nick Hamilton, 32h, Hamilton-14.565; 8. Travis Young, 11y, Young-14.571; 9. Ryan Probst, 99p, Probst-14.578; 10. Jim Anderson, 36, Guess-14.596; 11. Brandon Wagner, 32w, Wagner-14.644; 12. Nick Wagner, 32, Wagner-14.701; 13. Terry Ahern, 6T6, Ahern-15.479
FIRST HEAT: (8 Laps)
1. Probst, 2. Prock, 3. B. Wagner, 4. N. Baran, 5. K. Hamilton, 6. N. Hamilton, Ahern
SECOND HEAT: (8 Laps)
1. Anderson, 2. O'Gara, 3. Hulbert, 4. T. Baran, 5. Young, 6. N. Wagner
FEATURE: (50 Laps)
1. Kyle Hamilton, 2. Austin Prock, 3. Nick Hamilton, 4. Brandon Wagner, 5. Travis Young, 6. Ryan Probst, 7. Terry Ahern, 8. Jim Anderson, 9. Tyler Baran, 10. Kyle O'Gara, 11. Billy Hulbert, 12. Nick Baran, 13. Nick Wagner (DNS)
LAP LEADERS:
Laps 1-16 Young, Laps 17-50 K. Hamilton.