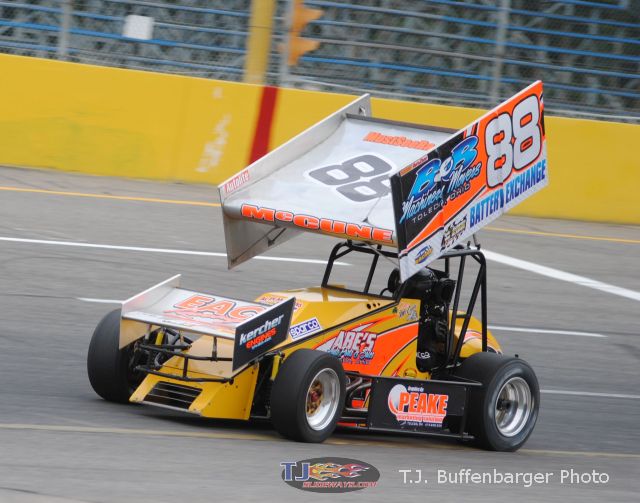 Rockford, IL – September 28, 2014 – Jimmy McCune took advantage of a lapped car to win the Must See Racing Xtreme Sprint Series (MSRXSS) event Sunday afternoon at Rockford Speedway. The event was part of the 49th annual Short Track Championships. The event was a non-points special event for the MSRXSS.
McCune earlier in the day nearly broke Jacob Wilson's track record of 11.302 set in 2011 when he ripped off a lap of 11.501 seconds.
David Byrne led the vast majority of the event. McCune began narrowing the gap late in the race, steadily catching Byrne. With two laps remaining, the duo came up on the lapped car of Jason Cox, who was experiencing motor problems. Cox abruptly slowed and Byrne ducked under him with his wheels touching the infield grass while McCune stayed high and gained the lead in the ensuing commotion. McCune would lead the final two circuits to capture arguably one of the most dramatic finishes in Must See Racing history.
Following McCune to the finish was Byrne and Jim Sheets. The third place finish was a career best for Sheets in MSR competition. Heat races were won by Anthony McCune and David Gough.
The final event of the year for the MSRXSS will be next Saturday night at Salem Speedway for the annual Joe James/Pat O'Connor Memorial.  For more info in this event please visit www.mustseeracing.com