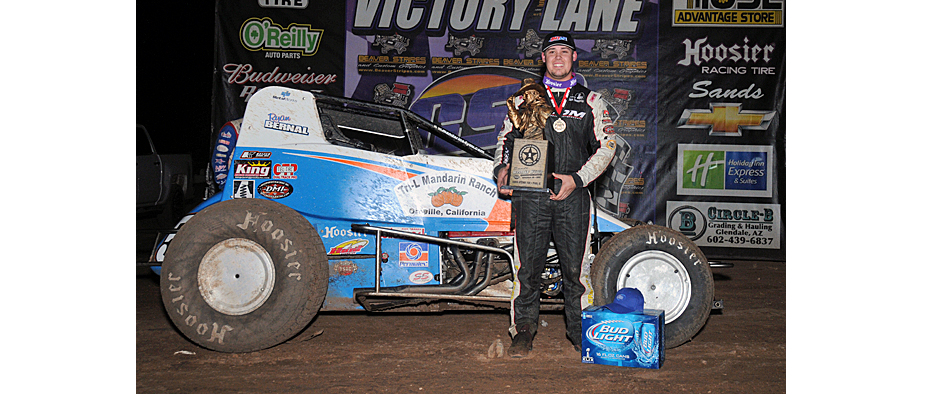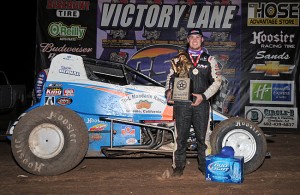 From Lance Jennings and Lonnie Wheatley
Peoria, AZ — (November 20, 2014) — Hollister, California's Ryan Bernal kicked off his pursuit of 47th Annual Sands Chevrolet Western World Championships honors by besting Thursday night's 37-car USAC Southwest vs. USAC Sprint Car field at Canyon Speedway Park.
Bernal outdueled pole starter Gary Taylor for the point in the early rounds, fought off a bid from Casey Shuman and then held off a charging Bryan Clauson over the final rounds to secure the win in the 30-lapper aboard the Tri-L Mandarin Ranch No. 56.
"I knew at the end I couldn't let it push in the corners, I wasn't gonna give the bottom of the track to Bryan," the 2014 USAC Western Classic champ said after his 11th overall non-wing 360-ci Sprint Car win of the year.
On the bottom wasn't where Bernal spent most of the race, abusing the cushion to battle past Gary Taylor on the second round and nearly launching out of the park on one occasion in turn one in the initial handful of rounds.
Bernal slipped away from his chasers at several points in the race only to have the field tightened back up after red flags for a wild Thomas Ogle exit from the park in turn two after 11 laps and then a Brady Bacon tumble over the same retaining wall with 18 rounds in the books.  Both drivers were uninjured.
With Bernal leading the way, Shuman had battled past Taylor for second at the midway point with 15th-starter R.J. Johnson up to fourth and 18th-starter Clauson fifth by the time Bacon went yard.
A slight Bernal bobble opened the door for Shuman to briefly take command on the 21st round only to have Bernal battle back and slip away momentarily before Clauson charged up to second and reeled in the leader.
Topping both the Sprint Car and Midget portions of the Western World last year, Clauson moved in on Bernal and was challenging for the lead as the white flag flew only to have the final round interrupted for a turn two melee with Shon Deskins upside down, setting up a green-white-checkered run to the stripe.
Having abandoned the cushion at first sight of Clauson, Bernal stuck to the bottom over the final two rounds.  Clauson tried to make a top-side run through the final pair of corners but fell three car-lengths shy at the line.
"I probably could have pushed the issue a little more, but it's not money night yet," Clauson commented after rallying from 18th aboard the TSR/Curb-Agajanian Chevy Performance No. 20 following a heat race incident that landed him in a "B" Main.  "The way our night started, we're really happy with this."
Shuman settled for the show position in the Hockett Racing No. 75 with USAC Southwest points leader R.J. Johnson gaining 11 positions to finish fourth.  C.J. Leary rounded out a trio of double-digit chargers among the top five by rallying from 19th to fifth.
Charles Davis, Jr., was sixth with Taylor, Robert Ballou, Mike Spencer and Chris Windom completing the top ten.
Michael Colegrove, Ogle, Joshua Hodges, Davis, Jr., and Ballou won Thursday's heat races with Johnson and Bruce St. James topping the twin "B" Mains.
USAC SOUTHWEST & WEST COAST SPRINT CAR "Special Event" RACE RESULTS: November 20, 2014 – Peoria, Arizona – Canyon Speedway Park – 47th Annual Sands Chevrolet "Western World Championships"
FIRST HEAT: (8 laps) 1. Mike Colegrove (#17M Colegrove), 2. Shon Deskins (#20 Deskins), 3. Ryan Bernal (#56 Phulps), 4. Tye Mihocko (#5 Mihocko), 5. Josh Shipley (#2 Bishop), 6. Mike Martin (#16 Martin), 7. Matt Lundy (#98 Lundy), 9. Mark Morin (#28 Morin). NT
SECOND HEAT: (8 laps) 1. Tom Ogle (#48 Ogle), 2. Jake Swanson (#92 Sertich), 3. Mike Spencer (#7M Priestley), 4. Casey Buckman (#04G Cook), 5. Chris Windom (#22B Weber), 6. Bryan Clauson (#20X TSR-Curb/Agajanian), 7. Andy Reinbold (#19 Underwood), 8. Bradley Terrell (#5V VanLare). NT
THIRD HEAT: (8 laps) 1. Josh Hodges (#74X Hodges), 2. Casey Shuman (#75 Hockett/James), 3. Gary Taylor (#1ST BRAT), 4. Matt Mitchell (#37 Mitchell), 5. C.J. Leary (#30 Leary), 6. Dalten Gabbard (#77 Gabbard). NT
FOURTH HEAT: (8 laps) 1. Charles Davis Jr. (#50 Massey), 2. Matt Rossi (#02 Rossi), 3. Brady Bacon (#99 BBR), 4. Bruce St. James (#7K St.James), 5. R.J. Johnson (#77M Michaels), 6. Dave Darland (#73 Ford), 7. Jon Stanbrough (#20S Deskins). NT
FIFTH HEAT: (8 laps) 1. Robert Ballou (#12X Ballou), 2. Brian Hosford (#32B Weber) 3. Kevin Thomas Jr. (#17RW Dutcher), 4. Josh Pelkey (#12 Allen), 5. Aaron Reutzel (#87 Reutzel), 6. Colby Copeland (#74 Williams), 7. Michael Curtis (#11C Turner/Wheeler). NT
FIRST SEMI: (12 laps) 1. Johnson, 2. Bacon, 3. Leary, 4. Windom, 5. Copeland, 6. Darland, 7. Shipley, 8. Reinbold, 9. Curtis, 10. Terrell, 11. Buckman.
SECOND SEMI: (12 laps) 1. St.James, 2. Clauson, 3. Mitchell, 4. Stanbrough, 5. Thomas, 6. Pelkey, 7. Reutzel, 8. Gabbard, 9. Martin, 10. Lundy, 11. Morin.
FEATURE: (30 laps) 1. Ryan Bernal, 2. Bryan Clauson, 3. Casey Shuman, 4. R.J. Johnson, 5. C.J. Leary, 6. Charles Davis Jr., 7. Gary Taylor, 8. Robert Ballou, 9. Mike Spencer, 10. Chris Windom, 11. Matt Mitchell, 12. Tye Mihocko, 13. Shon Deskins, 14. Bruce St. James, 15. Brian Hosford, 16. Matt Rossi,17. Brady Bacon, 18. Jon Stanbrough, 19. Tom Ogle, 20. Mike Colegrove, 21. Josh Hodges, 22. Jake Swanson. NT
—————————-
**Ogle, Bacon and Deskins flipped during the feature
FEATURE LAP LEADERS: Laps 1 Taylor, Laps 2-20 Bernal, Lap 21 Shuman, Laps 22-30 Bernal,
NEW USAC SOUTHWEST SPRINT POINT STANDINGS: 1-Johnson-1,314, 2-Davis-1,170, 3-Pelkey-1,148, 4-Rossi-1,070, 5-Deskins-1,011, 6-Martin-994, 7-Mihocko-927, 9-Curtis-686, 10-Hosford-666.
NEXT USAC SOUTHWEST & WEST COAST "Special Event" SPRINT RACE: November 21 – "Peoria, AZ – Canyon Speedway Park – 47th Annual Sands Chevrolet "Western World Championships"