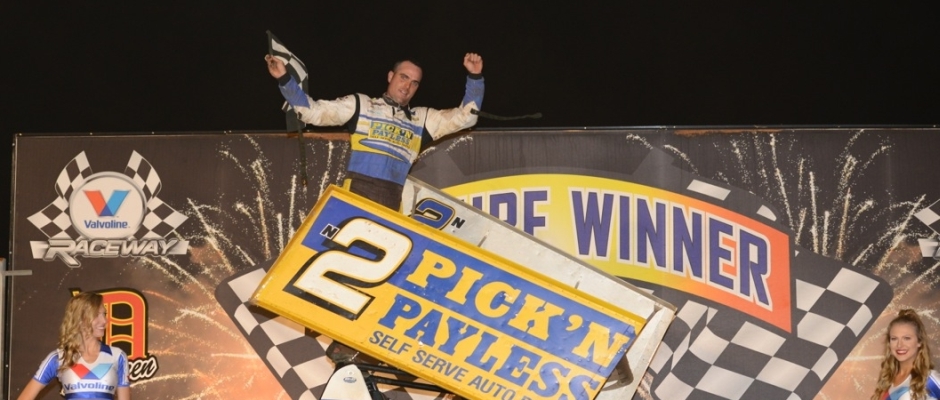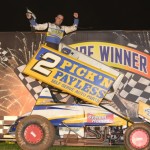 From Sydney Speedway
Sydney, AU — (February 7, 2015) — Ben Atkinson pickpocketed one of the best main events in Valvoline Raceway history tonight to score victory in the 30 lap Sprintcar A-Main and narrowly deny James Thompson his career first feature success.
Thompson led the greater majority of the main event (except for sporadic occasions when Sam Walsh relieved him of the point position) but Atkinson lurked with intent around the leaders and pounced coming off turn four with the chequeers in sight.
"I snoozed on the last corner," conceded an obviously deflated Thompson, "Ben's a top caliber driver and he made me pay. You can't afford to ever give up the intensity at this place but it can bite you, like it did with me just then."
Some consolation for track championship leading Thompson is that he earned more prize money than the winner with the lap-leader sponsorships in place for tonight's racing.
Atkinson was jubilant in victory regardless.
"I'm so glad I can give my team this moment," he grinned, "I've made plenty of mistakes this season that cost us a chance to win races like this but tonight we were able to transfer straight into the A-Main and be close enough to snare a win when the chance came up. That had to be a great race from where I was sitting and I hope that the fans enjoyed it."
It's unlikely that they didn't.
Thompson and Walsh ran side by side for most of the race with Walsh on the cushion and Thompson the low line as they sliced through lapped traffic and somehow came out unscathed.
"It's amazing how many times James and I seem to race for the lead like we did tonight," admitted Walsh, "I think that race really was mine to win tonight but I think I made a few too many mistakes. We'll take the week off next week (Sprintcars aren't programmed) and come back fresh in a fortnight and take another shot at it."
Max Dumesny motored up to fourth place in the V5 whilst Jackson Delamont put in a strong drive also to round out the top five ahead of Danny Reidy in sixth, Marty Perovich seventh, Jordyn Brazier eighth, Grant Tunks in ninth and Toby Bellbowen rounding out the top ten after coming from the B-Main (win) transfer.
Eleventh home was the ever improving Kyle Caunt over Matt Dumesny in twelfth, Warren Ferguson thirteenth, Jimmy Matchett fourteenth, Steve Rowell fifteenth, Craig Brady sixteenth, Peter Gordon seventeenth, Matt Jackson eighteenth, Mick Saller nineteenth and Kelly Linigen twentieth.
Glen Saville placed 21st over Jeff Lawler 22nd and Alex Orr 23rd.
The race's only DNF was Paul Jeffrey.
Toby Bellbowen won the B-Main from fellow transferees Kyle Caunt, Alex Orr (who drove brilliantly) and Gold Coaster Steve Rowell.
Sebastian Johnston won the C-Main over fellow transferee Blake Skipper.
Network Industry Quick Time saw James Thompson claim the fastest lap in his Stahlwille #22 QT Chassis whilst he also claimed the Pole Shootout later in the night.
The next event at Valvoline Raceway is this Saturday night (February 14) for the NSW Late Model Championship with Speedcars, Legend Cars and Street Stocks.
Ends release…