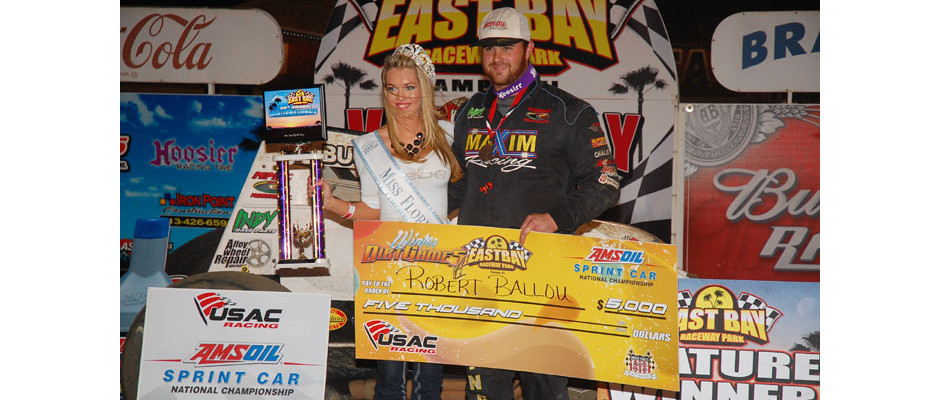 Tampa, FL — (February 27, 2015) — Robert Ballou narrowly avoided disaster on the final lap of
Friday's
30-lapper at East Bay Raceway Park to take his second victory of the young season in the penultimate race of "Winter Dirt Games VI."
The Rocklin, California driver appeared to be in smooth sailing after a restart with four laps to go, but he rapped the wall just past the flag stand after taking the white-flag as second-running Dave Darland dove to the bottom for the lead. Ballou crossed over and took it back, notching a .296-second victory in the MPHG Promotions – Blakesley Auto #12 Maxim/Ott.
"I really thought driver error cost us another one right there. I was fogging up my shield bad at the restart, and just really had trouble seeing. I don't even know what happened after I got in the wall, but I saw Darland going for it and just tried to stay in it to get back by him. If I'm ever gonna catch him in all-time wins, I've gotta keep my elbows up!" said Ballou, who now owns 11 AMSOIL USAC Sprint Car wins in his career.
Polesitter Kevin Thomas, Jr., chasing the "Triple Crown Challenge" bonus posted by race organizers for any driver able to sweep the weekend, led early with Ballou and defending series champion Brady Bacon in his shadow. Ballou closed as they neared traffic, trying his first slider for the lead on lap 10. At the halfway point, Ballou cleared Thomas in turn two with a slide-job for the lead, holding him off as the two traded the top spot for a lap and a half.
As Ballou drew away, Bacon worked on Thomas, as well, clearing him for the second spot on lap 22. Bacon closed on Ballou in traffic, but a monster slider on two cars from Ballou helped him retain his lead. In heavy traffic on lap 27, Thomas got in the back of Bacon in turn-three, sending him spinning and necessitating a caution. He restarted at the tail of the lead lap.
With just four laps to go, Ballou was strong up front as Darland finally passed Thomas with a turn-one slider on lap 28. Darland appeared to close slightly on Ballou before the white flag, but suddenly found himself in the middle of a battle for the win with Ballou's incident. Darland made it back-to-back runner-up finishes in the Phillips/Curb-Agajanian Motorsports – Trench Shoring #71P DRC/Foxco.
"I looked up as I took the white flag and thought, 'Holy s—, I'm gonna win this thing!' Robert was able to gather it up and get back by us off of two, but we were right there again and pretty happy with second. It's been a great rebound for us the last three nights, and we'll try to get it one spot better. I have to thank the track crew as much as my team; they gave us a great track to move around and race each other hard tonight," Darland said.
Thomas held on for the third-spot in the Bakken Concrete – Griffin's Propane #17RW Maxim/Fisher.
"I obviously feel terrible about getting into the back of Brady (Bacon). We had been racing really hard for the second spot and I just fired it off in there and clipped him. We led early and were strong, but they got a little better than us on that long run. We were holding on a bit at the end, but it was another strong night for us and a podium finish," Thomas said.
Justin Grant came out on top of a slugfest in the late stages for the fourth spot in the Mark Hery Motorsports – Dick's Paint & Body #40 DRC/Claxton over ProSource "Fast Qualifier" Chase Stockon, who rounded out the top-five in the Superior Tank & Trailer – Crescent Electric Supply #32 DRC/Fisher.
"Winter Dirt Games VI" concludes on Saturday night, February 28 at East Bay Raceway Park with the sixth and final race of the mini-series held exclusively in the "Sunshine State." Ballou is the only driver to score multiple victories in Florida in the month February while Bacon, Darland, and Thomas have collected one feature apiece.
—————————–
AMSOIL USAC SPRINT CAR NATIONAL CHAMPIONSHIP RACE RESULTS: February 27, 2015 – Gibsonton, Florida – East Bay Raceway Park – "Winter Dirt Games VI"
31 Cars
PROSOURCE FAST QUALIFIER: Chase Stockon-14.968
HEAT WINNERS: Chase Stockon, Kevin Thomas, Jr., Aaron Farney & Chad Boespflug
SEMI WINNER: Jon Stanbrough
FEATURE: 1. Robert Ballou, 2. Dave Darland, 3. Kevin Thomas, Jr.,
4. Justin Grant, 5. Chase Stockon, 6. Bryan Clauson, 7. C.J. Leary, 8. Kyle Cummins, 9. Jon Stanbrough, 10. Chad Boespflug, 11. Carson Short, 12. Tracy Hines, 13. Brady Bacon, 14. Brady Short, 15. Jarett Andretti, 16. Chris Windom, 17. Casey Shuman, 18. Logan Jarrett, 19. Aaron Farney, 20. Shane Cockrum, 21. Scotty Weir, 22. Landon Simon. NT
FEATURE LAP LEADERS: Laps 1-14 Thomas, Laps 15-30 Ballou.
**Swanson, Kobylarz, and Bell flipped in the Semi.
NEW AMSOIL SPRINT CAR NATIONAL CHAMPIONSHIP POINTS:
1. Chase Stockon (Elizabethtown, IN) – 298
9. C.J. Leary (Greenfield, IN) – 221
10. Chad Boespflug (Hanford, CA) – 205