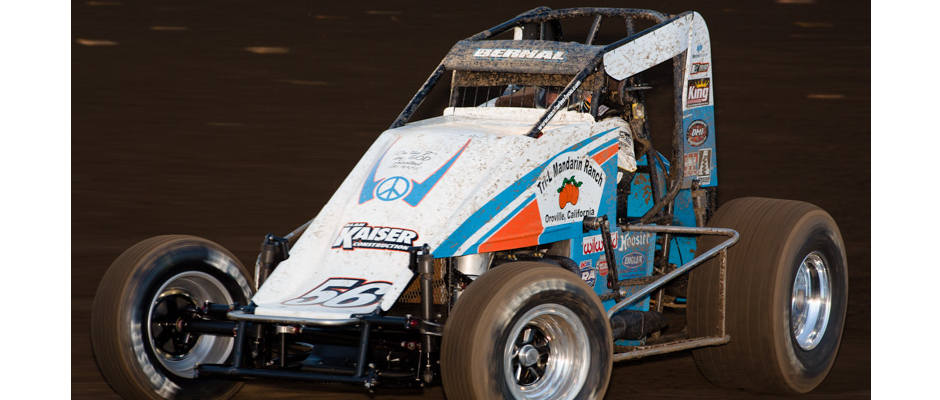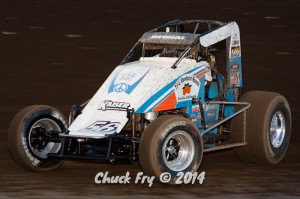 From Lance Jennings
Phoenix, AZ — (March 10, 2015) — After opening their point season at Las Vegas, the USAC West Coast Sprint Car Series will invade Tulare, California's Merle Stone Chevrolet Thunderbowl Raceway for two nights of action. Starting this Friday, March 13th, the traditional sprints will tackle the lighting fast 1/3-mile clay oval with the famed World of Outlaw and King of the West Sprint Cars. On Saturday, the new winged Western RaceSaver Sprint Car Series will join the action packed card. The front gates will open at 4:00pm on both nights, with racing scheduled for 7:00pm. For more event information, visit the track's website at www.tularethunderbowl.com or call 559.688.0909.
NOTICE TO RACERS: The Friday and Saturday races at Tulare will be run under the USAC West Coast Rule Book and a $35 entry fee will be collected both days. The Hoosier 105/16 Medium is the ONLY legal right rear tire and all four corners must be Hoosier. Cockpit adjustable shocks are NOT allowed and engine restrictor rules are 1-7/8" with open heads and 2-3/16" with ASCS cylinder heads. The weight rule is 1,475 lbs. with driver. Thunderbowl Raceway has 95db at 100 feet state mandated sound rule and the USAC West Coast Sprint Car Rule Book can be found online at www.westcoastsprintcars.com and www.usacracing.com.
Since March 2010, twenty-two USAC West Coast Sprint Car races have been held at the Tulare County Fairgrounds. Ryan Bernal leads all drivers with eight Tulare wins and holds the 1-lap qualifying track record of 15.158, set on October 8, 2011. Bernal has won the last four appearances at Thunderbowl Raceway and other winners are Bud Kaeding (4), Richard Vander Weerd (3), Kyle Larson (2), Craig Stidham (2), Dean Alexander (1), Dennis Howell (1), and Peter Murphy (1).
After winning the co-sanctioned "FVP Sin City Showdown" last Thursday at Las Vegas, Stevie Sussex of Tempe, Arizona sits atop the point standings. Driving Mike Burkhart's #21AZ Stratis Construction / KSE Custom Drywall RSS, Sussex took the lead from Hunter Schuerenberg on lap twenty-two and held off Bernal to claim the victory. The USAC SouthWest regular is not expected to compete at Tulare and will race on March 28th at Canyon Speedway Park in Peoria, Arizona.
Currently one point behind Sussex is Hollister, California's Ryan Bernal. Racing the Mike Phulps owned #56 Mandarin Tri-L Ranch / Core Power ART, Bernal had two passes for the lead erased by yellow flags before finishing a close second. The two-time USAC Western Classic Sprint Car Champion leads all drivers with twenty-two career West Coast victories and will race double duty at Tulare with the Outlaws and King of the West.
Buckeye, Arizona's "Chargin" Charles Davis Jr. sits third in the USAC West Coast point chase. Piloting the Massey Motorsports' #50 RSS Industries / Rod End Supply RSS, Davis won the 8-lap Pyrotect Racing Cells Heat Race #4 before scoring fourth in Las Vegas. The five-time Arizona Sprint Car Champion is not expected at Tulare and will return to action at Canyon's "Hank Arnold Memorial."
Matt Mitchell of Yorba Linda is fourth in the West Coast point standings. Driving his #37 Campbell Bros. Storage / Pit Boss Jacks Maxim, Mitchell placed third in the Las Vegas "Sin City Showdown." The defending USAC West Coast Champion will split his season with USAC/CRA and may miss the Tulare doubleheader to concentrate on work.
Sitting fifth in the championship points is Hunter Schuerenberg of Sikeston, Missouri. Racing Keith Ford's #73X Berry Pack / King Racing Products Spike, Schuerenberg won the Extreme Mufflers Heat Race #1 and led the first twenty-one laps before scoring fifth at the checkered flags. The USAC National Sprint Car veteran has returned to the Midwest and will skip the Tulare doubleheader.
Among the other drivers expected to be in action are Colby Copeland, Richard Vander Weerd, Max Adams, Jace Vander Weerd, "Hollywood" Danny Faria Jr., Austin Liggett, Troy Rutherford, "Shifter" Landon Hurst, Jeff Sibley, Kevin Barnes, Matt Day, Jonathan Logan, and more.
Currently fifteenth in points, Trey Marcham of Oklahoma City, Oklahoma leads the chase for Rookie of the Year honors. California's Shannon McQueen and Tristan Guardino are also in contention.
Tulare, California's Merle Stone Chevrolet Thunderbowl Raceway is located at the Tulare County Fairgrounds at the corner of Bardsley and K Streets. Grandstand Tickets are $45, Bleacher Seats are $40, and all seats are RESERVED. Advance tickets are on sale and can be purchased by calling the track office at 559.688.0909. For more event information, visit the track's website at www.tularethunderbowl.com.
The USAC West Coast Sprint Car Series thanks Amsoil, Hoosier Tire, Chris Kearns Presents, Competition Suspension Inc., DJ Safety, Diversified Machine Inc., Extreme Mufflers, Pyrotect Racing Cells, Rod End Supply, Saldana Racing Products, and Woodland Auto Display for their support. If you or your company would like to become part of the series, email PR Director Lance Jennings at lwjennings@earthlink.net.
For more information, visit www.westcoastsprintcars.com, www.usacracing.com, follow the series on Facebook (www.facebook.com/#!/pages/USAC-West-Coast-Sprint-Car-Series/369549755817), or Twitter (www.twitter.com/USACwc360). Mike Truex's Loudpedal Productions has DVDs available for purchase that feature the USAC West Coast Sprint Cars and for more information, call 805.407.7229 or visit www.loudpedalvideo.com.
———————————————–
2015 USAC WEST COAST SPRINT CAR WINS:
2-Ryan Bernal, 1-Stevie Sussex, 1-Brady Bacon.
USAC WEST COAST SPRINT CAR POINT STANDINGS:
1. Stevie Sussex-72, 2. Ryan Bernal-71, 3. Charles Davis Jr.-63, 4. Matt Mitchell-62, 5. Hunter Schuerenberg-57, 6. Colby Copeland-48, 7. Chris Windom-48, 8. Richard Vander Weerd-45, 9. Max Adams-40, 10. R.J. Johnson-39, 11. Jace Vander Weerd-38, 12. Danny Faria Jr.-36, 13. Austin Liggett-30, 14. Troy Rutherford-29, 15. Trey Marcham-28, 16. Matt Rossi-27, 17. Mike Martin-26, 18. Bruce St. James-19, 19. Brody Roa-18, –. Landon Hurst-18, –. Josh Pelkey-18, 22. Shon Deskins-16, 23. Dennis Gile-1, –. Shannon McQueen-1, –. Tye Mihocko-1, –. Tristan Guardino-1, –. Jeff Sibley-1, –. Andy Reinbold-1, –. Dustin Cormany-1, –. Brian Hosford-1, –. A.J. Bender-1.