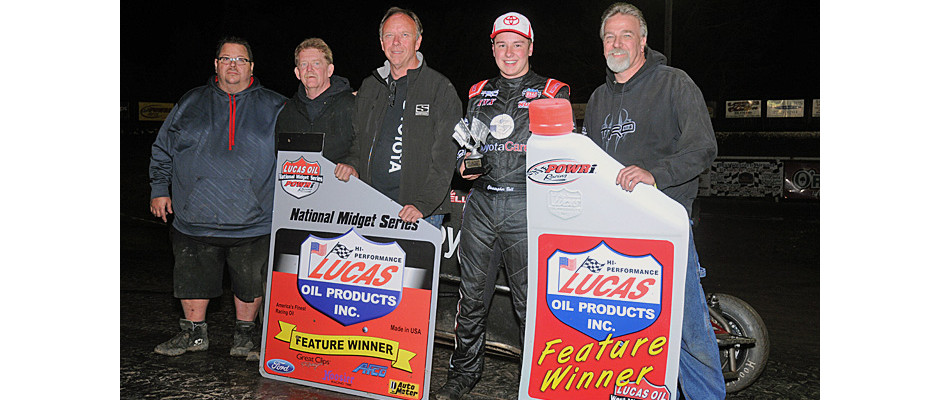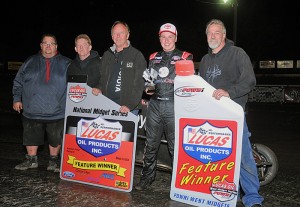 From POWRi
Tulsa, OK — (March 21, 2015) — As if Christopher Bell's dominating performance during the Inaugural Turn Pike Challenge left room for doubt in anyone's mind, the Norman, Oklahoma native's dominating performances easily laid those questions to rest as he backed up a clean sweep of the 2014 event with another pair of triumphs this weekend.
While Bell started the 40 lap feature event for the Second Annual Turn Pike Challenge from the pole, it would be Bell's teammate, Kevin Thomas, Jr., who would pounce into the lead on the opening lap from the second position. Thomas, Jr. piloting a Keith Kunz/Curb-Agajanian Motorsports' Toyota-powered Bullet would only be able to hold off Bell until lap 8 when Bell would gain enough momentum to slide Thomas, Jr. entering turn one. Thomas, Jr. would attempt to return the favor, sliding Bell entering turn three on the same lap, but Bell would prove to be too strong to tame as he would power right around Thomas, Jr. on the outside, all the while Blake Hahn's Hard 8 Racing, Esslinger-powered Spike would inch closer to the dicing duo.
With Bell's Keith Kunz/Curb-Agajanian Motorsports' Toyota-powered Bullet cruising in a league of its own, Hahn would set his sights on the second position held by Thomas, Jr. On lap 12 with the moment just right, Hahn would make his move for second and take the position from Thomas, Jr. Five laps later, Bell's torrential pace would be temporarily slowed as Thomas, Jr.would bring out the first caution of the feature event after ending up spun around in the middle of turns one and two.
Just three laps shy of the half way point, Bell would lead the field back to green with a comfortable cushion of lap cars between himself and Blake Hahn running in second and Zach Daum running in third.While Hahn struggled to get by the lap cars, Bell didn't waste any time working to reel back in those that he left off with before the caution. Within a matter of a few laps, Bell would resume lapping as Hahn's Hard 8 Racing teammate Jonathan Beason worked his way into the mix and the third position, as Andrew Felker of Carl Junction, Missouri worked his way into the top five.
With six laps left, Brad Loyet of Sunset Hills, Missouri would stall in the middle of turns three and four, bringing out the caution while Justin Peck, Seth Motsinger, Matt Sherrell and Terry Babb would pile up on the front stretch. Peck, Motsinger, Loyet, and Sherrell would all be done for the remainder of the event. Knowing full well that nothing could slow Bell's roll, when the field returned to green flag racing, Bell would sprint across the line solidly in first, followed by Jonathan Beason in second and Zach Daum in third. Coming in fourth was Blake Hahn and rounding out the top five was Andrew Felker.
"This place has definitely been good to me the last couple of years," remarked clean-sweeping Christopher Bell. "That was really fun. The track definitely had similar characteristics [to last night's track surface] but still different. Hats off to the track crew; the track was pretty wide tonight. I had a lot of fun and look forward to this event next year."
"It was fun," explained second place finisher Jonathan Beason. "I wish Blake could have stayed up there. There at the end of the race we both got going. I think he lost a cylinder or a piston went bad. I'm glad to finish second and I'm glad we're out here. This is a fun track."
"It's never too early to start with momentum," said third place finisher Zach Daum of Pocahontas, Illinois. "These fifths and these thirds and getting up on the podium and being in the top five every night is what pays off at the end of the year."
POWRi Lucas Oil National Midget Series feature Results presented by Great Clips (40 laps): 1. 71 – Christopher Bell 2. 8J – Jonathan Beason 3. 5 – Zach Daum 4. 8K – Blake Hahn 5. 11A – Andrew Felker 6. 17 – Darren Hagen 7. 67 – Tanner Thorson 8. 9K – Kyle Schuett 9. 39 – Spencer Bayston 10. 67K – Kevin Thomas Jr. 11. 7 – Austin Brown 12. 3T – Kevin Battles 13. 88 – Terry Babb 14. 18P – Payton Pierce 15. 87F – Andrew Deal 16. 05 – Brad Loyet 17. 35 – Matt Sherrell 18. 2 – Seth Motsinger 19. 5X – Justin Peck 20. 21 – Ty Hulsey 21. 27 – Tucker Klaasmeyer 22. 96 – Cody Brewer
Ford Heat Race Winners:
Heat 1:8J – Jonathan Beason
Heat 2:71 – Christopher Bell
Heat 3:9K – Kyle Schuett
Heat 4:27 – Tucker Klaasmeyer
Heat 5:17T – Travis Scott
Heat 6:9$ – Kyle Clark
Heat 7:11A – Andrew Felker
Heat 8: 3R – Daniel Robinson
Heat 9: 67K – Kevin Thomas, Jr.